MONROE, Ga. — A 1948 Ford Mercury passed through a group of onlookers in this rural town and rumbled toward the small Moore's Ford Bridge.
Before the car, which had four black passengers and a white driver, could reach the bridge, a group of white men with guns stepped forward to block its path.
The leader of the mob — a middle aged man in a pinstriped suit — took a long drag on his cigar and peered through the windshield. Inside, the occupants reeled in fear.
"We want that n----r Roger!" the man barked. "Get him out of the car!"
Screams ripped through the silence as a young black man was dragged from the front passenger seat.
Fortunately, this horrific scene, which played out on July 22, is just a reenactment. But when a noose is thrown around the neck of "Roger," nearly everyone in the audience let out very real gasps.
Since 2005, civil rights activists have returned to the Moore's Ford Bridge to recreate the night two black couples — Roger and Dorothy Malcom, and George and Mae Murray Dorsey — were lynched by the Ku Klux Klan in 1946.
No one has ever been charged with the murders.
"It's mind boggling that all of these years, not a single person has been arrested — even though we see them in our communities; even though we know who they are," said Tyrone Brooks, who helps organize the reenactment. "It's a stain on a history, but it's a burden on our souls."
Brooks is a 71-year-old former Georgia state congressman and lifelong civil rights activist. For him, the reenactment serves as a dramatic call to action and an annual reminder to the Monroe community that an injustice has never been corrected.
"We want prosecution, we want closure, we want healing, we want reconciliation, but we have to have justice first," he said. "We can't get to healing and reconciliation until we get justice."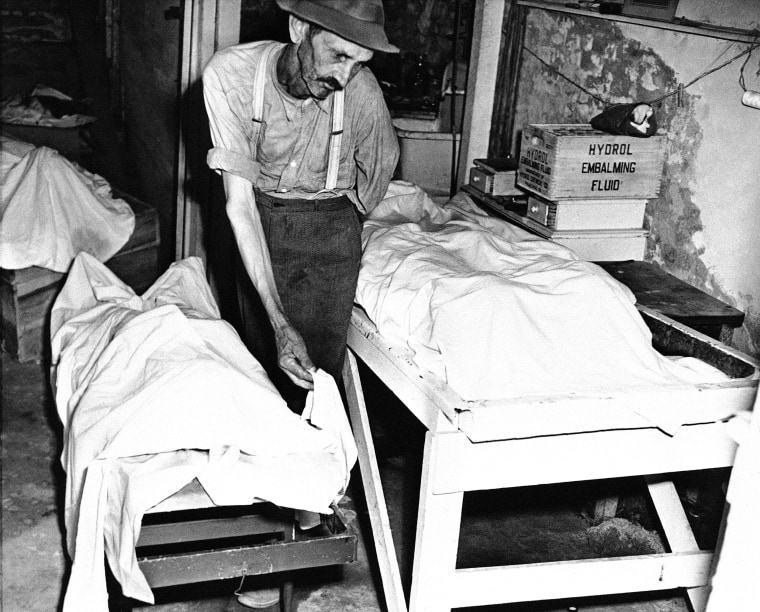 According to FBI files obtained by NBC News, more than 50 men from Monroe and the surrounding counties were suspected in the lynching. But not one was ever prosecuted.
Though the suspects have remained at large for decades, civil rights activists say the twin motivations for the lynchings were always well known throughout town: politics and sex.
In April 1946, a Supreme Court ruling enabled black citizens in Georgia to cast ballots for the first time during the primary race later that summer.
Around the same time of the election, according to the FBI, black sharecropper Roger Malcom stabbed Barnett Hester, a white landowner, during a fight — ostensibly over a woman.
Brooks said the town rumor was that Hester had been sleeping with Malcom's wife, Dorothy, and that the baby she was carrying was not her husband's.
On July 25, 1946, Loy Harrison, a prominent white landowner, paid $600 to bail Malcom out of jail, according to the FBI. He was accompanied to the prison by Dorothy, and their cousins, Mae Murray and George Dorsey.
But, driving away from the jail, as they approached Moore's Ford Bridge, a lynch mob surrounded the car.
"As it turns out it was Harrison who set up and ordered the murders," one FBI report concludes. "It is also apparent that there was a conspiracy among state and local law enforcement, who not only took part in the murders, disposed of evidence and concealed the identity of witnesses."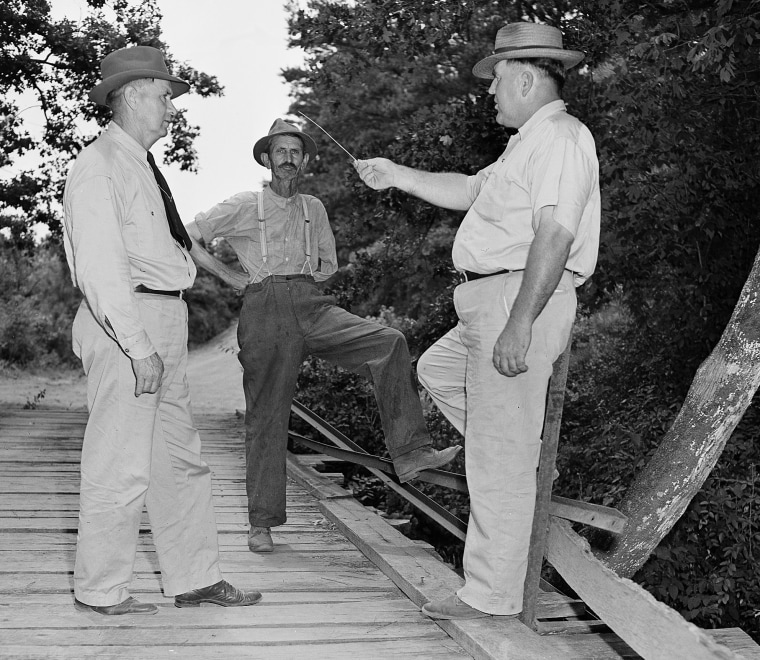 Brooks put it more succinctly.
"It was a voting rights massacre," he said. "They were all killed to send a message to black people in this community: 'If you register and if you vote, this is what will happen to you.'"
For nearly a decade, Cassandra Greene has directed the annual reenactment of the Moore's Ford Bridge lynchings. Her performance is graphic, gripping and grounded in a kind of deep racism that many would like to believe no longer exists in America.
It's difficult to watch, and even more difficult to look away, but Greene said that's the point.
"We don't want to talk about the lynching because it makes us face the ugliness in all of us," she said. "But I can't build a relationship with you, if you won't hear me, or hear what I've been through."
Rehearsals for this year's production began in June, and on the first day nearly 30 actors — a dozen white and the rest black — crowded into a room and listened as Greene launched into a well-rehearsed overview of the play.
Wade Marbaugh serves as Greene's co-director. He's played the part of the head Klansman for years, but he said the role never gets any easier.
"I feel dirty because this is not who I am," said Marbaugh. "But I think it's very important to keep this history alive because we don't want to go back to those times."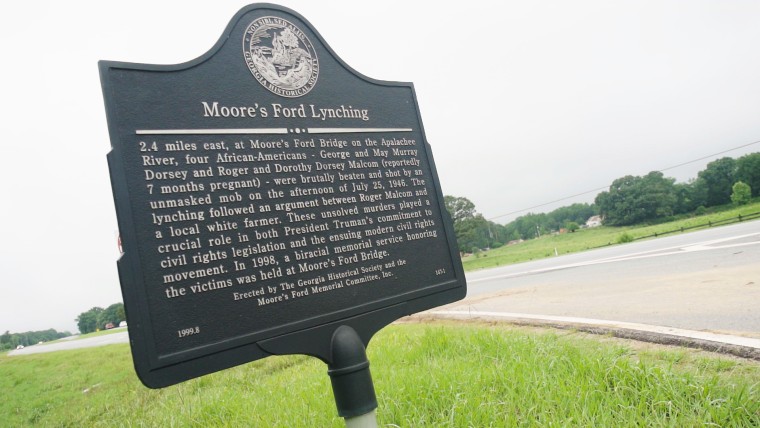 Across the room, actors Darrius Bradshaw and Nick Rascona, who play Roger Malcom and Barnett Hester, rehearsed their lines. The play begins with Malcom shouting and shoving Hester, livid that he's been sleeping with his wife, Dorothy.
"I said n---a,' get off my property!" Rascona fires back.
There's a beat. And then everyone (at least all the black actors) bursts into laughter. Greene laughs the hardest.
"What?!," Rascona asked. He's alarmed, confused. "Did I go too hard?"
"No," Greene said through chuckles. "I just don't think white people back then said 'n---a.'"
"Yea," one of the other black cast members quipped. "You have to hit the hard 'R.'"
And just like that the energy in the room shifts; a sense of camaraderie replaces the discomfort. Everyone is dedicated to getting this right, not only for the sake of the play, but also for the memory of the four people killed.
The scene begins again. This time, when Rascona says the N-word, it's sharp and emphatic. Absolutely no one laughs.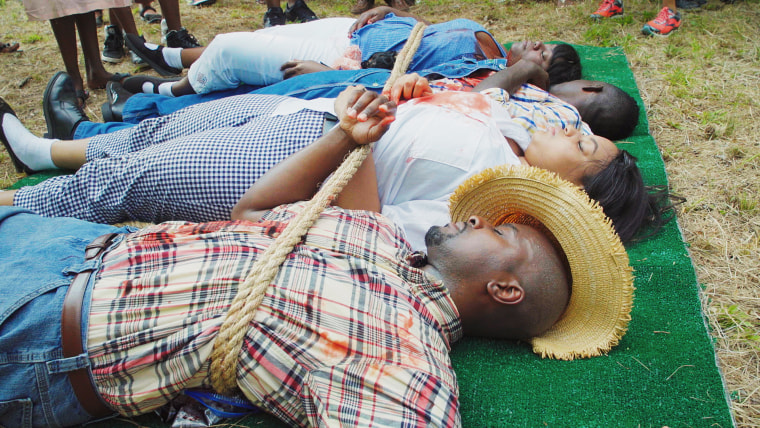 The reenactment ends violently and quickly. There's screams, gunfire and then, silence. A woman dressed in funeral black, stands over the actors bodies and performs Billie Holiday's mournful eulogy, "Strange Fruit." Her voice breaks on every other word.
A hundred yards back, a group of about four dozen spectators wipe sweat and tears away from their eyes. The audience is almost evenly split between black and white. One couple has traveled from Ithaca, New York, to see the performance, many are from just down the road. They've all weathered Georgia's oppressive humidity for the nearly eight hours as Brooks lead them on a pilgrimage to the grave sites of the Malcoms and Dorseys.
Up until this point, the murders have remained an anecdote, but now, standing on the same land where the lynchings took place, the air feels haunted.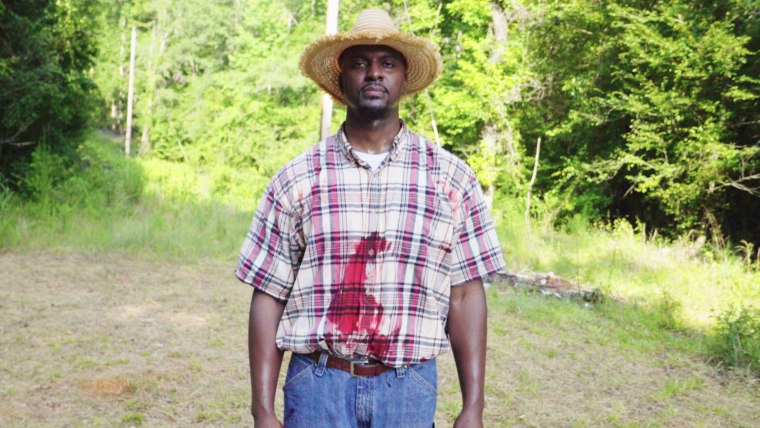 As the final notes of the song fade, Greene invites the crowd to move closer and inspect the bodies. Children crouch by their heads, take in the fake blood and still bodies, and whisper to each other.
"They're not really dead," one little boy mutters, as if to remind himself.
After a few minutes Greene thanks the crowd, and suddenly it's over. The actors throw off the lynching rope and wipe away tears. Bradshaw hugs Marbaugh, the man in the suit who played the head Klansman.
Nick Rascona hugs two of his castmates, and then breaks down crying in their arms; the emotional toll of the performance finally getting to him. "It's okay," one of the women whispers. "We know that's not what's in your heart. You did this for a reason."
Later, the audience sits down to dinner with the actors. At one table, a white couple from Atlanta chats animatedly about the reenactment with a black couple they just met.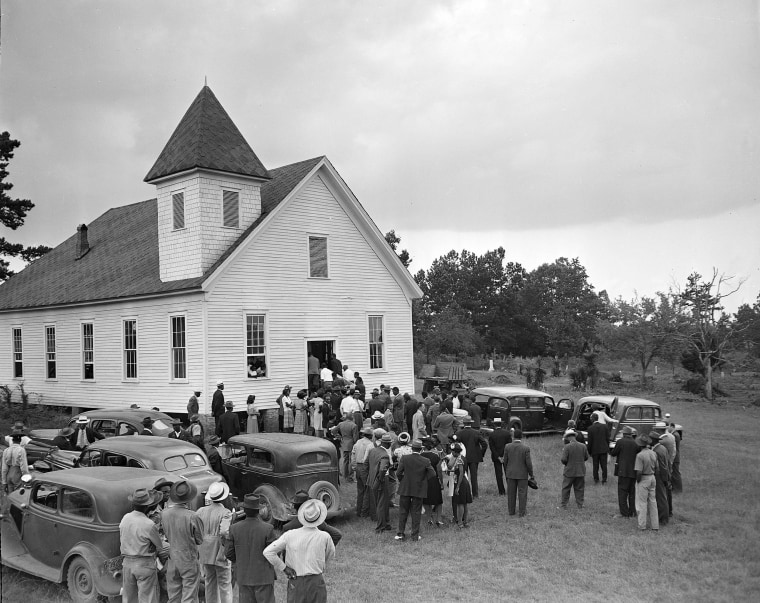 Denise Duplinski struggled to find words for how the performance made her feel.
"It's hard to hear those horrible awful words, and deeds … come out of people that look like you and who do it because they look like you," she said.
"What this really does to me is make me think that lynchings are still going on," she added, "they're just called police shootings now."
Across the room, Tyrone Brooks holds court at his table, eating and reminiscing about civil rights. He said he's already begun planning for next year's performance.
"The reenactment is inspirational in a way because it describes the horror of what we endured, but it also is a teaching moment," he said.
"It's like, if you don't learn from this, it can happen again. Those who don't study their history, those who do not know their history, are doomed to repeat it."