When Hillary Clinton lost the presidential election last year, Lucia McBath was devastated. McBath crossed the country multiple times campaigning for Clinton with the Mothers of the Movement, black mothers whose children were killed by police or gun violence, who mobilized their grief into political action.
Now, McBath is back on the campaign trail but this time she's stumping for herself. She's running for a state house seat in the Georgia legislature. McBath, whose teenage son Jordan Davis was fatally shot by a white man in 2012 over an argument about loud music, initially believed she had more influence working as an activist with groups such as Moms Demand Action for Gun Sense in America. But after she had an important conversation with someone who encouraged her to become a candidate and McBath sought divine guidance she decided to run for public office.
"I really began to understand that I can continue to build the external movement for gun violence prevention," said McBath. "Getting on the inside is the truest way to be able to make the changes effectively and critically because it takes much longer to do it externally."
McBath, along with other women in Mothers of the Movement strongly supported Clinton's campaign for several months and believed she was the best candidate to work toward gun control and police reform. A year after the election they believe the prospect for police reform and gun control policy changes are grim under President Donald Trump's administration. But they continue their work because they believe it's needed now more than ever.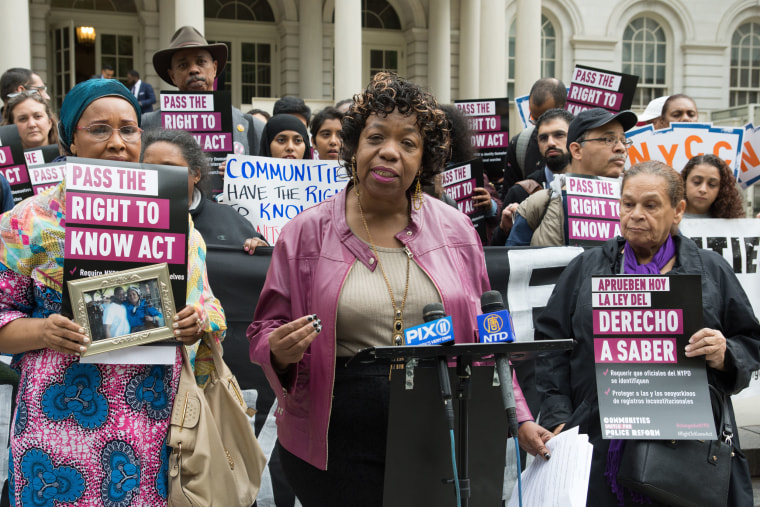 Gwen Carr believes that working toward police reform locally and statewide is key to changing the ways in which authorities interact with the public. Her son Eric Garner died in 2014 after a New York City police officer put him in a choke hold. Garner's last words "I can't breathe" became a common chant among activists. Carr believes President Trump is "not about police reform at all" and is trying to undo criminal justice reform progress made under former President Barack Obama's administration.
"The things that he is putting out there, telling the police to not have any respect for the people, he's almost telling them, the police departments, to treat them like animals," Carr said of President Trump's comments in July when he told law enforcement officers to not be "too nice" when arresting suspects. "So this gives them a green light to do what they're already doing to us."
Carr has been working with other activists in both New York City and the New York state legislature on police reform policy, including the executive order Governor Andrew Cuomo signed to appoint a special prosecutor for police-involved killings. She's also in the process of revamping a group she founded, the Garner Way Foundation, into ERIC (Eliminating Racism and Injustice Collectively) to honor her son and continue her work.
The activism of the Mothers of the Movement and others is crucial because it seems as if police reform is going in the opposite direction under the Trump administration, said Sonia Pruitt, vice chair of the National Black Police Association.
"At the rate that the Department of Justice and more specifically Jeff Sessions is rolling back Obama-era mandates and orders and protocols we don't have any hope there will be any reform," said Pruitt who has been a law enforcement officer for 25 years.
Pruitt said the nation needs an all-hands-on-deck approach to police reform and racial justice, including adding more black officers to the ranks.
"We have black officers who are in police departments fighting the fight every day trying to change the course of how business is done in policing...You can change things from the inside out."
Maria Hamilton is committed to pushing for change in police departments across the country. Last year, she was on the campaign trail for Clinton, even when she was ill. Now she is using the power of storytelling to bring awareness to police brutality. She worked with documentary filmmaker Erik Ljung to produce, The Blood is at the Doorstep, a film about her son Dontre Hamilton's death. Debuting earlier this year at the SXSW Film Festival in Austin, Texas, it chronicles the family's quest for justice for Hamilton who was fatally shot 14 times by a police officer in Milwaukee, Wisconsin in 2014. She's been taking the film on the festival circuit and writing a book.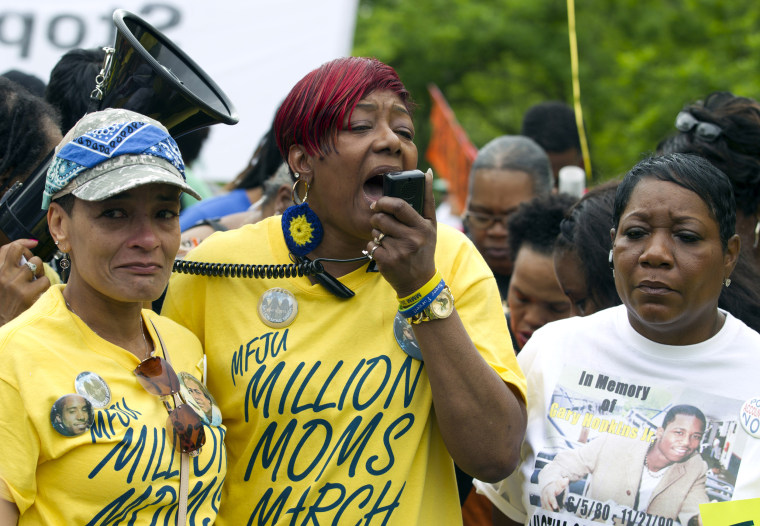 Hamilton also works through a group she founded Mothers for Justice United. She said she will continue to support local candidates and hold politicians accountable to work toward police reform, especially during the next round of elections.
"When the election comes up we can get these people out of office who aren't doing their job," Hamilton said. "We're working on laws. We're working on the people in our district as state representatives. We have a couple of people in place (to run for office). We're going to get people out to vote. Right now with Donald Trump and all of these executive orders and cop protections there's nothing we can do federally."
McBath said the Mothers of the Movement will continue their mission toward police and gun reform at the local and state level because regardless of who is in the White House they want to change policy in order to save lives.
"Each of us is still doing the work, you may not hear about it, but we're still behind the closed doors doing the work. And not a one of us is going to stop doing the work because our families, and our communities and our people deserve it and they're worth it."