Just days after a Minneapolis police officer was convicted for the murder of George Floyd, the city gathered for another emotional day as family, friends and community members gather for the funeral of Daunte Wright, a 20-year-old Black man who was killed during a traffic stop by police.
Wright's casket arrived Thursday afternoon at the Shiloh Temple International Ministries In Minneapolis, Minnesota, where civil rights leader Rev. Al Sharpton delivered his eulogy. Body-camera footage released by Brooklyn Center police of an officer shooting Wright awakened renewed protest against police brutality in the area amid the trial of former Minneapolis officer Derek Chauvin in the death of George Floyd.
Floyd's family was in attendance for Wright's funeral, along with their attorney Ben Crump, who is also representing Wright's family.
Jazz artist Keyon Harrold helped to open the funeral service with a trumpet performance, as an artist painted a portrait of Wright in black and white on the stage. Harrold made headlines last year after a woman falsely accused his teenage son of stealing her iPhone at a hotel in New York City. The family filed a lawsuit against the woman, Miya Ponsetto, the hotel and the hotel manager earlier this year.
Crump took the stage after Harrold's performance, leading mourners in a chant that "Daunte Wright's life mattered" before he offered a speech that he described as a "plea for justice."
He spoke to the crowd about a lack of de-escalation in the video released in Wright's case and how too often traffic stops end up as death sentences for Black people.
"We can expect nobody else to fight for children like us," Crump said. "We have to fight for our children...because our children need to know how much we believe in them, how much we believe in their future, because they do have a right to life and liberty and their American dream, and that is the plea for justice."
Wright's parents, Katie and Aubrey Wright, took the stage to offer reflections on their son as a person. His mother spoke through tears, explaining how much her son loved his own child, Daunte, Jr., and how she never expected to be in the position of burying him.
"My son had a smile that was worth a million dollars," she said. "When he walked in the room, you lit up. He was a brother, a jokester. He was loved by so many."
Dallas Bryant, 23, is one of Wright's older siblings and characterized his relationship with Wright as the closest of the siblings.
"I am going to miss this man so much, because he was literally my best friend," Bryant said. "Through thick and thin, through all the late night conversations we had about him trying to better himself as a man and the man he wanted to be for [Daunte, Jr.]. We talked for hours on it and he was doing just that. I was just so proud of the man he was becoming."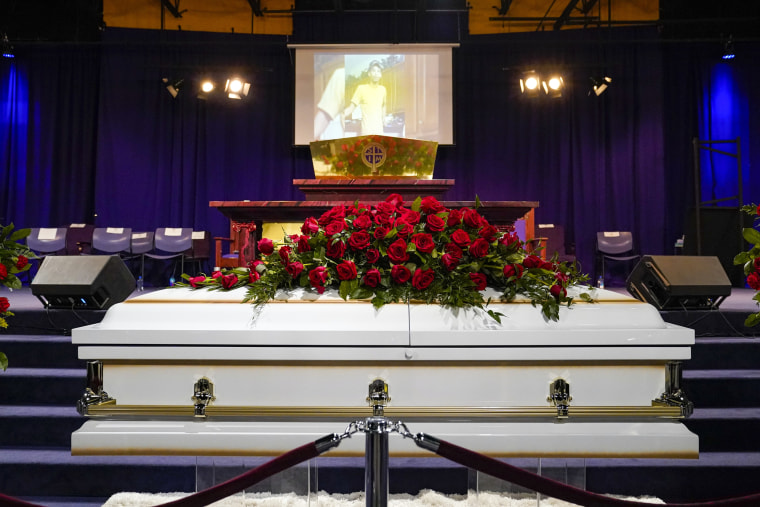 Sharpton gave the eulogy for Wright on Thursday, reflecting on decades of racial injustice and the fight for civil rights. He equated the chant of "no justice, no peace" with the quote of "the way of peace they do not know; there is no justice in their paths" in the Bible's Book of Isaiah.
"You can't go to church on Sunday and read this book that we call the Bible and not fight against oppression," Sharpton said. "God is not on the side of the oppressor, God is on the side of the oppressed...we must come into the tradition of what God's plans was and when you oppress us, we must stand up."
Daunte Wright is the "Prince of Brooklyn Center," Sharpton said, referencing a person who compared the funeral procession to that of famed Minneapolis musician Prince.
"I read that he was the center when he played basketball," Sharpton said. "Now he's the center of a movement of God."
Rep. Ilhan Omar, D-Minn., a member of the Congressional Black Caucus, read a portion of the resolution of congressional condolences for Wright. She also presented his parents with the flag that was flown at the Capitol in their son's honor.
Minnesota Sen. Amy Klobuchar spoke to mourners in the pews about the urgent need to pass the George Floyd Justice in Policing Act. She offered a proclamation to Wright's mother that she will not rest until "true justice" is done for her son by uprooting the "status quo."
"Racism in this country is not isolated, it's systemic," Klobuchar said. "And so, when we ask ourselves why Daunte, Jr. has to grow up without a dad, when we think about what could possibly fill this hole Daunte left in the world, we come up empty. Instead, we find a much bigger hole where justice should be."
Brooklyn Center police Officer Kim Potter and the department's police chief resigned in the wake of Wright's death. Former Brooklyn Center Police Chief Tim Gannon alleged after the shooting that Potter mistakenly grabbed her firearm instead of her department-issued Taser, a claim that drew skepticism from protesters and the Wright family.
"After 26 years, you would think that you know what side your gun is on and what side your Taser is on," Crump said. "You know the weight of your gun, and you know the weight of the Taser."
Potter, a 26-year veteran officer, was charged with second-degree manslaughter and has not yet entered a plea. Bryant said following the charge announcement that his family had been hoping for a more serious charge.
"I'm not too happy about it, but I'll take every win I can get at the moment," said Bryant, 23. "My family wants peace. Me and our family are going to try and do it the right way."
Minnesota Gov. Tim Walz asked residents to join him in a two-minute moment of silence to honor Wright at 12 p.m. CST, the same time Wright's funeral began.