CHARLOTTESVILLE, Va. — Siena Hart and her family spent the weekend unpacking five carloads of clothing, school supplies and dorm necessities at the University of Virginia, where she's a proud incoming member of the Class of 2021.
"I've wanted to go UVA since I was eight years old and attended a Black alumni weekend here with my Mom," said Hart, 17. "In high school, I said to myself, `Now work hard and earn the grades so you can get in there.'"
Yet the Richmond native never imagined that her "dream school"—founded by Thomas Jefferson in 1819 and built in part using the labor of enslaved African Americans—would garner national and international headlines for an onslaught of hateful incidents.
"There's been controversy for awhile in Charlottesville around the removal of a statue of Robert E. Lee," said Aryn Frazier, 21, a recent UVA graduate and 2017 Rhodes Scholar who returned to grounds to help organize and participate in "nonviolent" protests. "In some ways, it's not surprising. Virginia is the heart of the Confederacy and white nationalists have existed for centuries despite the seeds of leftist thought at the university."
Related: 'It Was Inevitable': Ian Reid's Photos of Charlottesville Chronicled Hate and Chaos
On Friday, August 11, so-called 'alt-right' groups comprised of white supremacists, neo-Nazis, KKK members, skinheads and other groups invaded UVA's campus, brandishing lit torches and chanting such slurs as "Jews will not replace us!" The men who marched numbered in the hundreds.
The following day, another "Unite the Right" rally in downtown Charlotte turned violent, then deadly after a car plowed through a group of counter-protesters. Heather Heyer, a 32-year-old Charlottesville activist was killed, while another 19 people were injured.
"It's so disturbing," said Hart, who spoke with NBC News on the day she moved into her dorm. "It felt like a personal violation."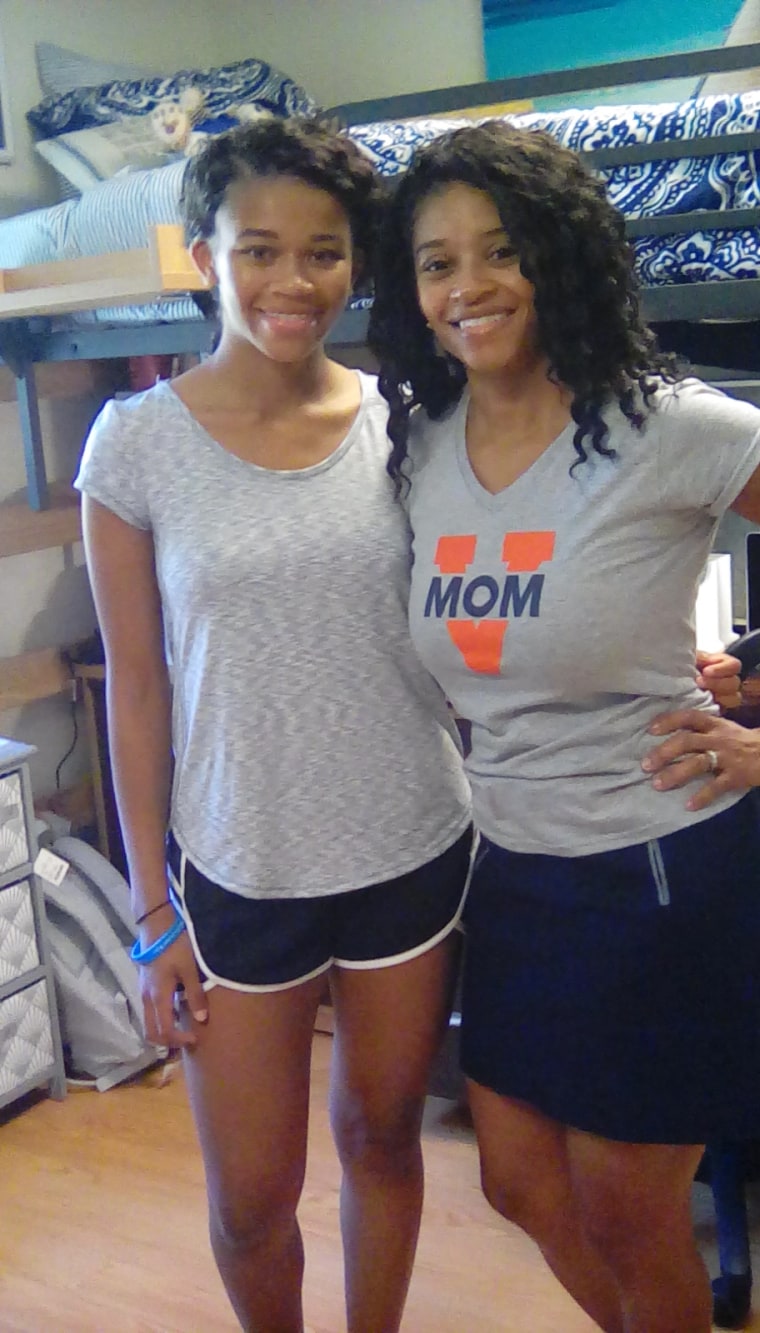 Her mother, Alisia Daily, nodded in agreement. She recalled watching coverage of the events on television in disbelief. "It felt surreal. I had to ask myself, 'Is this really happening?'" said Daily, a UVA alum who graduated in 1998. "I cried. It broke my heart."
After the tears, came worry: she knew that dropping her eldest daughter off at college would be emotional, but recent events at her alma mater—where there are some 35,000 students, faculty and staff—have added a whole new layer of angst.
"Condemnation of what happened is one thing, but like every parent, I want to know if my daughter and the students on campus will be safe."
Concerns for safety on campus
Teresa A. Sullivan, UVA's president, delivered a recent message in which she mourned the loss of life, injuries, "anger and frustration at the hateful messages" inflicted upon the university and town. "Beginning to heal as a community from this trauma takes time and energy. And we must do so together."
In a statement, Sullivan indicated law enforcement became aware late Friday afternoon from social media posts that there was a possibility of protesters gathering at UVA's Rotunda — where a statue of Jefferson stands—later that evening. From there, she said university police "immediately reached out to our partners in state and local law enforcement to determine if there were additional details."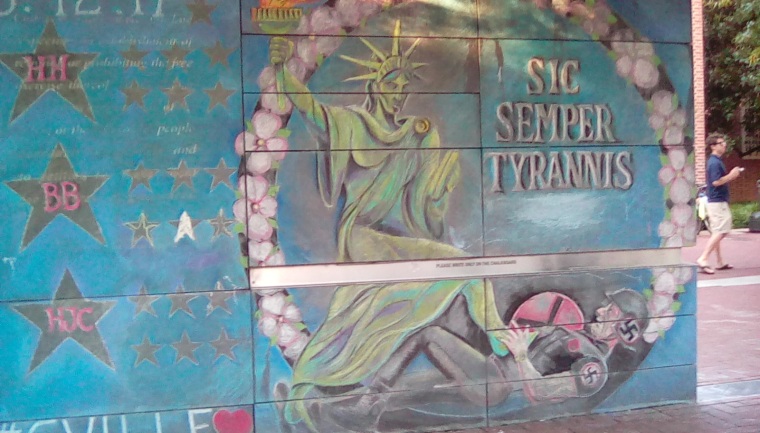 "Unfortunately, there were contradictory and misleading details about events, locations, routes and timing," said Sullivan, whose statement noted that the university does not require permits to reserve public spaces. " … The alt-right protestors did not do what they had said they were planning to do. They did not follow the route they had indicated."
Joseph French, 20, a third year student of Latino descent, was in a dorm room watching Netflix when the "frightening" scene suddenly unfolded. "Some students went out there and were met with pepper spray and hit by torches. They were very brave."
Days later, he said many of his classmates remain troubled by the university's response. Indeed, he's curious why there wasn't a formal campus-wide alert. "We had a black bear on campus not long ago, and they sent out an alert," he said. "Why not for something this serious?"
UVA has released public statements noting that administrators have held meetings with select students, various officials, and is in the process of reviewing security procedures, among other actions.
"While no public space or environment can be completely safe all of the time, the university will continue pursuing that goal as a top priority," Sullivan's statement said.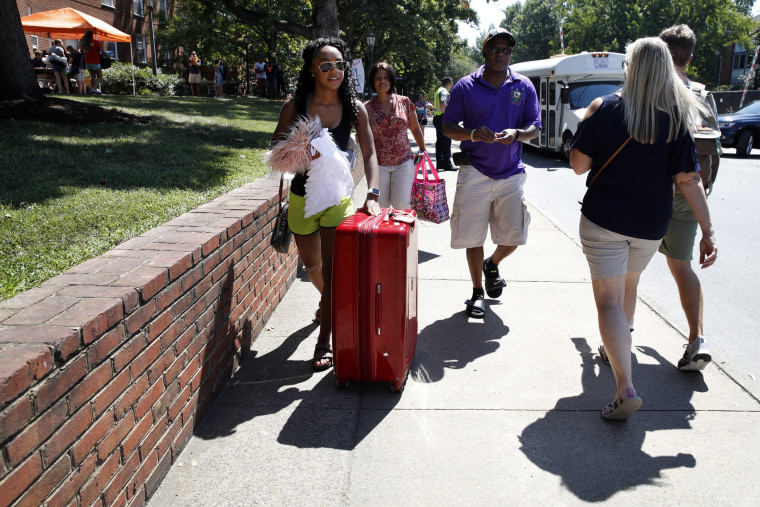 According to information on the university's website, there were more than 36,000 applications for approximately 3,700 slots in the Class of 2021. The class includes more than 1,200 students who identify as members of a minority group. About 56 percent are women.
This past weekend, African American UVA alumni from around the country met some of these students of color. They descended on campus during move in weekend, lending a hand with boxes and trunks, while aiming to boost student morale and spread goodwill.
"We felt there should be an alumni presence to help parents and incoming students move-in and show solidarity with these young people," said Quentin D. Washington, a 2004 graduate who resides in New York City. "Many students of color, especially, are really concerned about starting their college experience on a campus that has become a national battlefield to protect white supremacy."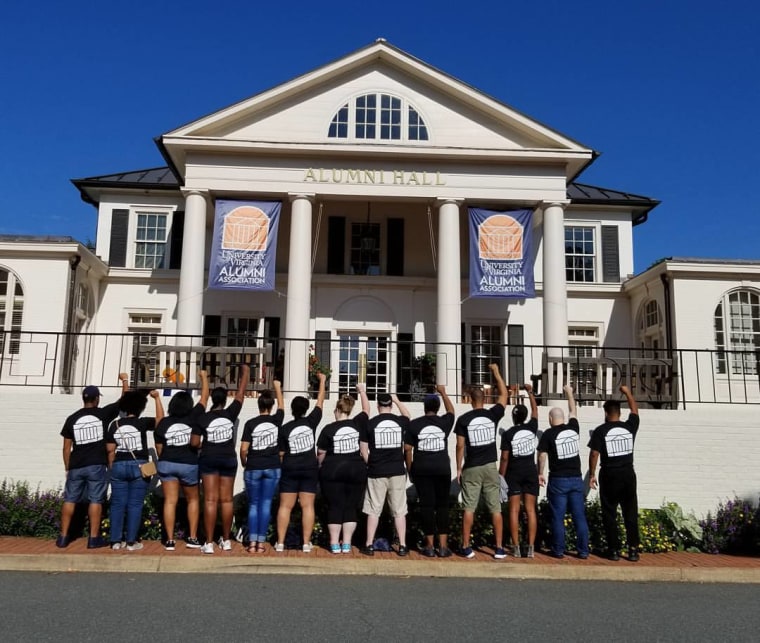 Led by Washington, Gregory Jackson and other leaders, the alums have formed a new group called #HoosAgainstHate, a take on the school's nickname, "Wahoos." Sporting black T-shirts bearing their logo, the alumni members orchestrated a full weekend of events on campus, where they socialized, strategized and performed acts of service.
On Saturday, the group visited the downtown memorial to Heyer and placed flowers amid the teddy bears, bouquets, candles, American flags and messages. At one point, Jackson—who graduated in 2007—asked the multiracial, multigenerational crowd assembled if anyone wanted to pray. A few dozen bystanders, most seemingly strangers, clasped hands and formed a circle. They bowed their heads as he tearfully spoke of a nation grounded in "unity and love."
Hoos Against Hate is planning a letter writing campaign and phone calls to support, encourage, and motivate students of color. They want to build support for a #TakeDownHate social media awareness Campaign to have individuals share their personal stories in support of taking down Confederate statues they believe incite violence, hatred and conflict. Future actions, they say, will include coordinating vigils and peaceful marches across the nation.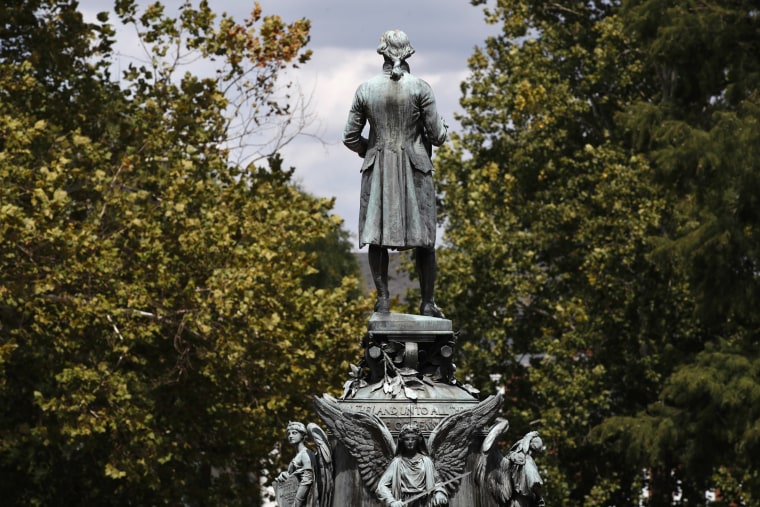 'Reclaiming our grounds'
Moreover, UVA student leaders and faculty have ideas about the path the university should pursue in order to move forward.
Lisa Woolfolk, Ph.D. is an Associate Professor in UVA's English Department. She's been at the university for 17 years.
"White supremacists waged a two prong attack on Charlottesville—striking at the university and the city. To combat this, it's useful to look carefully at the past and present to shape a better future. We don't need platitudes: we need policy and action."
For instance, she believes the city should remove all of its Confederate monuments.
"Charlottesville has proved that these monuments are not about history or heritage: they enshrine white supremacy at the expense of the health of the communities in which they are installed."
She'd also like to see city officials "commit resources" to dismantling what she described as a longstanding culture of white supremacy.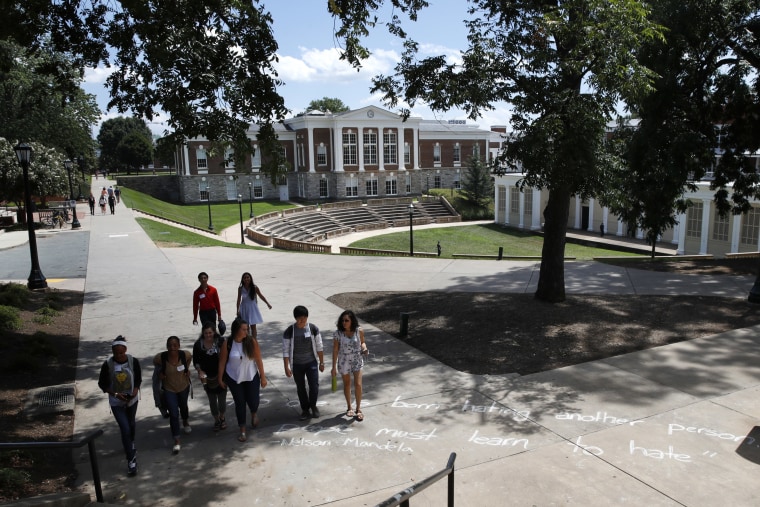 "Not just the obvious extremism but the subtle yet virulent strain that privileges politeness over justice, that disguises apathy as expertise, that told residents to 'ignore' the influx of hatred as if white supremacists sought only the light of our attention rather than a platform for racist ideas and action."
The university, she asserts, "must crush forever the false equivalencies between white supremacist ideology and other forms of radical thought. These are not simply neutral ideas without consequence."
Related: Martese Johnson Writes an Open Letter to the University of Virginia's Class of 2021
She said officials must acknowledge that students and staff were "brutalized by white supremacists" on campus and this qualifies as a hate crime. "As a matter of university safety, such incidents should be widely and immediately distributed, particularly among faculty since incidents adversely affect the morale of our campus and classrooms."
Finally, as an institution committed to higher learning, Woolfolk believes UVA "can undo some of the white supremacist foundations at every level of the institution."
For instance, the school can continue "to tell a more complete story of the university and slavery," and work to pay a living wage for all employees. "We can assess how white supremacy emerges in all aspects of University life including curriculum, faculty appointment, admissions, student life, and more," said Woolfolk.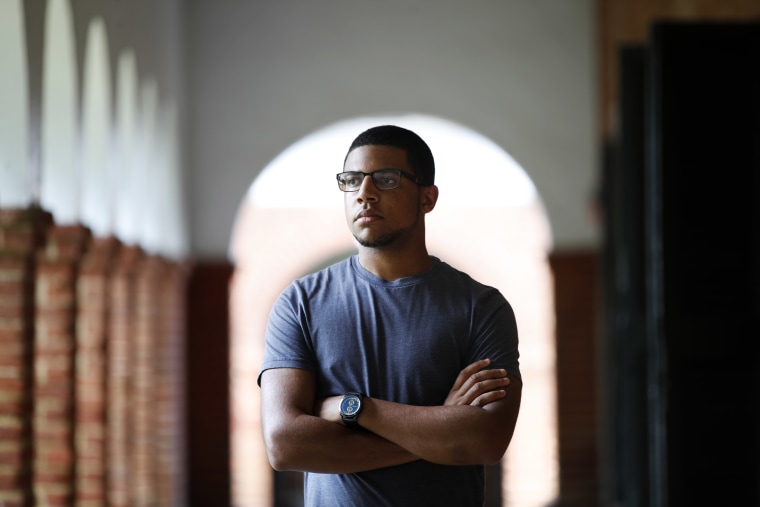 Wes Gobar, president of the Black Student Alliance (BSA) at UVA, echoed a similar sentiment. "These men bearing torches who were reminiscent of a lynch mob are a continuum of racial issues we've had on campus and in town," said Gobar, a 21-year-old fourth year student from Fredericksburg, Virginia. "There have been incidents of the N-word written in dorms and past instances of bias related harassment on and off campus."
The BSA released a recent statement which said in part, "We are students of color, we are exhausted. We want to know when the University of Virginia will stop asking us to renew our patience, stop asking us to tolerate intolerance, and stop allowing this horrific history of hatred to carry on. When will we have the opportunity to just be students here, unencumbered by an atmosphere of unwelcome?"
The organization is planning a vigil on Monday night at 9 p.m. The plan is for students to march from Nameless Field to the statue of Jefferson at the Rotunda. The goal is to "reclaim our grounds," said Gobar.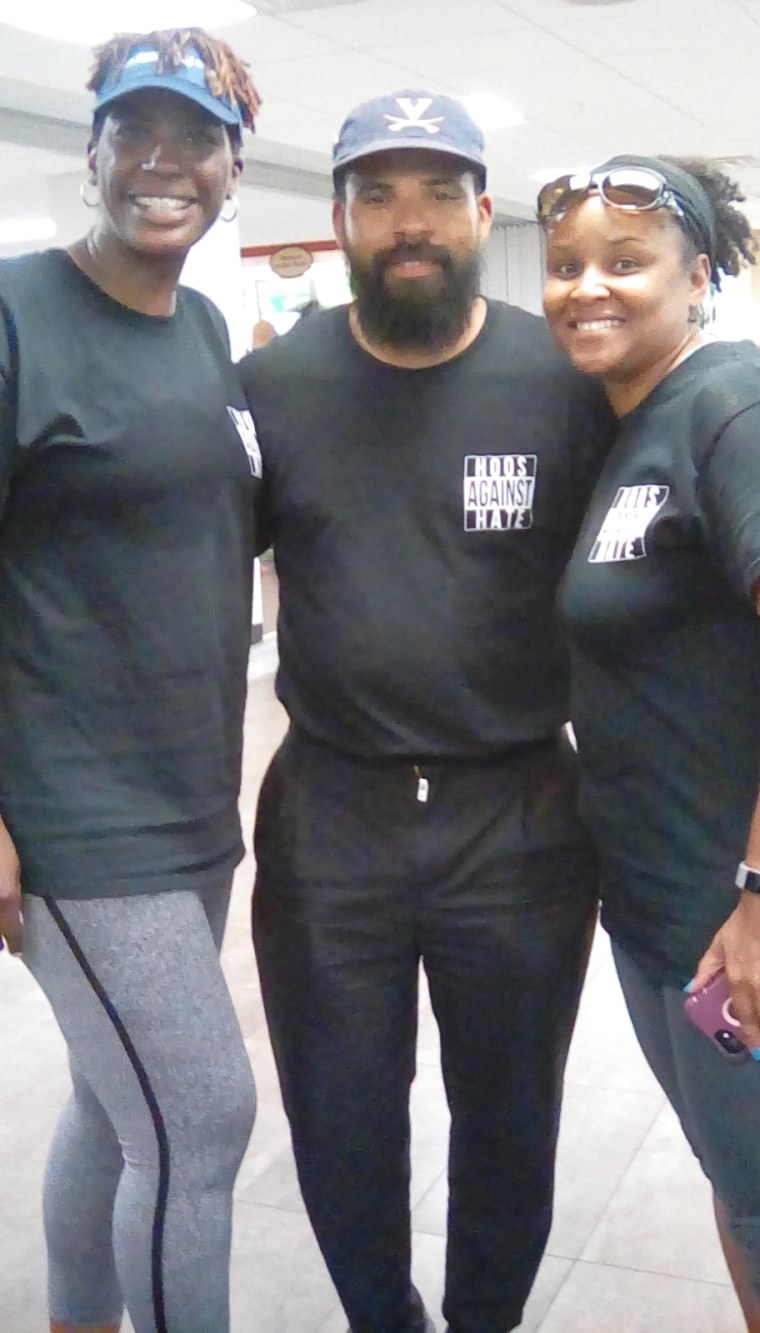 "We march to reclaim the progress that has been made by Black students, faculty, and staff towards justice over the last few decades," said the BSA statement. "We will march to reclaim these grounds built by our ancestors from the taint of white supremacy. We will march to send a message to the university that we need more from them in these times."
Inside her dorm, Hart hugged her mother and relatives and prepared to begin her new independent life as a college student.
She spoke of her studies—"I'll pursue a Pre-Med track"—and her dreams of possibly becoming a neurosurgeon. She's determined not to let the events on campus and off derail her academic and social plans.
"I can't really say I'm afraid," she said. "I don't plan to succumb to the hate and fear. Because I realize that the people who are doing these things, they're simply acting on their own fears."