As dignitaries, heavyweight champions, a former president, and the children of Muhammad Ali gathered to remember the icon at his memorial service on Friday, fans around the world were watching. But the day was especially meaningful for some of the young sons and daughters of Louisville, who despite never meeting 'The Greatest,' were deeply touched by his example.
One was Rodney Gill, a 10-year-old from Louisville, who told NBC News how much it meant that he could attend the memorial service of the man who had inspired him.
"The number one thing I learned from him is helping others can help yourself. It showed me that if I was caring to others, they would be caring back to me, and everybody would feel happy," said Gill.
Over the past several months, Gill has spent many of his afternoons at an after school program born from a collaboration between the Global Game Changers and the Muhammad Ali Center.
Jan Metts Helson, the co-founder and chairman of the Global Game Changers Children's Education Initiative, said Ali's core principles of respect, dedication, giving, spirituality, confidence, conviction are what her organization aims to instill in children.
"[We're] empowering them to know that no matter who they are or no matter where they come from or no matter how many times somebody tells them they can't do something or they're not good enough or that they don't have the resources or that they shouldn't bother to strive for something like that - that they can," Helson said.
Helson said she believes the country's education system has let generations of kids down. Data released by the state of Kentucky in the beginning of 2015 showed 50 percent of incoming kindergartners were unprepared when it came time to enter the classroom.
"If you think about them coming into school socially, emotionally, academically ill-prepared, coming from tough backgrounds, coming from adverse situations and then expect them to, like, flourish? You know, how naive is that?" Helson said.
RELATED: 'I Do Miss Him So': Khaliah Ali Shares Her Final Moments With 'The Champ'
The purpose of the program is to close the achievement gap by selecting students like Gill from the most underserved elementary schools and teaching them to harness their "superpowers" by combining their talents with their heart to help better the world.
Quinnette Connor, 19, who attended Ali's memorial service at the KFC Yum! Center, said she remembered learning about Ali over a decade ago from her parents, who were "keen on teaching us Black history" and "very supportive of his lifestyle."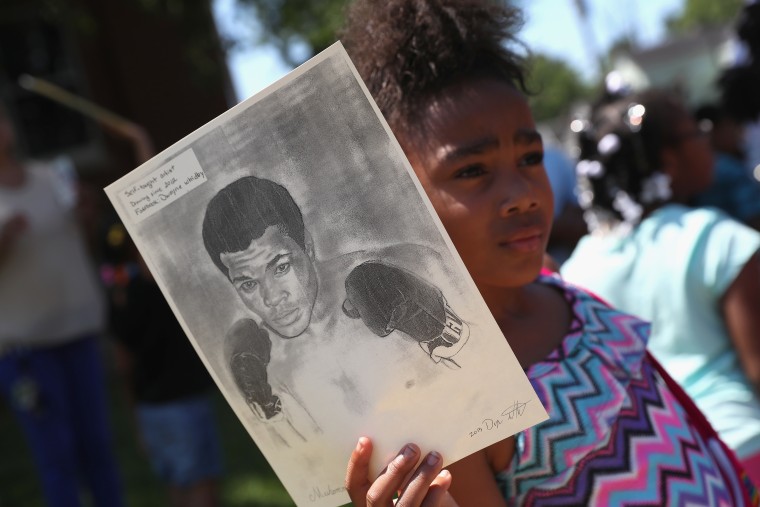 Connor said she might not have understood everything he stood for at the age of 8, but she understands it now. She recalled being particularly inspired by his comments on Vietnam and his powerful refusal to fight in a war abroad:
"Why should they ask me to put on a uniform and go ten thousand miles from home and drop bombs and bullets on brown people in Vietnam while so-called Negro people in Louisville are treated like dogs and denied simple human rights?"
"It's very important to have a role model to say such things, like speaking for the poor or speaking for people who don't have a voice, to have that awareness and to know that it's very important for celebrities or people with power to represent the minority or the oppressed," Connor said.
RELATED: Essay: Muhammad Ali's Rope-A-Dope Rally for Truth Set Him Free
Since Ali's death on June 3, his children have spoken out about his spirit and legacy. His daughter, former professional boxer Laila Ali, told TODAY that Ali was a "loving father."
"That's what I always remember, just being kissed and hugged, and him just being that person, just giving you anything you want because he wants to see a smile on your face," she said.
Laila Ali also talked about her dad's humanitarian work and his passion for helping children.
"He treated kids that he didn't know the same as he treated us when it came to how much love he showed," she said on TODAY.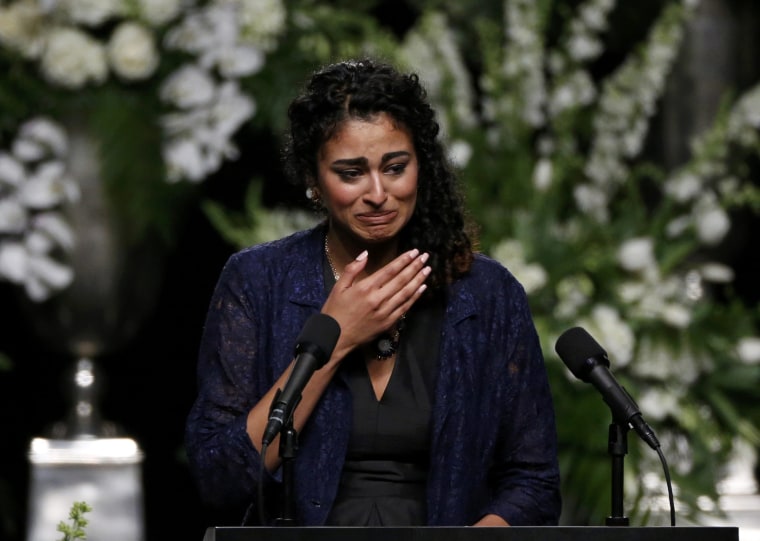 Some of the speakers at Ali's memorial service served as a testament to that.
Alessandra "Ali" DiNicola, the young daughter of Ali's longtime attorney born on the same date as the boxing legend, took the stage for a few moments to share her connection to the icon.
"He used to call me 'The Little Greatest," DiNicola said. "We can all learn from Muhammad's example of kindness and understanding."
Natasha Mundkur, a University of Louisville student and volunteer at the Muhammad Ali Center Council of Students, said looking out at the crowd, she felt Ali was not gone afterall. She said he lived on in all of those present, as did his teachings on what was possible.
"Impossible is not a fact. Impossible is an opinion," Mundkur said. "Impossible is nothing."