Baltimore: ChangeMakers will introduce you to some of the individuals who are engaging youth, seeking to improve their neighborhoods block by block, and demanding that their voices be heard in corridors of power. Each one is different but determined in their own unique way to change the paradigm in the city, pushing to help rebuild it one day, one person at a time.
---
Ericka Alston is constantly on the move.
On a cold Monday morning in February, Alston rushes into her West Baltimore office fielding calls on her cell phone, politely parceling out instructions to her staff, hastily coordinating a cable installation, and planning a fund-raiser—all at the same time.
She prides herself on organization and multi-tasking. And she's good at it.
Alston, 45, is Marketing Director of Penn North Community Resource Center, a non-profit neighborhood outreach agency which also houses the Penn-North Kids Safe Zone, a peaceful haven for young people 5-17 years old founded by Alston in an area where drug dealing and gun violence, for some, has become a fragile way of life.
A self-described workaholic, Alston is poised, professional, attractive—and a recovering drug addict who was hooked on crack for several years.
Alston is a formidable woman who has turned her life around. She has rebounded from drug addiction and has chosen a path of community service in a disenfranchised black neighborhood that needs continuous support.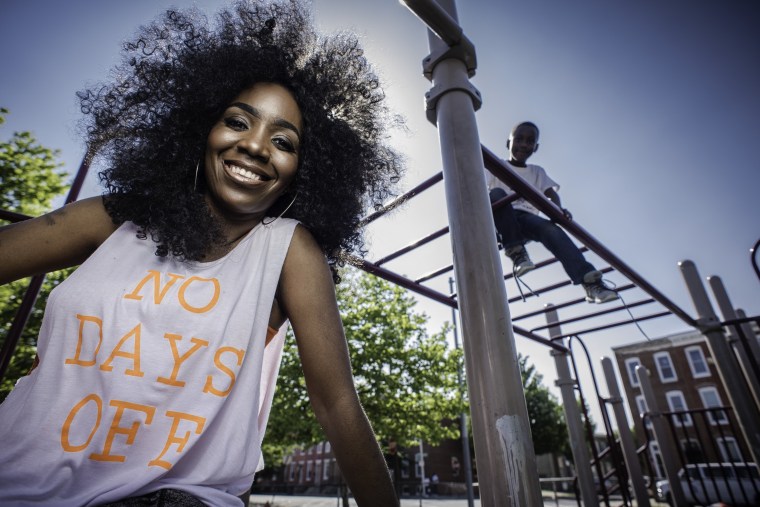 "God showed me my purpose," Alston told NBCBLK in an interview at her office. "This is my ministry."
Alston is also the Founder and Executive Director for The Be Extraordinary Project, a self-esteem program for young adults 18-25, recovering from substance abuse. She is part community leader, part social worker, part drill sergeant, and part psychologist.
"I'm in recovery every day," she said. "I don't look like addiction or despair but that is exactly what I've been rescued from and now I'm helping others in crisis."
A mother of four—two daughters and two sons—Alston often experienced moments of weakness and desperation when her kids were young. Her daughter Aundrea recalls one traumatic Christmas Eve when she was 8 years old.
"I remember it because I asked for a vanity," Aundrea said. "I got my vanity. She [Ericka] told me that she was taking it to someone's house so that they can put it together... And I never saw that vanity again."
"I eventually brought you a vanity," Alston said. "After I got myself together, I gave her a vanity."
"She sure did," her daughter said.
"That haunted me for forever," Alston admitted. "That was the only thing she wanted. Oh my god. I think I sold that thing for like twenty ($20) bucks. Like on Christmas Eve."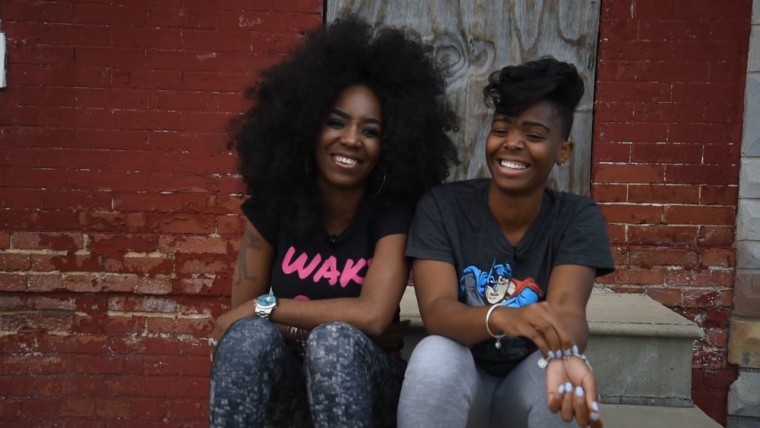 Times have changed and Alston's mission is clear. The Penn-North Kids Safe Zone opened June 1, 2015, five weeks after the riots resulting from Freddie Gray's death in a Baltimore police van.
Alston's vision for giving children a safe space in a troubled neighborhood became a reality. With donations from community groups—black and white—the facility is a part-time home for some 65 kids every day and more than 100 children in the summer.
She transformed a 1,000-square-foot abandoned laundromat into "Disneyland" for neighborhood kids. The Kids Safe Zone is open 7 days a week, from 8am to 8pm and free to any child. It has seven flat screen TVs, Xbox, Wii and Play Station gaming systems and plenty of books, Alston said. The only requirement to play at The Kids Safe Zone, she said, is that children must read for 15 minutes before they can play.
RELATED: Baltimore ChangeMakers: Repping Marginalized Youth Through a Compassionate Lens
And Alston continues her campaign to raise $5,000 to transform a large space into a kid's wellness center, yoga studio, and martial arts facility. Last year, Alston partnered with Baltimore activist Munir Bahar—co-founder of the 300 Men March Movement—to teach young boys Tai Chi and Karate and the principles of self-discipline.
"Ericka's enthusiasm, vision, and professionalism are out of this world and her spirit is infectious," Blaize Connelly-Duggan, Executive Director Maryland Community Health Initiatives, Inc., told NBCBLK.
"She could have any high paying corporate job she wanted but her calling and commitment is to serve the most vulnerable and marginalized children and families in Baltimore City," said Connelly-Duggan, who works with Alston on a daily basis. Alston ended up at Penn North, she said, "by the grace of God."
Meanwhile, being a parent has helped Alston shape her desire to help children. Alston said Kids Safe Zone has served more than 20,000 children so far.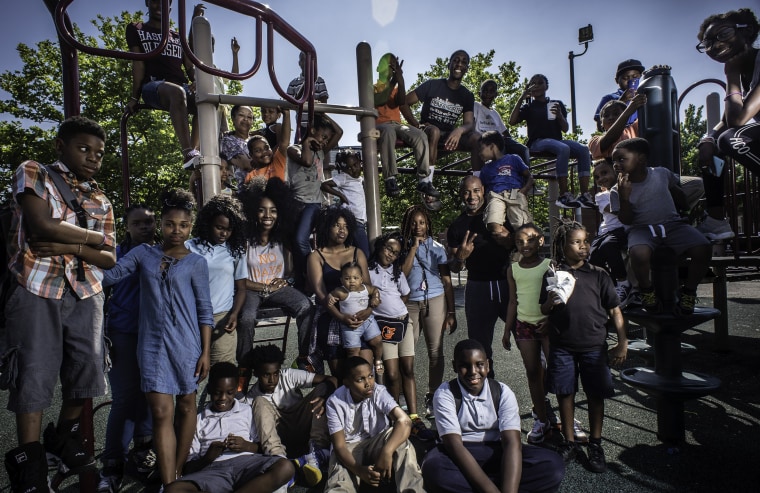 She helped secure a $30,000 donation from A&E Network as a result of musician Alicia Keys' visit to the center. And Kaiser-Permenente also gave Kid's Zone a $10,000 contribution, thanks to Alston's outreach.
"It was a divine miracle that she was sent to us at Penn North just one month before the uprising following the murder of Freddie gray in April 2015," Connelly-Duggan said.
"Her vision enabled us to find the silver lining in the tragedy and her tenacity transformed a moment of heartbreak and despair into a movement of hope and opportunity that will benefit thousands of children and families for generations to come," he said.
On that freezing day in February, a young, unemployed black man walked into Alston's spacious office. The man asked Alston for help with bus fare and told her that he will deliver flyers promoting Penn North and help her out with odd jobs.
When the man left her office, Alston's voice dropped to a whisper.
"He was my drug dealer," she said softly. "I would buy drugs from him; I would owe him money. And one day he walked in here and said 'I don't want to do this anymore' and he's been trying to turn his life around ever since. And now I'm trying to help him with his personal recovery."