The NAACP announced a new leader Saturday to oversee the nation's oldest and largest civil rights organization during a time of "tremendous challenge and opportunity," the group said.
Derrick Johnson, 49, was unanimously elected as president after serving as interim leader since July, replacing Cornell William Brooks. In February, Johnson was also elected vice-chairman of the Board of Directors.
In a call with reporters, Johnson said Saturday that he was honored to stay in the role and help the NAACP continue to make an impact on public policy. His term is set for three years.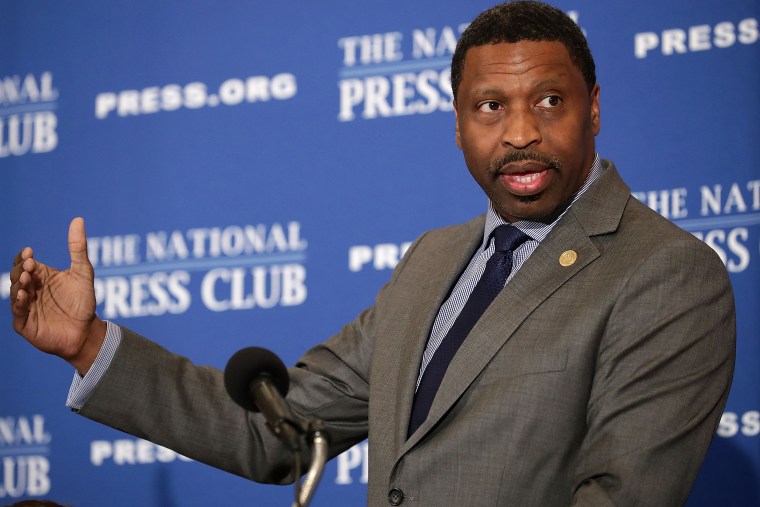 "My priority is to make sure we have the tools necessary in a 21st century climate," Johnson said. "In this current political landscape, we must ensure that we have a strong national voice. It is an honor for me to sit in this position not because of the title and the access it brings, but because I represent local communities, I represent those who don't have a voice."
The NAACP has undergone transitions in leadership this year as it re-envisions itself amid a turbulent social and political climate marked recently by protests over confederate statues and NFL players kneeling during the national anthem. In August, the organization kicked off a multi-city listening tour where it held community discussions on how to combat issues such as police brutality, voter suppression and mass incarceration.
NAACP Board Chairman Leon Russell said Johnson has proven himself as "the strong, decisive leader we need to guide us through both our internal transition, as well as a crucial moment in our nation's history."
"With new threats to communities of color emerging daily and attacks on our democracy, the NAACP must be more steadfast than ever before, and Derrick has the vision, mobility and courage to help us meet that demand," Russell said in a statement.
Detroit-born Johnson attended Tougaloo College in Jackson, Mississippi, and then received a law degree from the South Texas College of Law in Houston. In later years, Johnson furthered his training through fellowships with the Congressional Black Caucus Foundation, the George Washington University School of Political Management and the Massachusetts Institute of Technology.
He has served as an annual guest lecturer at Harvard Law School, lending his expertise to Prof. Lani Guinier's course on social movements.
Johnson has served as state president of the NAACP Mississippi State Conference, leading campaigns for voting rights and equitable education. As a regional organizer at the Jackson-based nonprofit Southern Echo Inc., he provided legal, technical and training support for communities across the South.
The NAACP held its annual convention this summer in Baltimore, where it is headquartered. Among its announcements were a business partnership with Airbnb and urging a travel ban for Missouri over allegations of discrimination.
In the wake of Hurricane Katrina, Johnson founded One Voice Inc. to improve the quality of life for African Americans through civic engagement training and initiatives.