The NAACP's travel advisory for Black people considering a visit or move to Florida has less to do with potential travelers and more to do with rallying the Black residents of the state to counter Republican-led policies, members of the civil rights organization told NBC News. 
Leon W. Russell, the chairman of the NAACP national board of directors, who lives in Tampa, said the travel advisory was an informational and strategic tactic to galvanize Black voters, especially Black men, against Republican Gov. Ron DeSantis.
 "Let me be clear: We're not calling for a boycott or a travel ban," Russell said. "We're saying to Black people who come to the state or who are thinking about coming to the state that you need to be aware of what's going on here and you need to think about how you are going to be impacted by this hate and cruelty that is being generated. You need to consider whether or not you're going to be safe."
The advisory reads, "Florida is openly hostile toward African Americans, people of color and LGBTQ+ individuals. Before traveling to Florida, please understand that the state of Florida devalues and marginalizes the contributions of, and the challenges faced by African Americans and other communities of color."
Marsha Ellison, president of the NAACP's Fort Lauderdale/Broward Branch, said the advisory has already generated interest. 
"Since the travel advisory, our phones have been blowing up with people on the ground wanting to know more details about why the travel advisory and the policies that impact them," she said. "So, this is going to be quite effective."
Ellison said many Black Floridians have a strong sense of DeSantis' policies related to race, identity and inclusion, and "many aren't in tune with his racist and draconian policies."
DeSantis has said Florida is where "woke goes to die." He doubled down on his comment in January when his administration said it would block a new Advanced Placement African American studies course from being taught in public high schools, prompting some Black parents to say they will teach the history at home to assure their children are well versed. DeSantis also has been vocal about banning the teaching of critical race theory in public schools and about other policies that some consider to be  anti-gay or anti-immigration.
The advisory, Russell said, stands for multiple and intersecting marginalized communities. "If you are a part of any of these communities — Black, Latino, LGBTQ — or if you stand in support of these communities, you need to work with us to think about a proactive civic engagement policy because this, at the end of the day, is about politics," he said.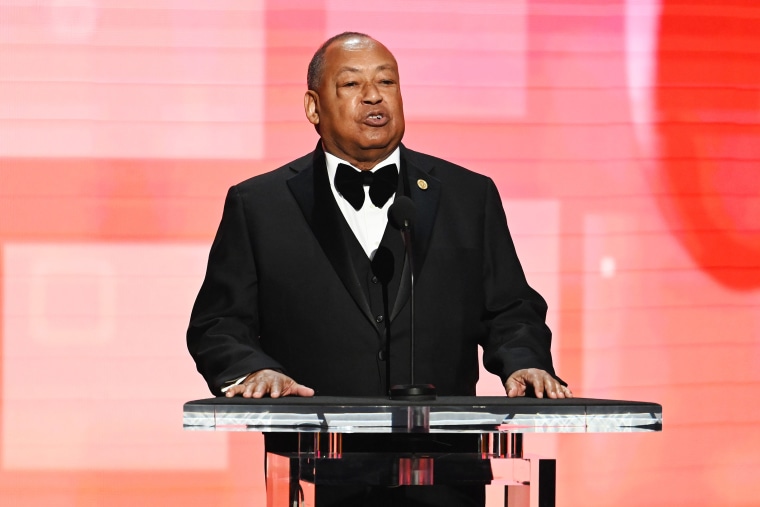 Millions of people flock to Florida for its beaches and attractions, but the politics have driven not only the NAACP but also the League of United Latin American Citizens, the Florida Immigrant Coalition, Equality Florida and the Human Rights Campaign to issue similar travel advisories or relocation warnings.
In a statement released to the media, the DeSantis administration said Florida was flourishing in tourism and called the NAACP travel advisory "nothing more than a stunt." DeSantis is planning to announce his presidential campaign this week.
"You can't get blinded by the tourism piece," Ellison said. "We are opening people's eyes as far as what's really happening. This man is running for president. Florida may seem so far away to other people. But when you think about it, it could be happening in other places, you understand the importance. Black history means something to all of us, and we can't let it be wiped away."
And so, the NAACP is all in on fighting against DeSantis. Russell said  his policies "are about one man's thirst for power." This is the most effective political action plan, civic engagement plan that the association has ever conducted in the state of Florida. It's clear to us that you can't run away from hate, right? You have to fight it."
Russell called on Black men, specifically. "You have to get out and vote. You have to encourage your brothers to get out and vote because policies will kill you if you don't," he said.
Further, Russell said DeSantis' public vows to erase the teaching of Black history in Florida public schools has worked opposite his intentions. While it has garnered much state and national attention, Black voters are hearing the messages — and are riled up about it.
"I am heartened by the fact that he's done the opposite of what he set out to do," Russell said. "He wanted to kill 'wokeness.' But he's actually raised the level of people's awareness. People are realizing the cruelty that's being spread. I think he is waking people up to the fact that they need to stand up, that they need to be a part of something. And that's what we hope to create is a civic engagement movement with the travel advisory. The more people know, the more they will act."
He cited the mayoral race in Jacksonville last week as an example. Democrat Donna Deegan was an underdog in a city that DeSantis won in his 2022 race by 12 points. The governor backed conservative Daniel Davis, who had run on an agenda similar to DeSantis'. Deegan pulled off the stunning upset.
"And you can point to the attack by her opponent on the LGBTQ community, the attack on the Black community, for the turnout that changed that situation. Awareness," Russell said.
But Russell admitted that far more is needed in Florida to have the impact the NAACP is seeking.
"We need to flip some seats in the state Legislature," he said. "We have to show public policymakers that the voters are aware of what's going on and who is setting this policy, and we have to organize folks so that we change who's in public policymaking positions in the state — whether it's at the legislative level, whether it's at the school board level, because some of the biggest threats right now are happening at school board level.
"And city council and mayoral positions. So, this advisory is a way to heighten awareness about the issues so we can motivate people to get out and get active and to vote. That's where the change happens."