The head of one of America's foremost Civil Rights organizations says "Black America is strong and resilient," but the community must remain vigilant to survive and thrive amid the country's shifting political landscape.
"It's important that people understand we have to fight to protect the progress that's been made," said Marc Morial, President and CEO of the National Urban League (NUL). "And at the same time, resist any rollbacks."
Morial spoke to NBC News this morning, hours before the group formally released its annual status report, `The State of Black America.' The National Urban League will officially kick-off its 14th Annual Legislative Policy Conference in Washington, D.C., May 2- 4. There will also be a Town Hall meeting Tuesday with special guests such as Michael Eric Dyson, Angela Rye, and members of the Congressional Black Caucus (CBC).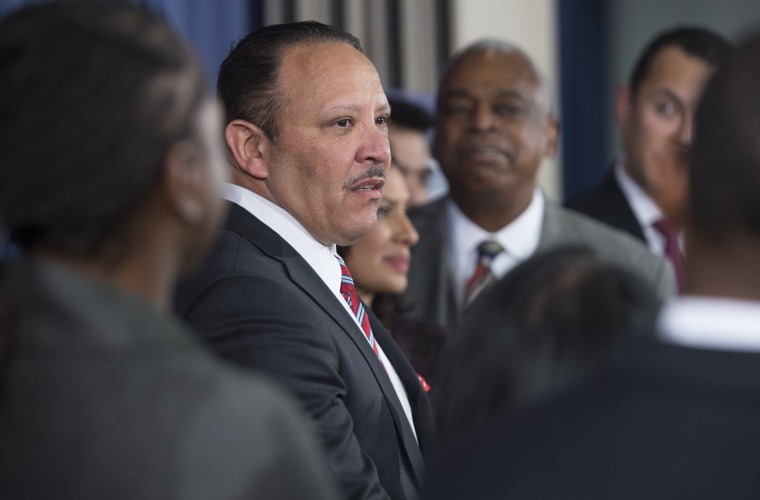 The 2017 report, "Protect Our Progress," examines key areas such as jobs, wages, education, health care, voting rights, criminal justice reform, and financial literacy. According to latest Census data, there are 46 million African Americans in the U.S., comprising about 14 percent of the population.
Related: 100 Days of Civil Rights in the Trump Administration
Morial writes in the 20 page (executive summary) of the document that it's "impossible" to discuss the current state of Black America without addressing the country's new political realities.
Since President Donald Trump entered the White House in January, and Republicans assumed control of both chambers of Congress, critics have cited an increase in hate crimes; decried policies impacting immigrants and Muslims; and protested efforts to dismantle the Affordable Care Act, and more.
"We've got to shed both light and heat on this," said Morial.
During Barack Obama's eight years as president, the report notes that the economy added 15 million new jobs, the Black unemployment rate dropped and the high school graduation rate for African Americans rose.
Those gains and others, Morial asserted, are "being threatened" under the new Administration and on Capitol Hill.
"Recent proposals before Congress would shift desperately needed resources away from underfunded public schools toward our heavily-invested-in military," he noted in the report.
Related: Meet Anthony Daniels, Alabama's First Black House Minority Leader
"The federal budget currently under consideration would slash the budget of the Departments of Health, Education, Housing, and Labor—a blueprint for a sick, uneducated, homeless and unemployed America. Suggested double-digit cuts, or the outright elimination of funding for vital programs and services, would devastate already vulnerable citizens and working families."
To help boost economic development and combat social inequality in urban communities, the NUL has proposed "The Main Street Marshall Plan: From Poverty to Prosperity."
Morial termed it "a bold, strategic investment in America's urban communities" designed to tackle everything from universal early childhood education to an urban infrastructure initiative. Here are some excerpts of the plan:
EDUCATION
•Increase federal funding for public schools, with a focus on equity to eliminate resource gaps
•Expansion of pre-K programs
•Double the nation's investment in the Pell Grant program for college students
JOBS AND THE ECONOMY
•Enact a federal living wage of $15 per hour
•Create a new Main Street Small and Micro-Business Financing Plan
•Expand summer youth employment programs
HOUSING AND WEALTH-BUILDING
•Expand financial literacy, homebuyer education and counseling
•Broaden access to low-income housing rental assistance
• Tax Credits
HEALTH
•Fully fund the Medicaid, Medicare and Children's Health Insurance Program, and prevent a switch to block grants
•Protect the Supplemental Nutrition Assistance Program (SNAP), the Emergency Food Assistance Program, The National School Lunch Program, etc.
•Incentives for more doctors to accept Medicaid, particularly in states with a high percentage of Medicaid recipients
"We have to talk about who shares our values and views, and who will support what we embrace," said Morial, who noted that the report will be presented to Trump's cabinet members.
To date, NUL leaders have met with new Attorney General Jeff Sessions and HUD Secretary, Dr. Ben Carson, although not the Commander in Chief.
"We're not interested in meetings just for the sake of it, or photo ops," said Morial. "But this report—which is not a spin document but facts and figures-- is must reading if you want an accurate picture of Black America."
A live webcast of the NUL presenting the report will be available on: www.stateofblackamerica.com.