George Washington Carver. . . .peanuts, wasn't it? Somewhere in Alabama. Black man? Didn't he invent peanut butter?
From an interracial, homoerotic love affair, to constant fights with a deeply jealous Booker T. Washington, Carver's life was every bit as dramatic as his astonishing work.
Most people can remember a few of his inventions from some children's biography they read in school, which explained that he saved thousands of farmers from starvation with products he developed from peanuts, sweet potatoes, soybeans, and even such unlikely sources as swamp muck and oil sludge.
After his death in 1943, Carver remained a household hero until the 1960s, but his fame faded as the public focus shifted from saintly black gentlemen to activists of an angrier genre. Yet dear, old-fashioned Carver, working in a bare-bones laboratory hardly worthy of the name, and living in a period of virulent racism that we today can hardly imagine, still has so much to teach us about science, race, and life.
George Carver was born a slave, raised by his kindly owner, Moses Carver, in a one-room shack. "Uncle Mose" taught George to play the violin, but being illiterate, he could not teach him to read. Thus, at the age of ten, George gathered his meager his pet rocks and seedlings and struck out on his own to seek an education.
Washington harassed Carver mercilessly, and was largely responsible for the suicide of Carver's dearest friend, a married woman he was in love with.
He worked at odd jobs, saving enough to support himself for a couple of months so that he could attend school, and returning to work when his money was gone. He was a black drifter in those bitter years. Once in Kansas, a lynch mob dragged a black man down a street where George was standing, bashed the man's brains out on the sidewalk, hanged what was left of him, and then set fire to the bloody remains. The memory haunted Carver for the rest of his days.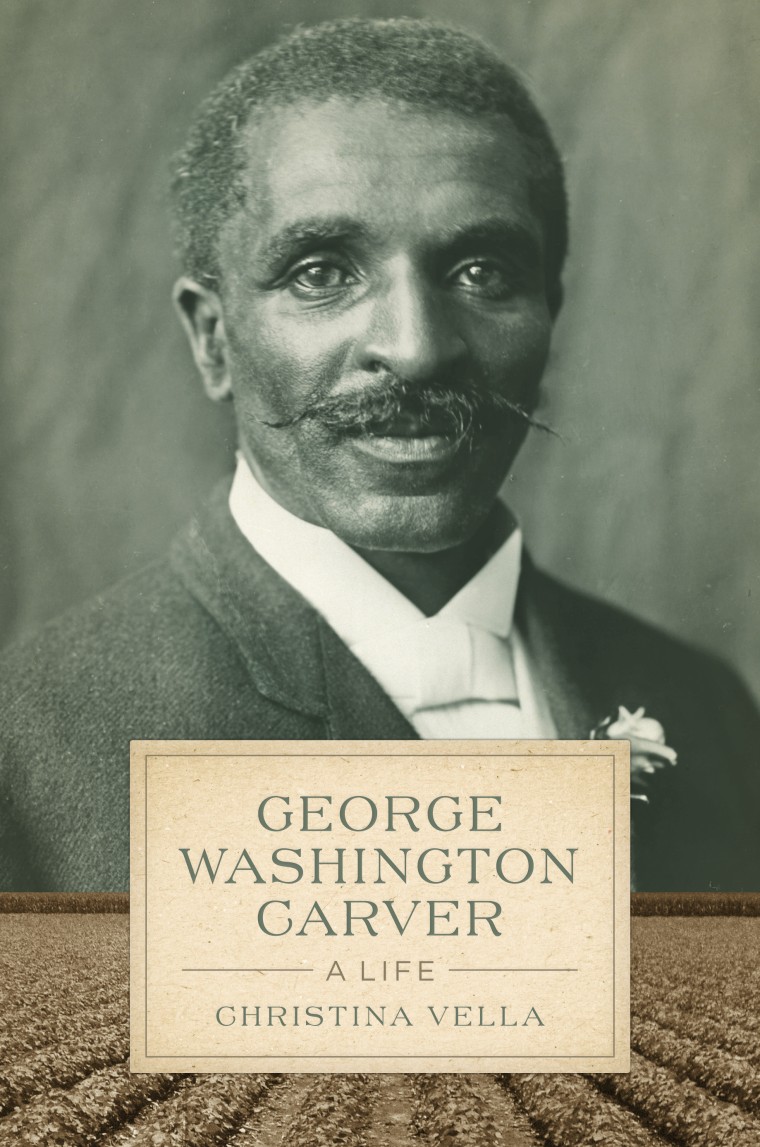 Carver managed to work his way through high school and Iowa State College in Ames. He even earned a master's degree, and, because he was so loved and admired as a genius scholar, found himself appointed to a full-fledged faculty position.
But in 1896 Carver met Booker T. Washington and fell under the hypnotic spell of a man he would come to idolize. He gave up his post in Iowa to go "to his people," the Negro school Washington had founded in Alabama, and where Carver remained for the rest of his life. In the sharecropper cabins he visited in Alabama, Carver saw disease and desperation such as he had never before witnessed. Generations of cotton farming had depleted the soil and, as cotton prices fell, sharecroppers starved.
Carver, working alone and with makeshift utensils, set out to find crops besides cotton that a one-mule farmer could raise. Those alternative crops were peanuts, which replenished the soil, and sweet potatoes, which yielded more food per acre than any other plant. But in those days the peanut was no more considered an agricultural staple than parsley. So Carver began developing his amazing range of by-products to create a commercial demand. By the time of his death, peanuts had become the third most important cash crop of Alabama and Georgia, all due to his efforts.
Carver's life in those years was cursed with drama. Booker T. Washington was gnawed by jealousy of his erudite professor, and the two made each other wretched for the 19 years they worked together. Washington harassed Carver mercilessly, and was largely responsible for the suicide of Carver's dearest friend, a married woman he was in love with. After fierce and complicated conflicts between Washington, Carver, and the woman, she ended by throwing herself off Tuskegee's highest building.
Having given away his savings, Carver died poor and famous, with no luxuries on his soul except a wealth of unspent ideas.
Only after Booker's death in 1915 could Carver begin garnering a reputation for his scientific work. In his research station he created useful items from materials normally thrown away: barnyard feathers (500 products); weeds that yielded dyes (over 500); acorns, animal bones, pine straw, kudzu, and many, many others. Farmers were accustomed to nailing newspaper on the inside walls of their shacks. Carver showed them how to make whitewash from the clay around their farms, and along the way he developed laundry powder, shoe polish, and dozens of paints and stains from the same clay. From wood shavings came synthetic marble. His discoveries in botany and mycology, the medicines he concocted from plants, his substitutes for milk—these could fill a book. Albert Einstein considered Carver one of the ten greatest scientists of his time.
There were love affairs, too, including a ten-year obsession that all but shattered Carver. When he was 60 and known everywhere, he fell helplessly in love with a 23-year-old white evangelizer, Jim Hardwick. (Did we suppose that same-sex and inter-racial love were only modern developments?) During the same period, one of Carver's close women friends was also in love with Jim. The tormented triangle ended when Heartbreaker Hardwick secretly married—a different woman.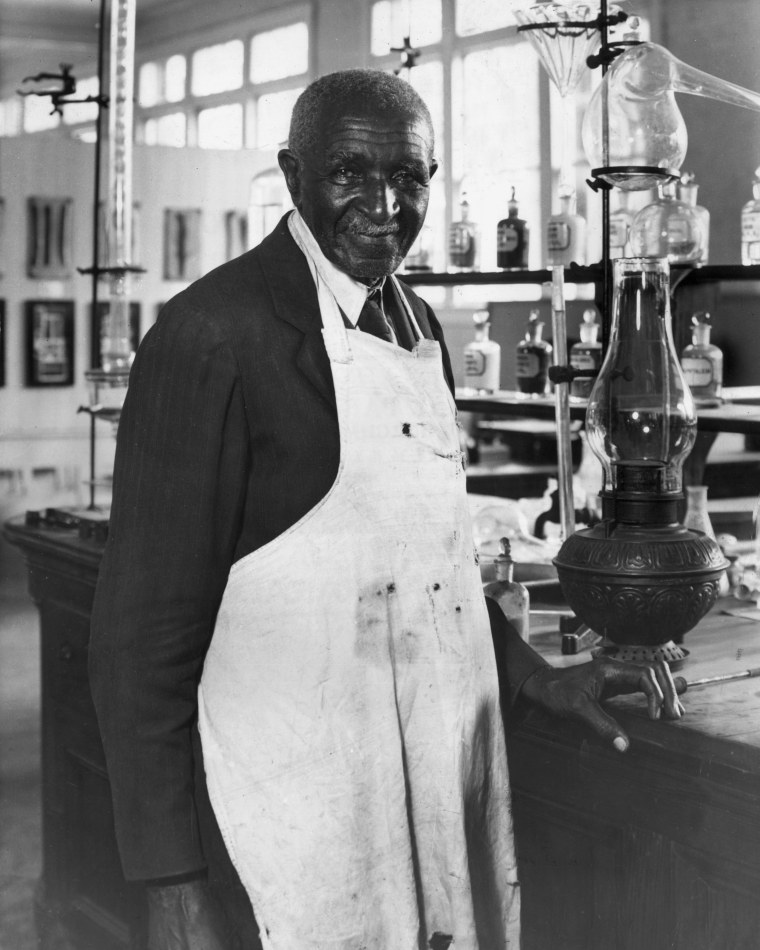 Carver refused to patent his products and instead gave away the formulas to companies where he then served as unpaid chief consultant. He never accepted fees for speaking. And when Thomas Edison offered him $100,000 a year to work in his laboratories, Carver chose to remain in the Alabama hills, at Tuskegee Institute, with a salary of $1,000, because he felt that whatever he accomplished there would redound to his people.
Having given away his savings, Carver died poor and famous, with no luxuries on his soul except a wealth of unspent ideas. He probably would have agreed that there are moments when political activism and protest are needed. But in between those moments, in our daily, hourly routines, Carver's earnest example of decency, hard work, kindness to the highest and most lowly, can have a deep impact.
By being one of the most loved men in America, he helped open the door to the white world for such vaulting geniuses as Samuel Kountz, Lloyd Albert Quarterman, Neil deGrasse Tyson, Raphael Lee, Erich Jarvis, and hundreds of others who demonstrate again and again that black lives matter because they have so, so much to contribute.
Christina Vella holds a Ph.D. in modern European and U.S. history from Tulane University, where she is a Visiting Professor. She has been a consultant for the U.S. State Department and is the author of several biographies, most recently, George Washington Carver: A Life.