New Jersey lawmakers voted to approve a bill that would ban discriminating against someone because of their hairstyle and hair texture.
The New Jersey Assembly Labor Committee approved the bill Monday with an 8-0 vote. The move comes a year after an Atlantic County high school wrestler was told at a match that he had to cut his dreadlocks or forfeit.
A video of the teen, who is biracial, getting his long locks chopped off with scissors went viral and drew widespread outrage, including from New Jersey Gov. Phil Murphy.
The bill aims to "protect people of color facing discrimination based on their hairstyle" and would amend the Law Against Discrimination so that the term "race" includes "traits historically associated with race, including hair texture, hair type and protective hairstyles," a press release states.
The proposed law is sponsored by Democratic Reps. Angela McKnight, Verlina Reynolds-Jackson, Shanique Speight and Britnee Timberlake.
McKnight said in a statement that the bill would protect people, like the teenage wrestler, from being discriminated against because of how they choose to wear their hair.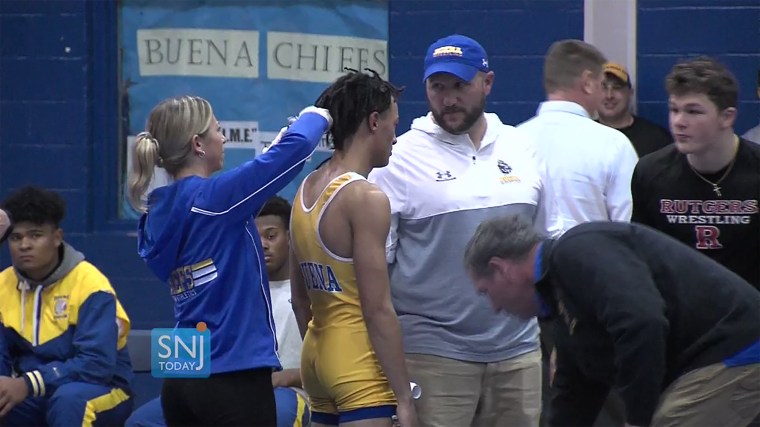 "Unfortunately, it's all too common for African Americans and people of color to be subjected to discrimination at work or school for wearing their hair in braids, twists and dreadlocks or embracing their natural curls," she said. "With this legislation, the student would have been protected from this kind of discrimination under the law."
Timberlake said the bill would "give added protection" to people of color and prevent workplace prejudice and discrimination. Reynolds-Jackson said a person of color should be able to wear their hair any way they choose without being forced to cut or change it.
"It's time we enshrine these values into our law," she said in a statement.
The bill must be passed by the full Assembly and state Senate and signed by Murphy before it becomes law, according to NJ.com. Two other states — California and New York — have already passed laws banning discrimination based on a person's hair.
On Thursday, presidential candidate Cory Booker, D-N.J., announced the first federal legislation that would ban hair-based discrimination.
According to Booker, the Create a Respectful and Open World for Natural Hair Act (CROWN) will make it clear that "discrimination based on natural and protective hairstyles associated with people of African descent" is a "prohibited form of racial or national origin discrimination."
In December 2018, Buena Regional High School student Andrew Johnson was told by a referee that his dreadlocks and headgear were not compliant with regulation. The teen was given two options: cut his locks right there on the spot or forfeit the match.
A video showed a trainer from his school cutting Johnson's hair.
His family said in a statement at the time that Johnson was given just 90 seconds to make a decision and he was "under duress" and "visibly shaken."
The incident sparked a state civil rights probe and a separate investigation by the New Jersey State Interscholastic Athletic Association. Buena school officials also said the referee, Alan Maloney, would no longer be allowed to officiate any meets involving its athletes.
In September, the New Jersey Division on Civil Rights and the state's interscholastic athletic association reached a decision and suspended Maloney from his position for two years.
In March, Maloney filed documents signaling that he may sue for defamation of character and emotional distress. In a legal filing, he said he "properly performed his duties" when he told Johnson to cut his locks because the teen's hair and headgear did not comply with the rules.