The Chicago Police Department released video of actor Jussie Smollett in the moments after he reported an alleged attack against him in January.
The former "Empire" actor can be seen in newly released footage speaking to police with a thin rope around his neck, part of more than 60 hours of video made available Monday. Smollett told police in the early morning of Jan. 29 that he had gone out for food at around 2 a.m. when masked men hurled racist and homophobic slurs before beating him.
The 36-year-old actor, who is black and gay, also said his attackers poured what he believed was bleach over him and put a noose around his neck in the upscale Streeterville neighborhood.
"They poured bleach on me," Smollett said in one of the videos as he began to undo the rope from his neck. "They poured bleach on me."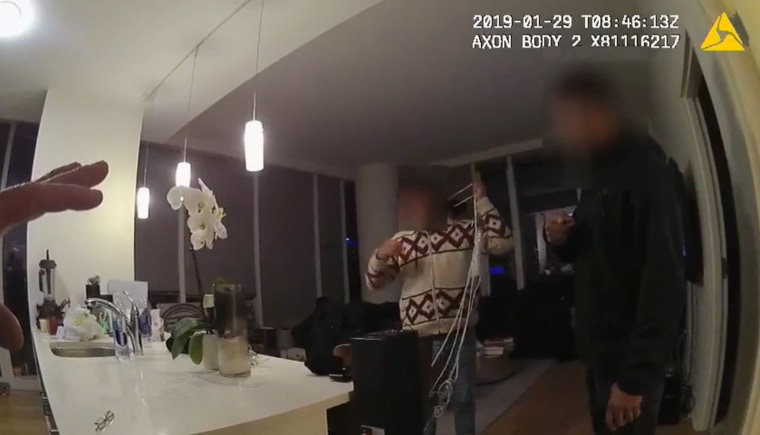 In a 911 call also released by police on Monday, a man told the operator that he works with an "artist" who was attacked and he wanted to file a report.
"What's really weird ma'am, just because I'm scared and I don't know what it is, they put a noose around his neck," the unidentified caller said.
Smollett was accused of falsely reporting what police say was a staged attack. He was indicted on 16 felony counts of disorderly conduct for the alleged false report in March, charges that were later dropped against him. The actor has maintained his innocence and insists he was attacked.
Police say that the actor's personal trainers, Abimbola "Abel" Osundairo and Olabinjo "Ola" Osundairo, admitted to helping him stage the January incident.
Chicago Police Superintendent Eddie T. Johnson had previously said Smollett invented the hate crime and took "advantage of the pain and anger of racism to promote his career."
A judge ruled Friday that a special prosecutor needs to investigate Cook County State's Attorney Kimberly Foxx's handling of the Smollett case and that the "Empire" actor should be re-examined for possible criminal charges.
"The unprecedented irregularities identified in this case warrants the appointment of independent counsel to restore the public's confidence in the integrity of our criminal justice system," Cook County Circuit Court Judge Michael Toomin wrote.
Foxx recused herself in February from a possible prosecution of Smollett, saying at the time it was due to conflicts of interest from having contacted the actor's family. She has since changed her explanation, saying in June the recusal was due to rumors she was related to Smollett, rumors she says were racist.
Toomin said Foxx was right to take herself out of the case, but then wrong to place another prosecutor from her office in charge of it. She appointed First Assistant State's Attorney Joseph Magats to oversee the matter, when she should have sought an outside prosecutor, according to Toomin.
"Yet for reasons undisclosed even to this day, Foxx instead chose to detour from the mandated course, instead appointing Mr. Magats as `the acting State's Attorney for this mater,'" Toomin wrote.
Toomin excoriated Foxx for creating "an entity that did not exist."
Gloria Schmidt, a lawyer for the Osundairo brothers, said they're willing to answer any questions from a special prosecutor.
"The special prosecutor would have an opportunity to look at the evidence and effectively do this whole case over again — re-charge him, re-arraign him, reconvene the grand jury," Schmidt said. "It's like we're back to square one."