Anquan Boldin, a NFL free agent who's played with the Detroit Lions and Baltimore Ravens, is young, rich and famous. Yet, as a black man in America, he's keenly aware of the tensions that can exist between communities of color and law enforcement.
Today on Capitol Hill, Boldin shared with members of Congress how his family was devastated after a cousin, Corey Jones, was fatally shot during a 2015 police encounter.
"I wish I could tell you Corey's story was unique. I wish I could tell you that now, over a year later, we know exactly what happened and that the issue is resolved," the 36-year-old Super Bowl champion told lawmakers. "…And I wish I wasn't here at all talking about my dead cousin, but I am."
The South Florida man, 31, was headed home from a church band event when his SUV stalled near a highway exit ramp. A policeman not in uniform, driving an unmarked van, approached the stranded vehicle, and the episode turned deadly. The officer involved has reportedly maintained he felt threatened; Nouman Raja is no longer on the force and now faces criminal charges. His trial date is set for October.
". …One of the hardest parts of this whole experience has been the lack of understanding about what happened, why it happened, and what is happening in the legal process," said Boldin.
Now the pro baller wants to use his high profile and voice to help build bridges between police and people both in his hometown and around the country.
Boldin, Malcolm Jenkins of the Philadelphia Eagles, Johnson Bademosi of the Detroit Lions and retired NFL wide receiver Donte Stallworth were among the pro ballers who traveled to the nation's capital this week to confer with elected officials on both sides of the aisle about criminal justice issues.
Related: From The Field To The Hill, Karim Barton is Tackling Opportunities
The athletes, sharply dressed in tailored suits, facilitated the meetings and weren't representing the League. They wrapped up their visit by attending a Congressional forum titled: "NFL Players Speak Up: First-Hand Experiences and Building Trust Between Communities and Police."
Hosted by Rep. Elijah E. Cummings (D-MD); Rep. John Conyers Jr., (D-MI); Rep. Sheila Jackson Lee (D-TX) and Rep. Cedric Richmond (D-LA)—who chairs the Congressional Black Caucus—the dialogue they and other lawmakers led centered around policing, incarceration, and more.
It's not the first time NFL players have made their way to The Hill. The members of Congress and players emphasized that their conversation was not intended to bash law enforcement, but was part of an ongoing effort to find solutions.
"We are here today to discuss ways to build greater trust between police and minority communities," said Cummings, Ranking Member of the House Committee on Oversight and Government Reform.
"We also want to discuss concrete proposals to help former inmates who have done their time and are leaving prison to re-enter society and make meaningful contributions to the neighborhoods in which they live."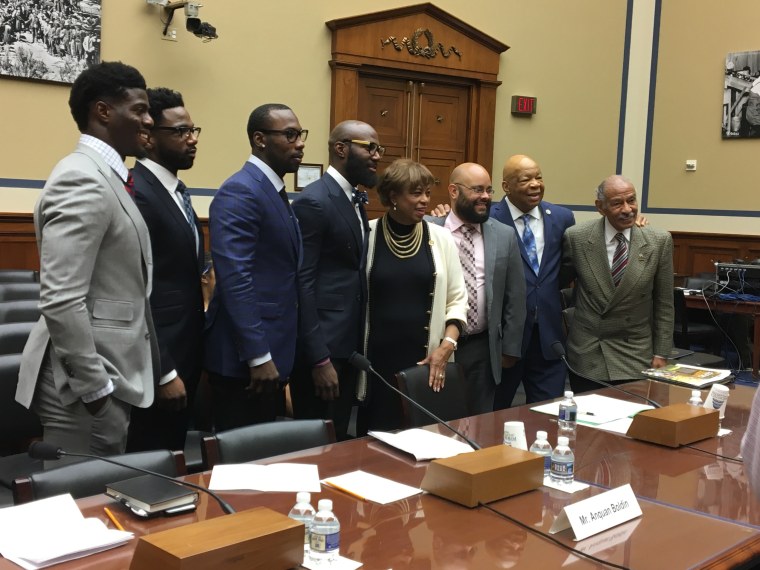 Community policing has garnered national attention following a rash of police-related killings of unarmed African Americans across the nation.
While the current wave of national attention was triggered by the controversial shooting of Michael Brown in Ferguson, Missouri back in August 2014, other high profile police-involved deaths of men, women, children and transgendered individuals have followed in Cleveland, New York and Baltimore, among other cities.
Rep. Conyers noted during the forum that more than 250 African-American men were killed in police incidents in 2016 alone. Moreover, at least 60 officers died last year in the line of duty across the country.
"For the better part of two decades, the relationship between African-American communities and their police departments across the nation have hovered in a state of volatility, awaiting a single incident to combust," said the veteran Michigan lawmaker.
While the Black Lives Matter movement and related activism has elevated the issue, experts told the Congressional representatives more can be done; federal collection of data around police-involved fatalities, for instance.
"Why is the will not there?" asked Phillip Atiba Goff, Ph.D., co-founder and President of the Center for Policing Equity, a think tank which uses evidence based approaches to social justice issues.
In addition to sharing his thoughts about the need for greater mutual understanding between police and minority communities, NFL player Malcolm Jenkins said his foundation is also focused on issues related to incarceration of juveniles and adults and re-entry programs for former offenders.
He spoke about his recent trip to a prison in Pennsylvania, during which he spent time volunteering with inmates at a computer class and talking with them about how they were preparing to exit the facility to return to their lives.
Related: A Real Baller: NFL Linebacker Derrick Morgan Tackles Tech Industry
"We need to invest in job training, education, rehabilitation, and advancement programs to end the cycle of repeat offenders and arrests," he told lawmakers. "When they come out of prison we want them to be contributing members of society and not perceived as a threat."
Several of the Congressional representatives indicated they had already introduced or had plans to reintroduce legislation around the issues raised during the forum.
Cummings, for instance, will soon be re-introducing legislation to give formerly incarcerated individuals a better chance at getting federal jobs. The bill, called the Fair Chance Act, would ban the government from requesting criminal history information from job applicants until the end of the hiring process. Also known as "Ban the Box," he believes it would help people looking to contribute to their communities and the country.
Conyers is also working on bipartisan legislation to provide incentives to help local police ensure that misconduct is minimized and fully investigated.
Cummings told the players he was proud of their efforts while Jackson Lee called them "role models." "What you're doing today is crucial," she said.
Conyers agreed. "As we recognize the price that some of your colleagues are paying for their activism, we note that your appearance here is meaningful – and not without risk to your livelihood," he said.
"Ultimately, I believe that your activism will inspire other to raise their voices for justice. Let no one make the mistake of believing that the search for justice in America is anything less than an act of patriotism."