Philadelphia Eagles safety Malcolm Jenkins first raised his fist during Week 2 of the 2016 season. It was his version of the protest ignited weeks earlier by 49ers quarterback Colin Kaepernick, who decided to sit and later kneel during the national anthem to protest police brutality and other issues.
"At the end of the day, I'm fighting for people," Jenkins told NBC Nightly News' Lester Holt. "I'm fighting for Americans and citizens that have been disenfranchised, that have been systemically oppressed for centuries."
The nine-year NFL veteran has repeatedly emphasized that his and other players' acts of protest were not against the military, the American flag or the national anthem itself - but about starting a productive conversation and working to address social justice issues across the country.
The players' explanations did not stop the protests from becoming highly politicized. Nearly one year after the protests began, the issue exploded when President Donald Trump began to voice his strong opposition to the practice on social media and at his rallies.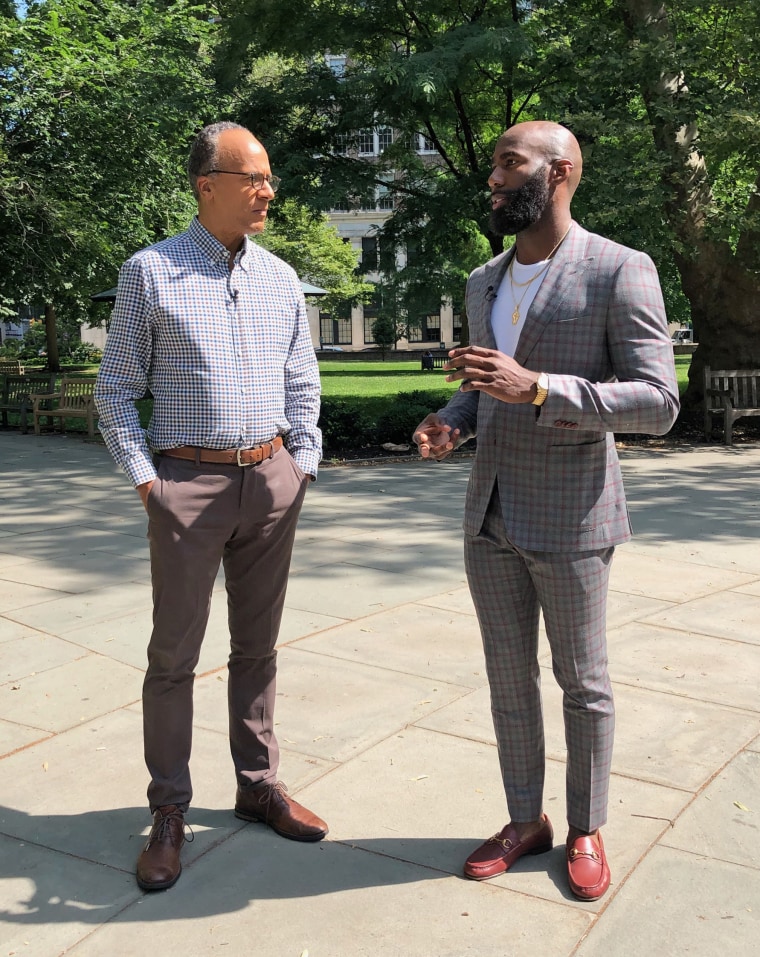 Trump called the players' protest disrespectful to the flag and suggested that NFL owners fire players who refuse to stand during the national anthem.
At a September 2017 rally in Alabama, he described any player who chose to protest during the anthem as a "son of a b**ch."
The president's comments did not phase Jenkins. Like other players, he responded by taking action. His first goal was to create dialogue and figure out how to help build a more trusting relationship between communities of color and the police.
So he met with members of the Philadelphia Police Department and did a 'ride-along.'
"I'm not afraid of a tough conversation," Jenkins said. "But I wanted to get an understanding of what their challenges [are] and how do they view this issue, if they even see [the protests] as an issue."
Later in the 2017 season, Jenkins and retired NFL wide receiver Anquan Boldin founded the Players Coalition, a group of around 40 NFL players focused on criminal justice reform issues within communities across the U.S.
Its members convinced the NFL to agree to donate at least $89 million over seven years to projects dedicated to criminal justice reform and community outreach.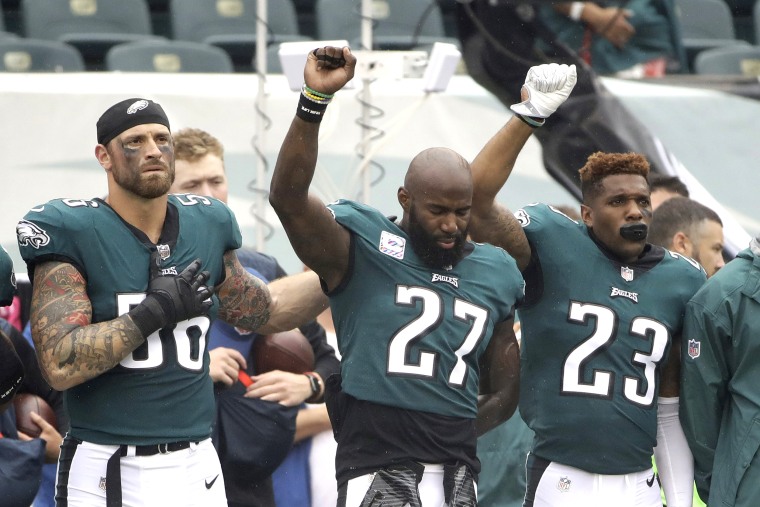 Jenkins attributes the beginning of his social impact to his foundation: The Malcolm Jenkins Foundation. With the help of his mother, the foundation's president, he started the non-profit charity while playing for the New Orleans Saints in 2010.
"We do everything from having a football clinic, to scholarships, to a STEM program here in Philly, to food giveaways to community," Jenkins said. "It's really all about effectuating positive change in the life of underserved youth.
Even as Jenkins conducted his off-field work, the national anthem controversy raged on. The NFL issued a new policy that required players to stand during the National Anthem or stay in the locker room and that teams would be subjected to fines if players protested.
"The rule was disappointing," Jenkins said. "But more importantly, the rhetoric that they used to explain why they put in the rule was the most disappointing because they went back to talking about the flag, the anthem, and having respect when, for a year and a half, they've been hand in hand with us. Seeing what we've been doing in the community."
"We've walked them through this process to show them: 'This is what we're, you know, upset about. These are the things that we're fighting for.' And to have them tell us: 'Oh, yes. We can support that. Yeah, you guys are doing good things.' But then for them to go back to that rhetoric and just further push the narrative that-- we need to be respectful and that we're somehow unpatriotic, it just fed into that narrative when they know that that's not the case."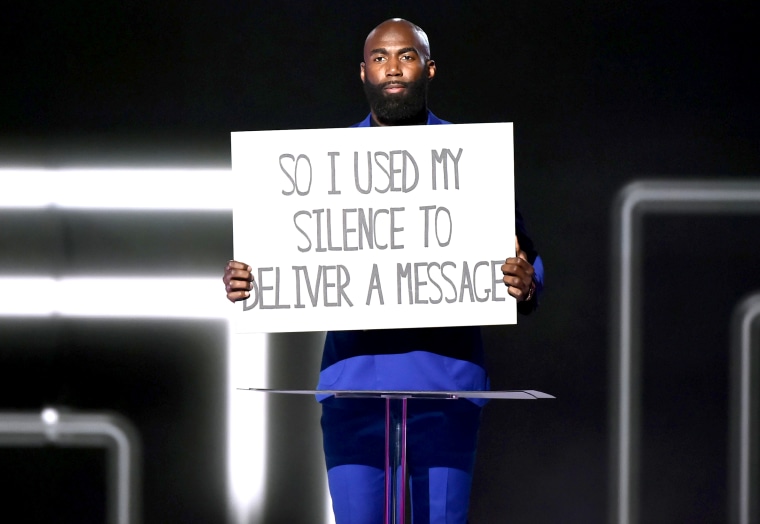 When President Trump canceled the Eagles visit to the White House after the team won the Super Bowl, Jenkins made headlines by silently protesting in front of a group of reporters. He held up a series of posters, one of which read in large, capitalized letters: "You aren't listening."
With training camp open around the league, the NFL decided to put its new anthem policy on hold until a better solution involving player input is reached.
Jenkins tells NBC Nightly News his form of protest was intended to honor Olympic track legends John Carlos and Tommie Smith - who famously raised their fists during the 1968 Mexico City Games medal ceremony. He said he is not sure if he will continue to protest during the anthem this upcoming season.
"I hope what I do off the field, you know, lives way longer than what I do on the field," he said.
NBC BLK's Todd Johnson contributed to this report.