After a lengthy and at times partisan battle, President Barack Obama signed the Every Student Succeeds Act (ESSA) into law on Thursday. The law is the latest reauthorization of the 1965 Elementary and Secondary Education Act (ESEA), and the long awaited replacement to No Child Left Behind (NCLB).
In an interview with NBCBLK, Department of Education Secretary Arne Duncan said he is "elated" about the development, and describes the policy as civil rights legislation. While the act lacks the federal muscle of most civil rights laws, it does center on the disparities that have driven perpetual racial and socioeconomic gaps in education outcomes.
"For the first time, the law will focus on low-performing schools, focus on the drop-out factories. For decades, these schools were left to languish and fail. So we're having a laser-like focus on those children and communities, which far too often are African American or Latino, who are not being served well educationally," Secretary Duncan told NBCBLK.
"Having a law that says you have to identify those schools…and more importantly…you have to take action—that's never happened in the history of our country, and it's a major step in the right direction."
"Under the old law, we actually had about 20 states dumbing down their standards. They can't do that anymore."
When the law is signed, states will have two years to create, submit, and enact education plans to meet its guidelines. The plans must include high standards for all students, extra protections for marginalized groups, and accountability measures for student achievement, teacher effectiveness, and state success.
The law makes many attempts to extinguish education inequality:
States must identify low-performing schools—both public and charter, and particularly those receiving Title I funds—and figure out how to improve them.
State plans must address the disproportionate pairing of ineffective teachers and low-income and/or Black and Latino students.
Districts that serve high numbers of high-needs students, such as foster children, students with disabilities, or "delinquent" students, will have the flexibility to divert more of their federal funding to the appropriate schools.
And through expanded grant opportunities, schools can fund resources such as music and art education and digital devices for tech-based learning.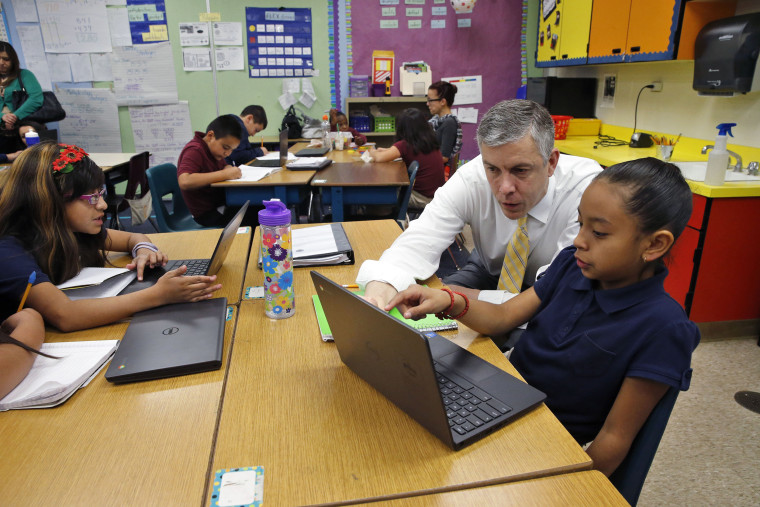 "There are a couple of things that got put in the law that have never existed before," said Duncan. "For the first time ever, you have early childhood education as the law of the land—that's never happened before. Secondly, we pushed very, very hard for high standards. Under the old law, we actually had about 20 states dumbing down their standards. They can't do that anymore."
The ESSA also attempts to avoid the pitfalls that made NCLB the basis for widespread school closings, disputes over standardized testing, and low morale, especially among classroom teachers.
The new law drops the NCLB mandates that required states to link their teacher evaluation to student test scores. There are also grant funds specifically for recruiting, rewarding, and retaining effective teachers and school leaders, or creating incentives and professional development to help underperforming teachers and leaders improve.
"No Child Left behind was very punitive, very prescriptive, very top-down. It was very loose on goals and very tight on pain," Duncan explained.
LuCina Taylor, a teacher and athletic coach in Petal, Mississippi, agrees. She began her career as a seventh-grade English instructor 16 years ago.
The new law drops the NCLB mandates that required states to link their teacher evaluation to student test scores.
"There was one year at my previous school, I was given a group of eighth graders who were very low-performing," said Taylor. "It was a small class…but I was really anxious about trying to grow those students from where they were to where needed to be."
But with high-stakes testing, Taylor says there was little room left to build relationships. "Teachers were scared to lose their jobs because their scores weren't where they needed to be, so it's, 'I don't have time to get to know these kids, I just have time to teach them [the subject].'"
The law does require annual or semi-annual statewide exams tied to the education plans, starting in third grade. It also allows states to determine how much federal data will factor into their accountability measures.
RELATED: How to Solve the Black Male Teacher Shortage
Taylor, who now teaches physical education and coaches track and basketball hopes the new legislation will allow schools to return to a more holistic and nurturing approach to educating students.
"[Students] are leaving with information, but they don't know how to apply it, and don't know how to solve problems [socially]," she said, adding that differing education methods further complicate things.
"I hope there's something in [the policy] that takes education to another level, and that bridges gaps from state to state. As long as there's that separation—this state does this, this state does this—then education across America is always going to be a challenge."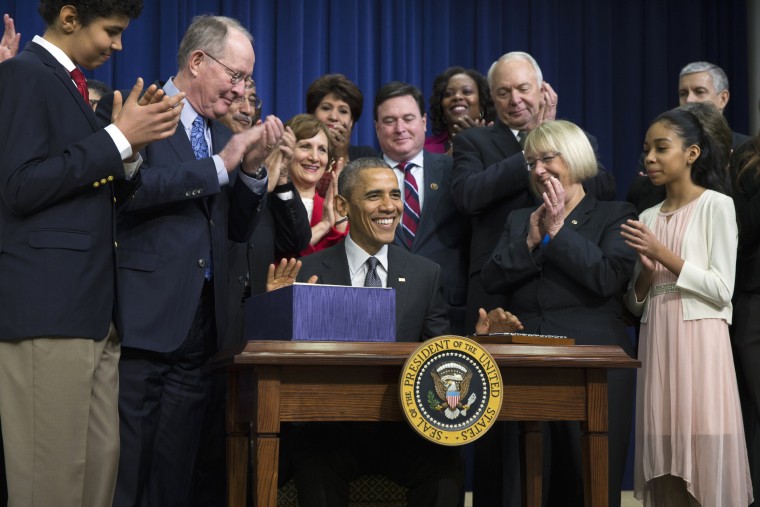 The ESSA offers little in the way of federal oversight or uniformity, and no mechanism for the government to hold a state accountable for poor outcomes.
Duncan adds that families and parents should be ready to hold local and state officials accountable for using funds well, and actually delivering the provisions set out in the law and in their state's plan.
In its final version, the ESEA reauthorization has been generally well received throughout the education community.
"Congress has been broken for so long—I'm always optimistic, but I did not think we would get to this point. What the House actually passed is so exponentially better than their original proposal and so much better than the Senate's proposal as well," Duncan said. "Candidly, I'm very surprised. This is nation-building. And I hope we continue to build upon this."