New York City first lady Chirlane McCray is taking on mental health wellness and substance abuse in the nation's largest city, with the help of her fellow black sisters. Sisters Thrive, a collaboration with historically black women-led organizations, is McCray's initiative to train 10,000 African-Americans in what she calls "Mental Health First Aid."
According to the Office of Minority Health of the Department of Health and Human Services, blacks adults are more apt to harbor feelings of sadness, hopelessness, and worthlessness or feel that everything is an effort compared to non-Hispanic Whites. Those living below poverty are three times more likely to report serious psychological distress than those living above poverty. An American Psychological Association report identifies only 5 percent of the country's psychologists as black.
Within the first year, Sisters Thrive hopes to amplify the national dialogue about mental health awareness in the black Community. Through "grace and grit," McCray says she aims to "de-stigmatize mental illness and develop a more culturally competent mental health workforce."
Her passion for this cause is personal, as she experienced mental illness and substance abuse challenges in her family as a child. She spoke to us about how this affected her and why she's teaming up with black women to offer free training to African-American New Yorkers wanting to address mental health needs in the their communities.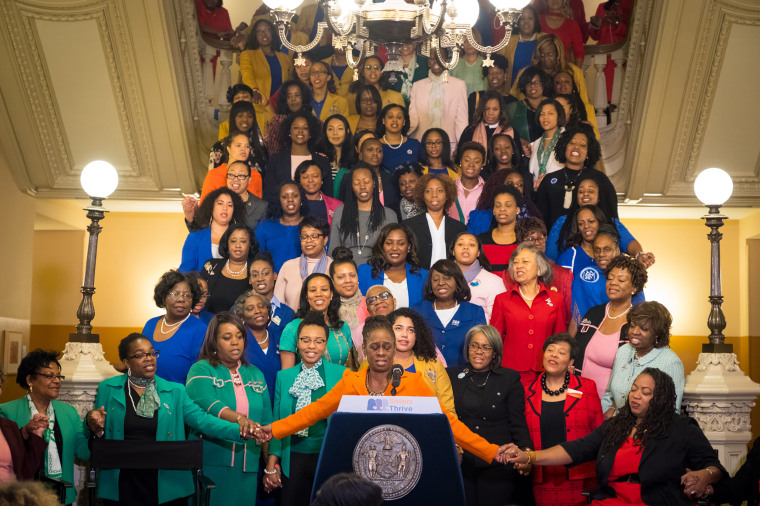 [This interview has been edited and condensed for clarity.]
NBCBLK: Why are you committed to tackling mental illness in New York City, particularly among African-Americans?
McCray: Depression, alcoholism, and bipolar disorder are things that I experienced during the times that I was growing up. It really affected me and no one would talk about this. But I know that everyone I know has a story. Everyone.
How will Sisters Thrive work?
Sisters Thrive will train 10,000 African-American New Yorkers in Mental Health First Aid (MHFA) and develop a professional mental health pipeline to encourage a more diverse workforce. The six participating organizations will leverage their strong, influential networks to increase visibility at the local level, and encourage individuals to sign up for the Mental Health First Aid trainings.
Who are your sisters in this movement?
Sister's Thrive marks the first time that a major city has tackled mental health with the collaboration of leading black women-led organizations with an international reach. They are Alpha Kappa Alpha Sorority, Inc., Delta Sigma Theta Sorority, Inc., Zeta Phi Beta Sorority, Inc., Sigma Gamma Rho Sorority, Inc., Eastern Area of The Links, Inc., and the Jack and Jill of America, Inc. They will also help us find spaces for these trainings as well.
Can you share why you chose these groups of black women to take the lead on this issue?
These women are very involved in their communities and champions of civil rights. They are caretakers. They are fighters. They fight for laws. They help create leaders and back our leaders. These are women who are activists in the most serious sense of the word so if we train them, not only will they be able to take care of themselves and their families, they are going to do so much for our communities and so much for our city and world.
Is there room for men at the Sisters Thrive table?
Of course we want to them to be part of this movement but we are starting with the sisters because women are the heartbeat of the home. Women are the heartbeat of our communities and so often the caretakers, single heads of households. WE know that. I start with sisters because I am a sister. We do have a plan to work with our brothers! Stay posted!
Ten thousand African-American adults to train in one year is a large amount of people in a short time. Why did you choose that many?
We think big! We're ambitious. Our goal overall is to train a quarter of a million New Yorkers. We want as many people to have an understanding of Mental Health First Aid as people who have been trained in CPR. How many of us know what to do when someone has a panic attack? How many of us know what to do when someone is suffering from depression and can't get out of bed day after day? We just don't know, most of us. This is an understanding we should have.
Can you elaborate on skills trainees will learn?
This eight-hour education program, teaches individuals how to recognize and respond to signs of mental distress and substance misuse. Through ThriveNYC, any New Yorker can sign up to take the free course. Certification will be issued upon successful completion of the course. Each new person trained in MHFA is provided with tools to better support others, empower individuals to seek treatment, and make tangible steps towards elimination mental health stigmas. Every situation is different. But there are basic skills everyone can learn that the person involved does no harm to himself or herself or to anyone else.
With such a small percentage of African-Americans psychologists available, why do you think it's important to have healthcare workers look like the populations they serve?
It takes so long to train people and we are not going to have the workforce we need overnight. That makes it even more imperative that we give people even the most basic skills. The more people that have these skills the better off we will be as people.
How will the trainers tackle mental illness stigmas in the black community so people can feel welcome to seek services?
We try and meet people where they are. You talk about the African-American community and you have to talk about the church, right? One of the ways we're doing the work is by training clergy members who have come to us because they are first responders. People trust them. We are going to give them training in MHFA by encouraging them to get some skills from our thrive team and help them.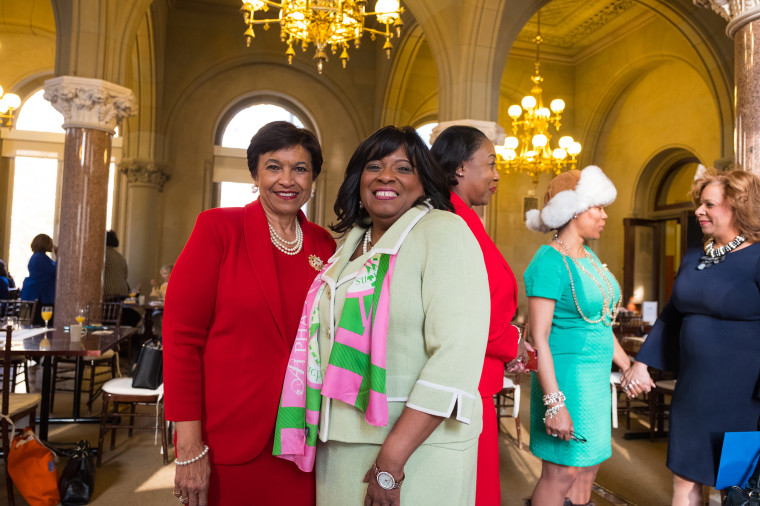 Will this be affordable and accessible for all New Yorkers?
Here in New York, we're fortune to have as part of ThriveNYC, a hotline number called NYC Well and its' really the core of Thrive.
NYC Well (1-888-NYC-Well) and it's really the core of ThriveNYC well is a health line that connects people to mental health care. If they call this number, [they will] get an appointment and the trained counselor will stay on the phone and make sure that the appointment is made. [They] will also do a follow up call if the caller wants that.
This service is free. We connect people to services that are not only as convenient to them as possible but they can afford that takes their insurance. If they don't have insurance, we match them up with some city-funded appropriate source. We don't turn any one away.
How will the Mental Health Professional Advisory Group help Sisters Thrive?
We need to have this advisory group to brainstorm ways to that we can attract more people of color into the workforce and our young people. But also think we need to think about ways we can perhaps do what I call task shifting or task sharing, where we train people up in skills like motivational interviewing, psycho-education in addition to Mental Health First Aid, so people like me, like all of us here can do some of the jobs that are needed.
How can people get involved with mental health wellness who don't reside in New York City?
We have Cities Thrive in all 50 states in the country and we also have Thrive London. All they have to do is contact NYC Well and be connected to Cities Thrive. We have a framework that has been adopted by a mental health organization called iCircle that will work for any city in any country.