"America is a better place today than it was when I graduated from college…" is how President Barack Obama, the first African American to serve as president of the United States of America, began his address during the 2016 commencement at Howard University Saturday.
He admitted that his words were somewhat controversial. But the president wanted to make a point – especially considering the state of affairs in this country when he was graduating from Columbia University in the 1980s.
While the tone of his message was hopeful and inspiring to and for many, a recent report in the Washington Post paints a different picture for some Howard University students.
Howard University is struggling, Marcia Davis writes. So much so that many of its students have felt the brunt of the struggle, becoming incapable of completing their studies because they simply cannot afford to pay the school what they owe. And according to reports, as a result of these struggles, some students have been evicted from their housing or barred from completing their studies because of outstanding balances.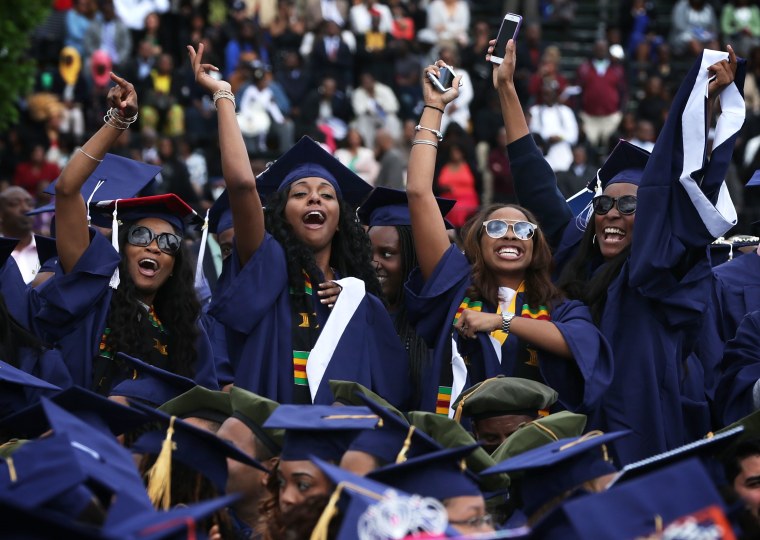 In the Post report, Angel C. Dye, a doctoral student in the school's English department shared her personal experiences of being evicted when she could no longer pay her bills. At present, she says she owes somewhere around $20,000 to the school. Dye was on target to complete her program and participate in commencement this year.
She would have been one of the thousands in attendance as President Obama attempted to empower and encourage with calls to "be confident in your blackness," and to "fulfill your destiny and shape our collective future."
RELATED: Jackie Robinson's Legacy, Through the Lens of Ken Burns
How bad is it for Howard?
According to The Washington Post, issues like spotty Wi-Fi and a lack of resources for the student newspaper, The Hilltop; dormitories infested with bugs and rodents, and faulty plumbing, heating and air conditioning; and measures that were once in place for students struggling to pay off their bills to the school are just a few examples of the signs plaguing Howard.
"A policy that allowed students to participate in graduation even if they had six credits to finish was ended," Davis writes. "And the stricter tuition payment policy — meant to help the university collect revenue while helping students deal with costs — offers little wiggle room for some struggling to stitch together resources."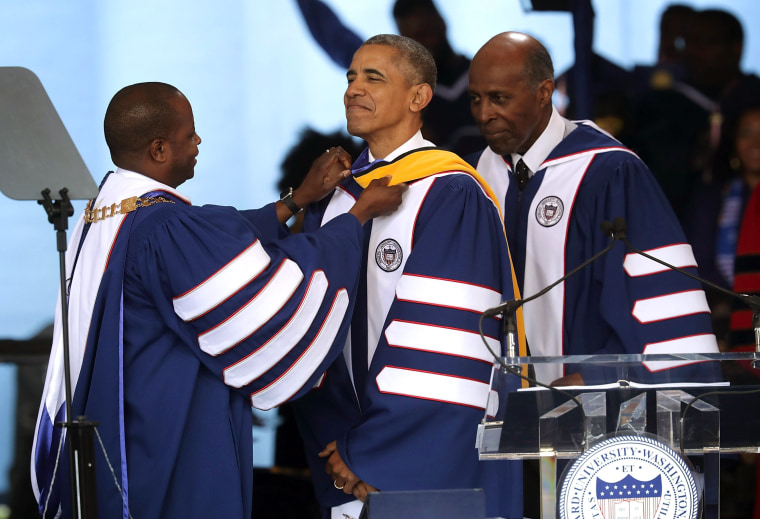 Now, according to the report, the school has a zero balance policy where students are required to have a zero balance in order to register for a course. If that is impossible, students can pay off one-third of their balances or enroll in a payment plan.
The article references a "Letter from the President" in which Howard University's President, Wayne A.I. Frederick reported that the school's unpaid tuition amounted to $22 million last spring.
Attempts for comment from the school and President Frederick's office went unanswered.
There is a strategy, Frederick tells the Washington Post.
"Frederick has said he wants to end the university's dependence on tuition and guarantee an education regardless of a student's income," Davis reports. "In his plan, that means diversifying revenue streams by monetizing some of the school's real estate, finding entrepreneurial opportunities and increasing philanthropy income, including from alumni."
"If you want things to be fair, you have to work with it the way it is," Obama stated near the end of his speech on Saturday.
Hopefully, officials at Howard will also take heed of these words in their attempt to overcome these financial hurdles.