It's been a long and winding — and yet triumphant — road since a street-savvy, aspiring singer from Yonkers' Schlobohm housing projects came to the attention of Uptown Records executives via a karaoke style cassette tape of her singing Anita Baker's 'Caught Up in the Rapture.'
That was over a quarter of a century ago and the music scene, which was already awoken by the platinum-selling potential of hardcore hip-hop music, was already in gear to experience a seismic shift.
The young woman's birth name was Mary Jane Blige and she had a look and sound that was quite a polarizing contrast to what the record industry grew comfortable with for a black R&B vocalist. But thanks to the risk-taking efforts of Uptown Records honcho Andre Harrell (a former rapper, himself) and his ambitious and audacious team of image builders (including Kirk Burrowes, Sybil Pennix, Lisa Cambridge, Malika Thompson and the omnipresent Sean "Puffy" Combs) a legend was born.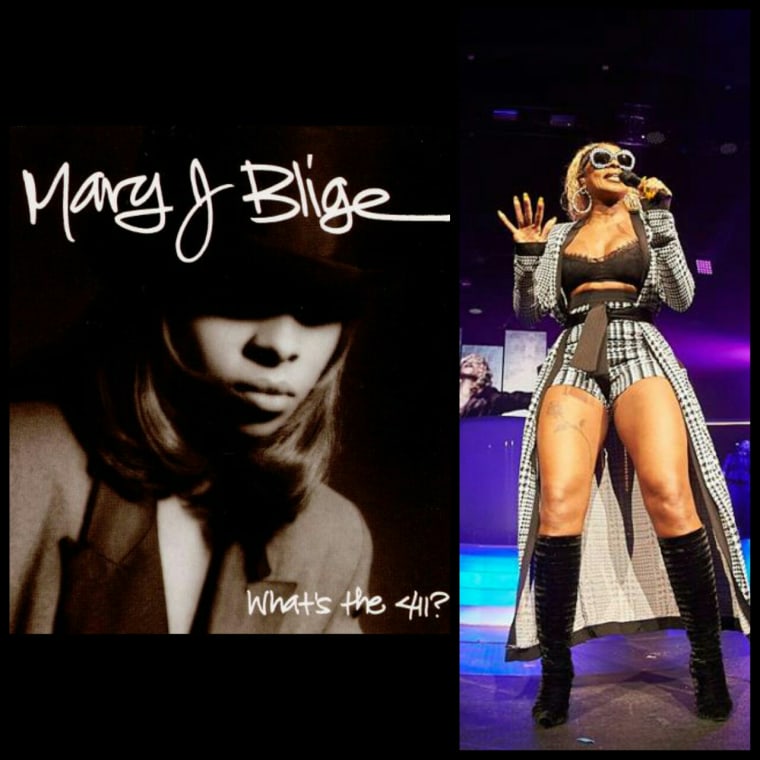 Gone were the shiny, sparkly sequined gowns, the perfectly-coiffed hair and the syrupy, refined lyrics of unrequited love. Instead, Mary J. -- who first appeared as a back-up singer on 80's rapper Father MC's most notable track 'I'll Do 4 U' -- was picking up what her label mates Jodeci was throwing down, ushering a new style of black music that didn't make any bones about catering directly to the streets, championing the forgotten and speaking up for the disenfranchised; all in the name of love.
With her baseball cap to the back, baggy clothes and bleached blond tresses, she became an emblem of audacious hope -- the little black girl who could make it to the top by not following all the rules, and coloring outside of the lines.
Some media outlets referred to the trendy sound as "New Jack Swing" (originally attributed to the era's in-demand producer Teddy Riley) but Harrell came up with the concept of "hip-hop soul" and audaciously crowned the Bronx native its "Queen."
And it all transpired from there.
"I remember when Mary came in, everything was so glamorous in R&B," Combs reflected in a 2011 interview with VH1's 'Behind The Music.' "I was looking at Mary and was like, 'trying to make her glamorous would be the wrong move. ' She was raw and she represented the streets so I wanted her image to reflect that and that's why we went with combat boots and I wanted her represent a girl from the hood."
"There's nothing wrong with being hard-core," Blige told The New York Times in 1992. "I grew up in a neighborhood where that's all there was. If people are looking for long dressed and high-heel shoes, they'd better look somewhere else."
Related: Meet The Young Conductor Paving the Way for Black Musicians in Orchestra
In his recently released documentary "Can't Stop, Won't Stop," the Mount Vernon-reared music maverick talks about those humble beginnings and how he fashioned his protégé to be a female version of himself. The former Uptown Records intern -- famously fired by Harrell -- has openly credited Blige with the formation of his own flourishing company, Bad Boy Records. "He believed in me more than I believed in myself," Blige stated of Combs in the film.
The summer of 1992 was the year Blige officially descended onto the music scene with her seminal opus 'What's The 411?' released July 28. The 12-track set featured a who's who of celebrity cameos (Busta Rhymes, Heavy D, Cool DJ Red Alert and 'Sister 2 Sister magazine's Jamie Foster Brown were in the intro), noteworthy collaborations (Brand Nubian's then-rising frontman Grand Puba and Jodeci's vocal powerhouse K-Ci Hailey were featured) and some of the most sought after producers and songwriters in the R&B game (including Mark Morales, Corey Rooney, Kenny Greene, Tony Dofat and Dave Hall).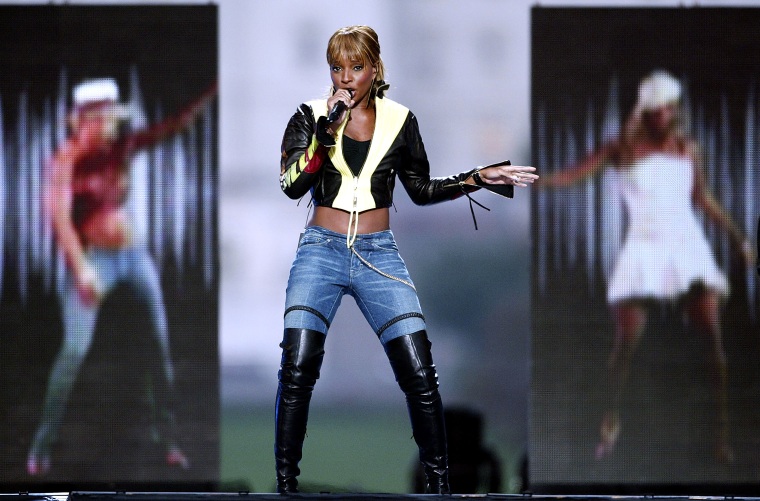 Her spot-on cover of Rufus and Chaka Khan's funk soul classic 'Sweet Thing,' which instantly became its own black radio staple, helped resurge Khan's somewhat dormant career (along with Whitney Houston's Babyface-produced cover of 'I'm Every Woman' released later in the year).
With mixed reviews from newspaper and magazine critics, the debut album struck a chord with an ever growing and over-eager fan base. Mary J.'s untrained vocal stylings and rough around the edges attitude was an eagerly awaited reprieve from the grown & sexy "Motown meets Luther Vandross" soundtrack young black music listeners were accustomed to -- thanks to their parents' die-hard playlists (which seemed to have no shelf life whatsoever).
Hip-hop was already heavily sampling old R&B grooves popularized by James Brown, Parliament Funkadelic, The Isley Brothers, The O'Jays, Zapp featuring Roger and countless others. It was just a matter of time before a young visionary, like Combs, to put two and two together.
"I think we were like a perfect combination. I needed an artist to put all of my energy into and she needed somebody to put some energy into her album and into her career. I think the most important part was that we both believe in each other," he said.
Related: Saved by the Blues: How Fantastic Negrito Went From Destruction to Rebirth and Lived to Sing It
The 'What's the 411'?'s first single 'You Remind Me' was originally featured on the soundtrack to the 1991 Halle Berry film 'Strictly Business' and catapulted to the Top 30 of Billboard's Hot 100 charts. It went to #1 on the R&B charts.
On August 25, a second single 'Real Love' was released and its accompanying Marcus Raboy-directed music video helped fuel the Audio Two-sampled track into a no nonsense battle cry for young women and their quest for something romantically authentic. The single became Blige's first top 10 pop song.
That summer, Harrell told The New York Times: "There hasn't been a woman with the voice and the life style and the attitude of an inner city young adult girl.... I had my eye set on developing the right girl, and Mary was just right. She embodied the attitude: cool, humble, soulful. She reflects the reality of today's black girl, so she'll sell."
Truly the start of something big, 'What's The 411?' subsequently went double platinum and has rewarded Blige — who has openly admitted to being molested at age five and battling substance abuse addiction earlier in her life -- with what seems to be a bullet proof career of paramount success.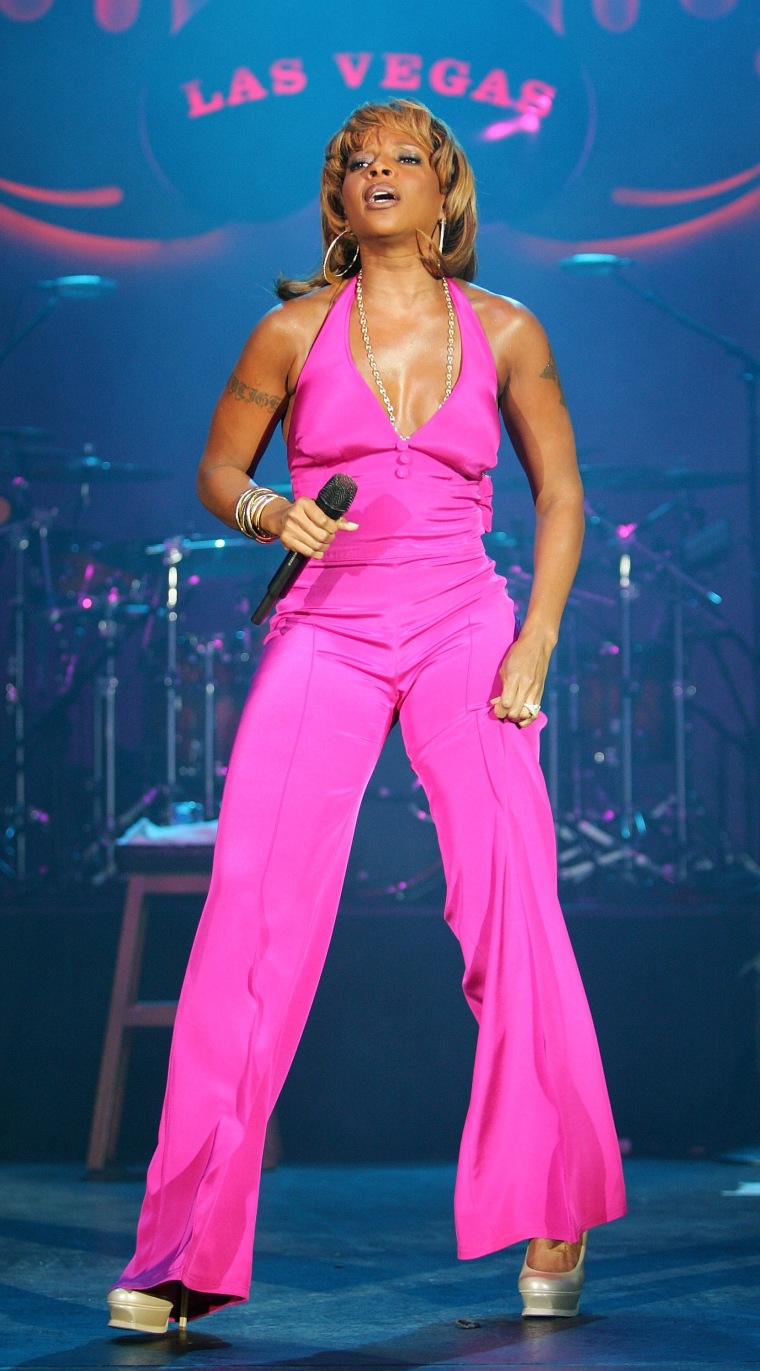 25 years into it, she truly has staying power. She's currently on her 'Strength of A Woman" tour and is blowing away audiences with a raw and rapturous concert performance that is undeniable.
No other artist from her era can boast the accolades and feats the nine-time Grammy Award winning diva has achieved. With over 300 titles to her credit, Blige signature songs such as 'Be Happy,' 'Not Gon' Cry,' 'I Can Love You' with Lil' Kim, 'No More Drama,' the Dr. Dre-produced 'Family Affair" and "Be Without You" have become anthems.
While you can hear the classic greatness of Natalie Cole, Barry White, Roy Ayers,Rick James and Earth Wind & Fire influenced throughout some of her more popular songs, Mary J's covers are just as legendary as the originals. From Aretha Franklin's 'You Make Me Feel Like A Natural Woman' and Rose Royce's Blaxploitation classic 'I'm Going Down' to First Choice's 'Let No Man Put Asunder' and U2's global treasure 'One' has become her own.
The musical collaborations are staggering too; Blige has recorded with a literal who's who of the best in the business: from Patti LaBelle and Beyoncé to Barbra Streisand and Andrea Bocelli; from Mariah Carey and Lil' Wayne to Lauryn Hill and Kirk Franklin, just to name a few.
Her take on Debarge's 'A Dream' (with Kelly Price) will give you goose bumps, while her 1998 homage to Michael Jackson's "I Can't Help It" with "Sexy" (a duet with Jadakiss) is a pleasant surprise. Even when she adopted Meli'sa Morgan's famous refrain from 1986's 'Fool Paradise' (for Jay-Z's 1996 gem 'Can't Knock the Hustle), Blige proves to be a remarkable re-interpreter. Don't forget her duet with the late George Michael on Stevie Wonder's 'Songs in the Key of Life' classic 'As.' Wonder's 'Overjoyed' and 'Someday at Christmas' have also been given the Blige treatment.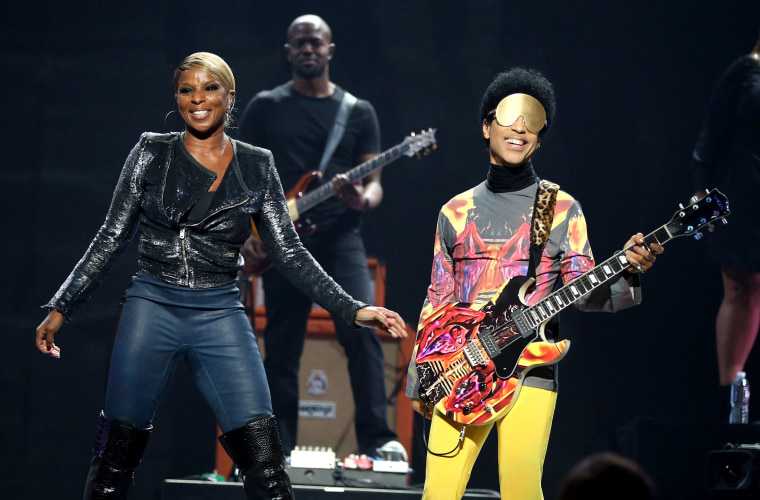 And we must remember her impassioned collabo with Wyclef Jean for 2000's '911.' She also tried her hand at reggae/dancehall with a song entitled 'Anything You Want' featuring Busta Rhymes and Gyptian in 2010. Also that year, she even went country with Kid Rock and T.I. on the benefit single 'Care.'
Related: 'Midnight, Texas': In a Show About Outsiders, TV Insider Monica Owusu-Breen Finds a Home
In 2013, she released a best-selling holiday album. Mary J also recorded the music for an entire soundtrack ('Think Like A Man 2') and even took on 80's rock in the 2012 film 'Rock Of Ages.' And she sang her face off on the jazzmatazzmic cover of Nina Simone's 'Don't Let Me Be Misunderstood' in 2015.
Musically, Mary J. Blige has almost done it all (sans a few forbidden genres like classical, Broadway show tunes and heavy metal). But knowing her vocal prowess, her daring dexterity and her undeterred connection to the music — and her die-hard fans-- there's no telling what will happen within the next quarter century.
In 1992, she may have asked 'What's the 411?' but with an unmatched musical legacy, Mary J. Blige surely gave the answer — and then some.