It was late, just before 10:45 p.m., in Memphis, Tennessee. A neighbor called the police to report a possible break-in at the house next door.
When Officer Elton Hymon, who is black, and his partner arrived at the house, Hymon saw a figure dash through the backyard and start to climb a chain-link fence, according to court records. Hymon yelled, "Halt, police!" With his flashlight, Hymon could see that the figure wasn't armed, but the person kept climbing, so Hymon fired a single shot. It struck the back of the person's head, splattering his brain across the fence.
When the officers reached the fence, they found Edward Garner, who was just 15 years old and weighed only 110 pounds. He was carrying a wallet stolen from the house. It contained $10.
Edward, who was black, died in October 1974, but a lawsuit filed by his father went all the way to the U.S. Supreme Court and set an important standard for what justifies a police shooting. Many of the elements of the case, the questions it prompted and the statements police and community activists made afterward could easily be mistaken for events in 2020. They remain relevant in a country that continues to grapple with a rate of police shootings far higher than those of other developed countries.
Edward's father sued the Memphis Police Department. The case, Tennessee v. Garner, led to a 1985 Supreme Court decision in the family's favor that established that police can't shoot fleeing suspects unless they pose immediate danger. For many states, the Garner decision set the first legal standard for police shootings since the 19th century, shifting notions of propriety in law enforcement and, for a time, reducing the number of people shot and killed by police.
"It set the standard, defined a kind of boundary for contemporary lawful policing," said Hank Fradella, a lawyer and professor in the School of Criminology and Criminal Justice at Arizona State University.
But police shootings have continued, including one in Vallejo, California, which is facing new scrutiny after video was released this week. In the decades since the Garner decision, the names of Edward Garner and his father — who pursued justice for an imperfect son — have faded into obscurity. Indeed, the names of many who forced the country and its most senior legal minds to think more deeply about police decisions to shoot and kill aren't widely known.
And while Tennessee v. Garner became a fixture of police training, the standard it set also taught officers what they needed to say and do to legally justify shooting a suspect. Of the 1,000 people police kill on average every year, a disproportionate number are black. (In 2019, 23 percent of those killed by police were black; black Americans make up just 13 percent of the population.)
The Garner case, then, has left a mixed legacy, according to experts in policing, as well as people directly involved in bringing the lawsuit decades ago.
"I don't know that the Supreme Court saying we are going to limit police officers' ability to use deadly force against fleeing suspects means there were changes," Fradella said. "I don't know whether that's enough to overcome perceptions of danger, the potential for danger officers feel. I don't think a case actually changes human behavior that much."
A determination to change things
When Edward was killed, Tennessee's law allowing police to shoot fleeing violent crime suspects — using any "necessary means" to stop them — dated to 1858.
Edward's father, Cleamtee Garner, was well acquainted with the ways the government can malfunction and leave black Americans in particular peril. He was born in Memphis in 1919, in what the journalist Ida B. Wells would call "The Red Summer," a year when white mobs lynched, burned alive, maimed and terrorized thousands of black people in nearly 40 cities. Hundreds died.
As a young man, Cleamtee Garner fought in World War II, earning the American Campaign Medal and the American Defense Medal. He came home to a country so eager to maintain white supremacy that black veterans returning from foreign service, aware of life outside the segregated United States, became frequent targets of violent white attacks. They represented a large number of those lynched and were denied benefits owed them under the GI Bill.
Edward was the youngest of Cleamtee and Bertha Garner's seven children, a fourth and much beloved son.
A few weeks after Edward's death, Cleamtee Garner visited the office of Walter Bailey, a black Memphis lawyer. Garner, who worked as a packer at the Memphis Defense Distribution Depot, arrived in a suit and tie, sad but certain about what he wanted to do: sue the police department and the officer who shot his son.
"Mr. Garner was a very regular working man, with a strong sense that what happened here was not only wrong, but emblematic of the way this city was policed at the time," Bailey, 79, said in a recent interview.
In 1974, Memphis was where, just six years earlier, Martin Luther King Jr. had been assassinated on a motel balcony. Three years after that, eight police officers and sheriff's deputies were acquitted in the beating death of a 17-year-old black boy after falsely claiming that he had been fatally injured in a car crash while fleeing police.
Bailey was one of just a few black lawyers working in Memphis at one of the South's first integrated law firms. It often did legal work for activists and the NAACP. He'd pursued and lost two cases against the Memphis police. At the moment King was shot, Bailey was in a Memphis law library researching how to fight a court order barring King from a march in support of Memphis' black sanitation workers.
By 1974, black people in Memphis were frustrated and infuriated by unchecked police mistreatment and abuse — but many were also afraid, Bailey said. It was a situation not entirely different from the one black Americans face around the country today. Police prosecutions remain rare.
Cleamtee Garner, who died in 1994, was determined to change things. He told Bailey that he knew his son had done something wrong. He would have encouraged Edward to accept a just verdict and, if ordered, jail time. But the penalty for burglary in the United States, for making off with $10, shouldn't be immediate death.
'We assumed we were going to lose'
Bailey believed the Garner case included possible violations of the Fourth Amendment, the right of people to be free from unreasonable searches and seizures. He told Garner that he would take the case but that it might take some time.
The case first went to a federal court in Memphis, where Garner and Bailey lost. Garner agreed that Bailey should appeal. When they won the appeal, Tennessee took the case to the Supreme Court. Bailey handled the case in the lower courts, but now the NAACP Legal Defense and Education Fund would do so.
Steven Winter was just 31 when he found himself on a small team arguing the Garner case before the Supreme Court in 1984.
"We assumed we were going to lose," said Winter, who is now a constitutional law professor at Wayne State University in Detroit.
Winter, who is white, argued that the FBI's use-of-force standard — shoot in situations in which a threat is imminent and immediate self-defense or defense of others is necessary — represented a better model than Tennessee's law allowing police to shoot fleeing violent crime suspects. And burglary was a property crime, not a violent one, he argued. In the early 1980s, only about 1.5 percent of burglaries involved any confrontation between burglar and resident, an NAACP researcher found. And, in most of those cases, that amounted to shouting matches, not violence.
The day of the 1985 Supreme Court decision, Winter picked up the phone for his only conversation with Garner.
"I told him he had won, that after 11 long years he had won at the U.S. Supreme Court," Winter said. "We had a very interesting conversation. I know I said we won on the legal issue, but it has to go back down to the lower court on the damage issue," which would determine whether Garner would receive a payout from the city.
"I said that I was sorry but there would not be any kind of compensation soon," Winter continued. "And Mr. Garner said to me, 'I don't care about the money, just so they don't shoot no more kids.'"
The Garner case meant officers could shoot fleeing suspects only as a last resort to protect the life of an officer or a bystander. The decision became a front-page story in The New York Times. Cleamtee Garner wasn't quoted.
In 1995, 21 years after Edward Garner's death and 10 years after the Supreme Court decision, Bailey persuaded the city of Memphis to settle with the Garner family for $300,000, plus $145,000 in legal and court fees. But Cleamtee Garner, 74, died 15 months before the case could be resolved and was buried with military honors in Memphis National Cemetery.
'It forever altered policing'
The Garner case toppled the notion that police could shoot and kill people who posed no immediate threat.
In the year following the Supreme Court decision, police shot and killed about 57 fewer people than would have been expected, according to a study published in the Journal of Criminal Law and Criminology in 1994, based on national homicide data. Within the first few years after the decision, in states that once allowed police to shoot fleeing suspects, fatal police shootings dropped by almost 24 percent, compared to almost 13 percent in other states, the study found.
"Garner unquestionably changed the way that police officers in Memphis and around the country understood that they were supposed to handle different situations," said Michael Rallings, Memphis' police director. "It forever altered policing."
Rallings, who is black, joined the Memphis Police Department in 1990. Rallings remembers sessions during his time in the police academy about the Garner case led by the city's district attorney. It remains part of the curriculum today, along with two more recent Supreme Court cases dealing with the use of force and fleeing suspects.
To Rallings, both Bailey and Hymon, the officer who shot Edward, merit recognition.
Bailey pressed the case for decades. Hymon went into court and told the truth about what he saw and did. Last year, Rallings invited both men to speak with Memphis' senior officers.
Bailey accepted and spoke about how the Garner case saved lives. Hymon didn't.
Hymon retired from the Memphis Police Department in 2009 as a captain and became a full-time minister. He and several of Cleamtee Garner's surviving children didn't respond to multiple requests for comment.
Download the NBC News app for breaking news
But last March, Hymon granted a rare interview to a black Memphis-area newspaper, The New Tri-State Defender. Hymon had joined the police department the year before he shot and killed Edward. He found the department's 1970s-era culture troubling. White officers often uttered the n-word, and some notched their guns for every black person they'd killed, Hymon said. Many white officers also carried a "drop gun" to plant on a suspect so use of deadly force wouldn't be questioned. That issue came up at the Supreme Court during the Garner case.
After killing an unarmed 15-year-old boy, a routine suspension and an investigation, Hymon "returned to a hero's reception," he told the reporter.
"What I resented," he added, "was the implication that after killing an African American I was acceptable."
A continuing problem
Researchers have long noted that when a police department changes its use-of-force policy, officers correspondingly change how they describe events. For example, in Memphis after the Garner decision, the number of shootings described as having occurred while working to "apprehend suspect" declined by 58.6 percent, while the rate of shootings described as necessary to "defend life" increased by 91.5 percent, according to the Journal of Criminal Law and Criminology research.
Police seemed to grasp the Garner ruling and became more adept at describing their actions in the terms most likely to be deemed justifiable, Winter said. And when the Supreme Court later handed down decisions that emphasized a different standard for use of force — what a reasonable police officer would do — police shootings began to climb.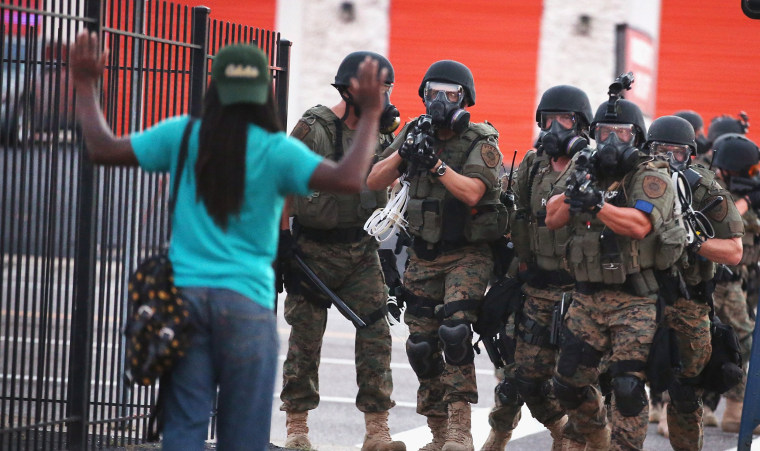 Other factors influence decision-making by officers. Among them: officers' conscious and unconscious biases; myths that have permeated police culture about a zone of safety, or the distance that must be maintained from suspects who pose a threat; reduced emphasis on tactics and more emphasis on dominance and control; and the average six months' training time new officers get before they're typically placed on late-night shifts in high-crime districts, the most challenging work environments.
Police shootings, while more plentiful in the United States than in other countries, are still relatively rare. But those factors, along with the Supreme Court's most recent case involving a fleeing suspect in 2007, have created conditions under which police shootings are a leading cause of death for young men.
And the 1,000 people, on average, killed by police every year continue to include unarmed, fleeing individuals, a disproportionate share of whom are black. Many come with complications that their families and police view in very different ways.
In 2014, a Cleveland police officer shot and killed a 12-year-old black boy in a city park after a witness reported that the boy was playing with what the witness said may have been a toy gun. The officers drove their police cruiser onto the park's grass, stopping within feet of the boy and shot and killed him within seconds. The officers weren't told that the item in the boy's hand may have been a toy, and they weren't indicted.
In October, a Fort Worth, Texas, police officer shot and killed a 28-year-old black woman after entering her yard, failing to identify himself and then firing through her window without warning. Police say the woman was armed. The officer has been charged with murder.
And this week, officials in Vallejo, California, released video that they say shows an off-duty police officer from a nearby city shooting and killing an armed 38-year-old black man after an argument over a parking space in November. Vallejo police have described the shooting as an act of legal self-defense. The officer hasn't been charged, but the investigation continues. The dead man's family has sued.
To Winter, the continued spate of police shootings shows the need for a stronger standard for what makes a shooting justifiable.
"As big a deal as Garner was, I'm afraid that Trevor Noah, the 'Daily Show' [host], is right," Winter said. "He said the way things currently stand for black Americans is: 'If you don't show your hands, you get shot. You show your hands, you get shot. You have a legal gun, you get shot. You don't, very likely get shot.' Garner was massive, but its impact and influence has faded with time."