The police officer identified in the shooting of Daunte Wright and the police chief in Brooklyn Center, Minnesota, have resigned, officials announced Tuesday.
Kim Potter, a 26-year police department veteran, fatally shot Wright during a traffic stop Sunday. Wright died of a gunshot wound to the chest, according to the Hennepin County Medical Examiner's Office, which classified the manner of death as a homicide. Potter's union announced her resignation.
Brooklyn Center Mayor Mike Elliott announced Tuesday that Police Chief Tim Gannon would also be resigning.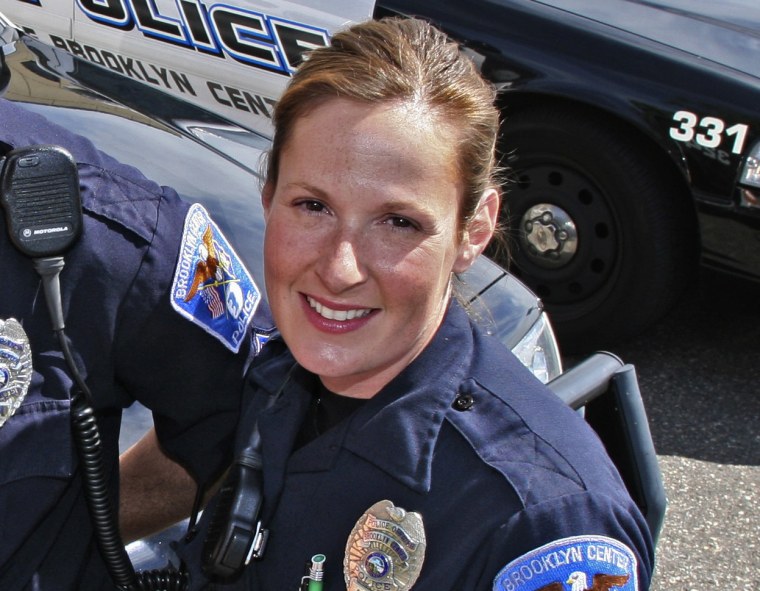 "I have loved every minute of being a police officer and serving this community to the best of my ability, but I believe it is in the best interest of the community, the department, and my fellow officers if I resign immediately," Potter's resignation letter read.
Elliott had advocated for the officer to be put on administrative leave as the state Bureau of Criminal Apprehension investigated. He said the city did not ask for Potter's resignation.
"Well, what I understand is that the officer stepping down has the effect, I think, of speaking to one of the things the community, the folks who have been out here protesting, have been calling for: that is that the officer should be relieved of her duties," Elliot said.
"I hope this will bring some calm to the community, but I think ultimately people want justice, they want full accountability under the law. So that's what we're going to continue to work for."
Hours after the announced resignations, there were clashes between protesters and police near the Brooklyn Center police building for a third night, and police ordered people to leave about 90 minutes before a 10 p.m. curfew.
Objects were thrown at police behind a fenced area; law enforcement officials said they included bricks. There were loud bangs and smoke or gas appeared to have been used as police in riot gear moved on the crowd. NBC affiliate KARE reported that flash-bang devices were among those used on the crowds. There were "upwards of 60 arrests" Minnesota State Patrol Col. Matt Langer said.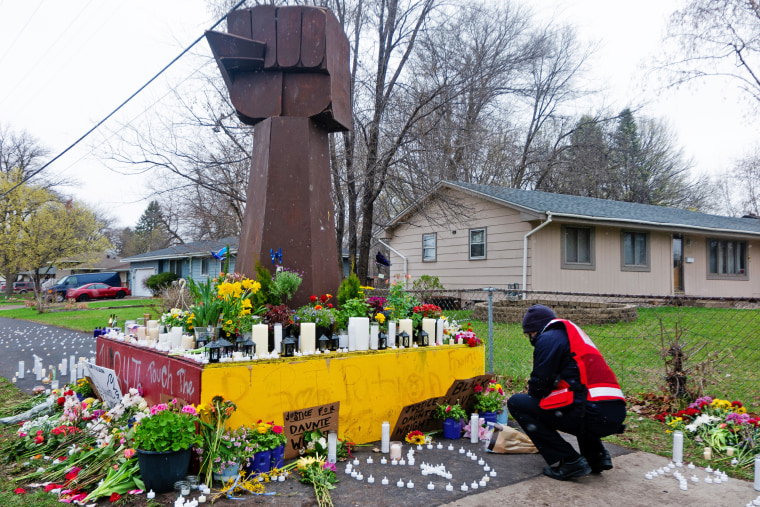 Asked at a news conference later Tuesday whether he could still fire Potter, Elliott said he had not yet accepted her resignation. He did not say whether he could still fire Potter.
Elliott also declined to answer when asked the reason Gannon gave for resigning, as well. He did, however, ask Minnesota Gov. Tim Walz to allow the state's attorney general to handle Wright's case.
Washington County Attorney Pete Orput said that his office has a "voluminous amount of data to pore over" and that he hopes to have a decision about charges by Wednesday.
Before he resigned, Gannon said he believed the officer meant to draw a Taser but "drew their handgun instead of their Taser." A short clip of body-camera video released Monday showed Wright trying to get back in his car as a female voice could be heard shouting, "Taser!"
The same female voice could be heard saying, "Holy s--- I just shot him," as the car pulled away, police said.
Wright was shot about 14 miles north of where George Floyd was killed last year and where the officer charged in his death is on trial.
His mother, Katie Wright, said she could hear officers telling her son to exit the car when he called her during the stop.
"Daunte asks, 'For what?' The police officer said, 'I'll explain to you when you get out of the car.' He said, 'Am I in trouble?' He said, 'We'll explain all of that when you step out of the car,'" Katie Wright said.
The phone hung up, but minutes later she reconnected in a video call, and her son's passenger picked up, telling her that Wright had been shot.
"She pointed the phone toward the driver's seat, and my son was laying there unresponsive," Katie Wright said. "That was the last time that I have seen my son. That was the last time I've heard from my son, and I have had no explanation since then."
George Floyd's brother Philonise Floyd compared Wright's slaying to the killing of Oscar Grant, who was fatally shot by a transit police officer in Oakland, California, in 2009. The incident was adapted into the critically acclaimed 2013 movie "Fruitvale Station," starring Michael B. Jordan.
The officer who shot Grant also said he meant to use a Taser, not a gun.
"There was no need to even tase him," Floyd said. "Daunte Wright ... he should still be here. It's the time for change, and that time is now. Minneapolis, you all can't sweep this under the rug anymore."
Community members pushed Elliott and newly appointed acting Police Chief Tony Gruenig about their plans to address concerns about the criminalization of petty offenses connected to the racial profiling of Black people, such as traffic violations.
"What can you do going forward to make sure that this racial profiling — because right now Brooklyn Center looks like a sundown town," one man said. "Black people better not be trying to do driving through here after sundown."
Another resident who described herself as a community organizer told Elliott and Gruenig that she did not need police to know her to "humanize" and "respect" her as a person.
"We have asked the City Council for a long time that we needed a community review board," she said. "I wanted to ask directly if that's something that you or the new chief will be considering."
Elliott responded that they will not just consider it but will "absolutely" do it.
Elliott also said he would consider whether to end the enforcement of traffic violations by armed officers.
"Certainly, I am predisposed to doing, you know, everything we can to reduce the opportunity for officers to use deadly force in situations where they're not necessary," he said.
CORRECTION (April 14, 2021, 5:05 p.m. ET): A previous version of this article misspelled the last name of the mayor of Brooklyn Center. He is Mike Elliott, not Elliot.