Olympic fencer Race Imboden and hammer-thrower Gwen Berry were put on a 12-month probation on Wednesday for protesting on the medal stand this month at the Pan American Games in Lima, Peru.
Imboden took a knee and Berry raised a fist when the national anthem played during medal ceremony. They both "could face more serious sanctions for any additional breach of our code of conduct," according to letters sent to both athletes, a spokesperson for the U.S. Olympic and Paralympic Committee told NBC News.
Committee CEO Sarah Hirshland also said in the letters that future protests, such as at next summer's Olympics in Tokyo, would be met with stiffer punishments.
"It is also important for me to point out that, going forward, issuing a reprimand to other athletes in a similar instance is insufficient," Hirshland wrote. She said that while she applauded the "decision to be an active citizen," Olympians must "abide by the policies" agreed to "in order to ensure the Games succeed in their purpose for many years to come."
Olympic committee spokesman Mark Jones said after the protests that athletes at the 2019 Pan American Games had committed to refrain from political demonstrations as part of their terms of eligibility.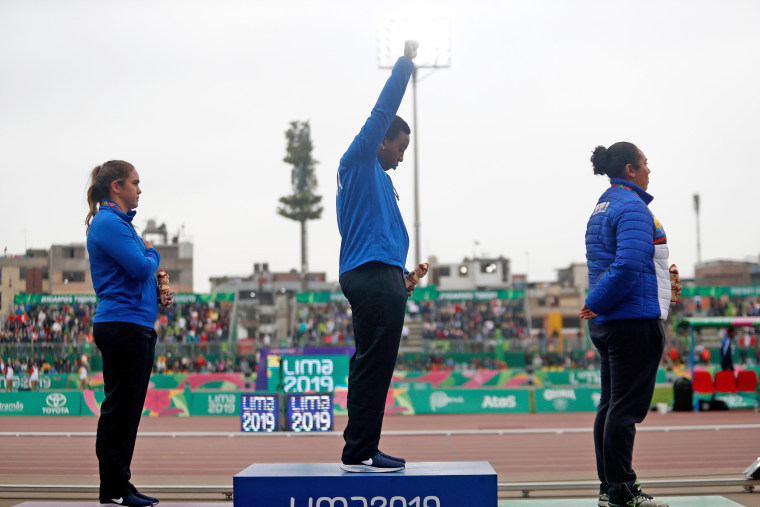 Berry has said she wanted to "stand for all of the injustices that are going on in America and a president who's making it worse."
"Somebody has to talk about the things that are too uncomfortable to talk about," she told USA Today Sports after the medal ceremonies.
Berry's raised fist drew comparisons to what was arguably the Olympics' most famous protest when sprinters Tommie Smith and John Carlos each raised a fist during the 200-meter medal ceremony at the 1968 Mexico Summer Games.
In a series of tweets, Imboden cited "racism, gun control, the mistreatment of immigrants" and President Donald Trump as the reasons he protested.
He also said in an opinion piece in The Washington Post on Aug. 13 that he was interested in change, not self-promotion, adding that he was influenced by "Colin Kaepernick, Megan Rapinoe, Muhammad Ali, John Carlos and Tommie Smith: black, LGBT, female and Muslim athletes who chose to take a stand."
"I spoke up, I hope, for the same reasons that athletes who've come before me did. I want my country to change," Imboden, who is white, wrote in the op-ed. "And I want people who look like me to start coming to terms with this reality: Even if we can't fully identify with the challenges that minorities sometimes face, or haven't experienced the kind of attacks that they've faced, we owe it to our country to use the privilege we have to fight for what is right."
Imboden said he has felt honored to represent the U.S. in international competitions, and each time he hears the national anthem played, "it's a moment of personal pride."
"I love my country, full stop," he wrote.
Imboden and Berry both competed in the 2016 Summer Games in Rio de Janiero and are eligible for the Tokyo Games next summer.
Protesting by kneeling during the anthem was popularized by then-San Francisco 49ers quarterback Colin Kaepernick in 2016, who was demonstrating against police brutality and racial inequality. Now a free agent, Kaepernick has not played in the NFL since 2017.