Another black man was shot to death by a police officer — this time in Charlotte, North Carolina.
The officer said he had a gun. The family of Keith Lamont Scott said he had a book. And then the city exploded.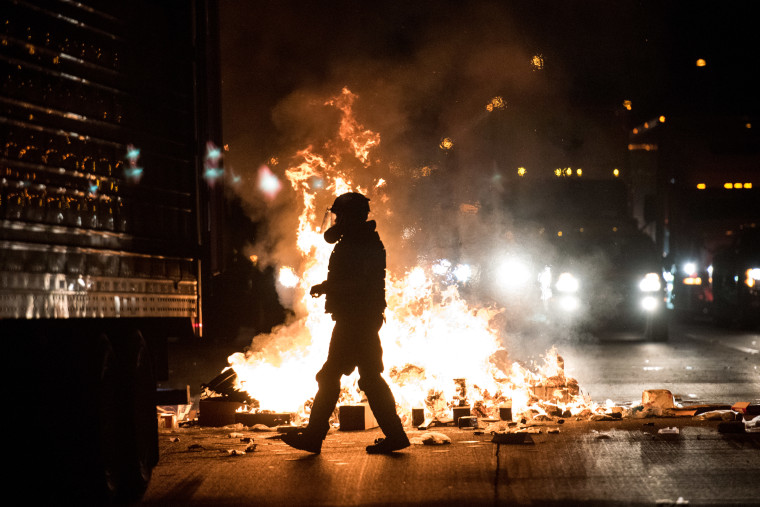 And when people erupt in Charlotte, North Carolina, it gives the nation real pause. Why? Because this isn't a decaying northern city like Baltimore, nor is it a rust-belt city like Chicago. When police shoot unarmed citizens in those places, not a few wonder if the ugliness that takes place there in fact says more about the intractable violence of inner cities than it does about police aggression or unequal justice under the law.
Charlotte isn't a crumbling urban ghetto. Charlotte is the place you move when you want sunshine, and a shiny new house in a sparkling new subdivision. Charlotte is a prosperous city where you not only can get a job in the bustling and very clean Uptown area, but that job affords you wonderful weekend getaways to a cozy cabin in the Appalachian mountains but an hour away, or to the sandy shores of the Atlantic, also an easy drive from the Queen City. Charlotte is a magnet for the young and old alike and it's growth is the envy of not a few urban mayors.
Related: State of Emergency Declared as Charlotte Descends Into Chaos
It matters that Charlotte has been celebrated by U.S. News and World Reports as one of the best places to live in the entire nation. It filled Charlotte's residents with pride when other media outlets heralded their city as one of the very best places to raise a family in the entire state of North Carolina. Charlotte epitomizes the best of America in the 21st century.
Or does it?
Not really.
Yes, Charlotte is a major and thriving metropolis of almost a million people. And, yes, the city has good jobs—72 percent of the city's residents have jobs and they own nice houses — houses with a median value of $170,000.
What is more, more than 80 percent of Charlotteans have graduated from high school and more than 40 percent have a college degree. These are impressive statistics for a city that is only 50 percent white in a nation where it's the whitest spaces that are the wealthiest and filled with the greatest opportunity.
But like in every major city in America, Charlotte is also segregated, poor, and being destroyed by a drug war. Too many of Charlotte's kids are hungry and too many Charlotte parents see more police in their communities than they do job recruiters and grocery stores.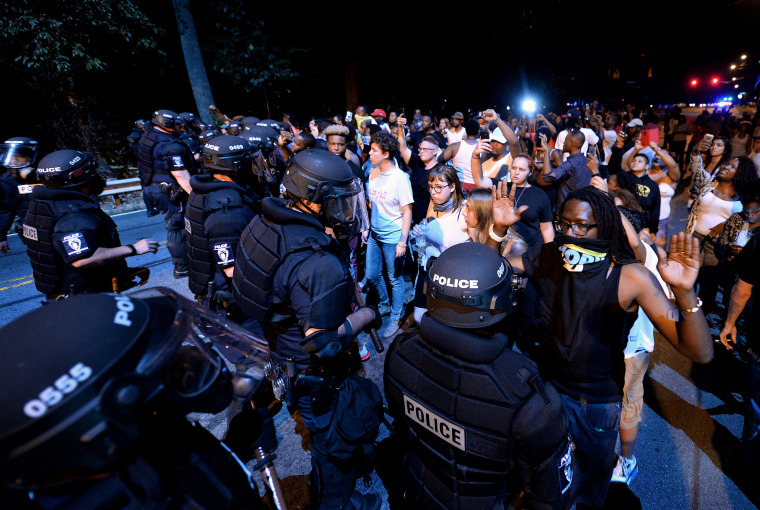 In short, Charlotte is one of the wealthiest cities in the country, but this prosperity hasn't touched overwhelmingly black West and Northeast Charlotte and it is one of the most heavily policed. And the police don't spend much energy policing — throwing people up against cars on a regular basis to search them for drugs — in overwhelmingly white South Charlotte.
And the excessive and aggressive policing of only Charlotte's poorest and blackest neighborhoods leads there, as it does in every other city in the country, to the killing of citizens by the police. It has led there, as it has elsewhere to outrage.
And, thus, when Charlotte erupts, we need to pay particularly close attention.
PHOTOS: Violent Protests Flare in Charlotte
Some still think that this nation is doing just fine except for those ugly pockets of poverty and segregation that routinely explode like Baltimore or Chicago. Others know better, but hope to move away from, and thus avoid addressing, the persistence of ugly racial injustice and the cries for help coming from black families.
Charlotte is their wake up call.
Heather Ann Thompson is former and longtime resident of Charlotte, North Carolina, she is now a historian at the University of Michigan who writes in policing and prisons, and she is the author of "Blood in the Water: The Attica Prison Uprising of 1971 and its Legacy"