On Monday, May 15th, after four long years of struggle, our Moral Movement in North Carolina won a major victory against the strategy of Republican extremists who are determined to subvert democracy in America.
Writing on behalf of the Supreme Court, Chief Justice John Roberts denied a petition to review the 4th Circuit Court's ruling that North Carolina lawmakers acted with "discriminatory intent" when they passed an omnibus voting bill "targeting African-Americans with almost surgical precision."
The lower court's ruling stands as the last word in NC NAACP vs. McCrory, vindicating the hundreds of people who were willing to go to jail and the tens of thousands who protested this effort to suppress the vote in North Carolina.
For anyone concerned about the extremism in Washington, D.C. today, the past four years in North Carolina may be instructive. We have met the sons of Jim Crow who went to law school and became James Crow, Esquire. But we have also learned how to stop them. As the basic institutions of democracy are under assault in America today, we need a Moral Movement to stand against deconstruction.
Just last week, the White House announced President Trump's investigative commission on election integrity, a purportedly bi-partisan commission that is co-chaired by Republicans and populated by Secretaries of State who have pushed the very voter suppression tactics deemed unconstitutional in North Carolina.
The stated reason for their investigation is the same myth about widespread voter fraud that was used to justify voter suppression in North Carolina. Though they were willing to spend over $6 million of taxpayers' money to defend this unconstitutional law in court, our adversaries never produced a single verified case of in-person voter fraud in North Carolina.
We have met the sons of Jim Crow who went to law school and became James Crow, Esquire.
President Trump's claim that he lost the popular vote in 2016 because 3-5 million people voted illegally isn't about the integrity of our elections but rather about the growing diversity of the American electorate. Though often dubbed a "voter ID law," the legislation we fought in North Carolina was never about ID. It intentionally selected the three forms of identification least common among African-Americans while excluding all others.
It also trimmed back early voting to target the popular "Souls to the Polls' program which had mobilized African-American voters after church on two Sundays prior to Election Day and eliminated same-day registration, which had also served to increase African-American turn out.
Even after the 4th Circuit's ruling last year, Dallas Woodhouse, Executive Director of the NC GOP, instructed Republican election board chairs across the state to make "party line decisions" when approving schedules and locations for early voting. His intent was clear when he later celebrated a decline in African-American participation in early voting.
Related: Supreme Court Won't Hear Appeal on Controversial N.C. Voter ID Law
While voter suppression may be more polite and sophisticated today than the Mississippi Plan of 1876 or the Klan intimidation of the Jim Crow era, it's purpose is the same: to maintain white supremacy and protect the property rights of those who fear a loss of political power.
Some things are not left versus right, but right versus wrong.
Whether the beneficiaries of race-based chattel slavery are willing share political power has been the fundamental question of every reconstruction in our nation's history, and it is the central challenge facing the American republic today.
Since the 2010 census, 22 states in the South and Midwest have introduced voter suppression efforts. Home to 54 percent of African-Americans, these states delivered the Electoral College to Trump in 2016. With the highest poverty rates in the nation, these states also have the most to lose from the deconstruction of government. Voter suppression is a conspiracy to rig our elections to sustain minority rule.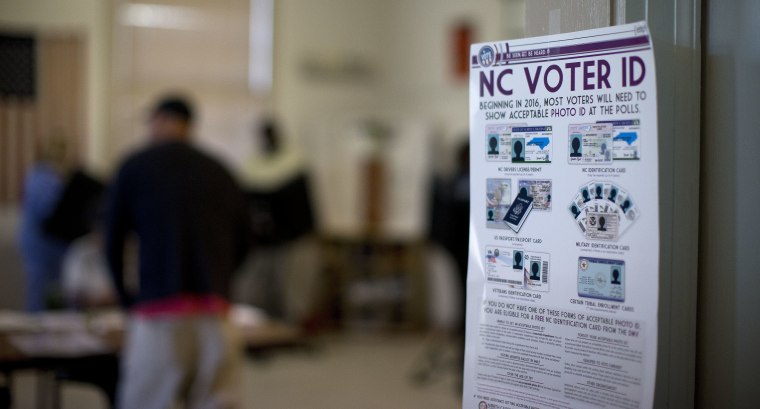 Our experience in North Carolina suggests that we can face this national crisis, despite the sophisticated tactics of James Crow, Esq.
First of all, we must expose the lies used to justify voter suppression. "Alternative facts" are not original to the Trump administration, nor can they be addressed in our conventional left versus right, let-both-sides-speak discourse. Some things are not left versus right, but right versus wrong. We must reclaim moral language in the public square to revive the heart of our democracy.
But words alone are not enough. Through Moral Mondays in the summer of 2013, we learned that moral articulation that challenges James Crow, Esq. must lead to nonviolent direct action. When the truth itself is under attack, people of conscience must be willing to put our bodies on the line and suffer to bring the issue before the court of public opinion. The seeds of our victory at the Supreme Court were sown in the civil disobedience of more than 1,100 people who said they would not allow injustice to win the day.
Related: OpEd: Selma's 'Bloody Sunday' Exposes Lie of Voter Fraud
Public words and actions helped to shift the public narrative, but the courts proved to be an essential check on the abuse of power in North Carolina, as they have already proven to be under the Trump administration. Legal battles are not won quickly, but the patience and research they demand are essential for a moral movement.
One thing we've learned about James Crow, Esq: he will do everything he can to prove he is not racist. But a thorough discovery process brings things that were hidden into the light. We beat James Crow, Esq. in an appeals court because we forced him to show his hand in a case we lost in the district court.
Our long struggle has made this much clear: James Crow, Esq. will fight to the bitter end. But we know this too: when we stand together, we win.
William J. Barber, II is President of Repairers of the Breach and author of The Third Reconstruction.