October is Breast Cancer Awareness Month and this week, the American Cancer Society has revised its guidelines yet again, to determine the most appropriate and effective age to begin mammography screening.
Their new and revised guidelines suggest that women of average risk can start getting screened at age 45. We're now up to five sets of current guidelines from respected medical institutions – The American Cancer Society (ACS), the American College of Obstetricians and Gynecologists, National Comprehensive Cancer Network, American College of Radiology/Society of Breast Imaging, and US Preventive Services Task Force (USPTSF) – that recommend varying screening ages for mammography ranging from 40-50.
These shifting mammography guidelines are raising more controversy and confusion for women regarding screening. The guidelines have significant life or death implications for black women, who already have a higher mortality rate for breast cancer than their white counterparts.
At the Black Women's Health Imperative, we are being deluged with calls and emails asking us what is the truth. As one woman said to me, "If the doctors and scientists can't agree on when I should get a mammogram, then who am I to decide? I'll just wait for them to figure it out!"
As so many community groups work this month to raise the bar on awareness and try to tear down the obstacles and fears black women have, the new guidelines are giving mixed signals and excuses for women not to get a potentially life saving mammogram.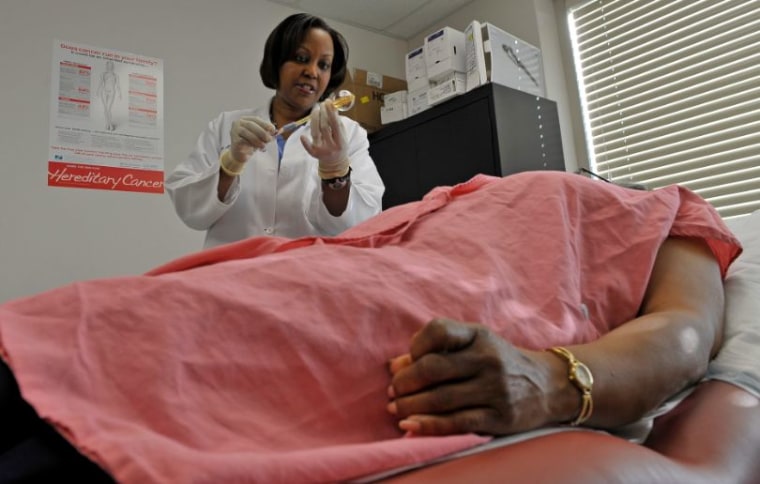 Here's what we do know for sure: Black women overall have a lower incidence rate of breast cancer than white women. However, those under the age of 40 have a higher incidence rate.
We know the difference in breast cancer mortality rates between black and white women is 40 percent.
Black women are on average three to seven years younger than white women when diagnosed. If we look at this latest set of guidelines in light of what we know about black women and breast cancer, we have to ask how delaying screening and diagnosis is best for black women. These mixed messages could lead to more deaths from breast cancer in our community.
The studies on which the new guidelines are based come largely from Canadian and Swedish studies from as far back as 25 years ago where there were few, if any, Black participants. It is true, that equal treatment yields equal outcomes - that is, if a Black and a white woman have the same breast cancer and if they have similar life and physiologic characteristics, and if they receive the same treatment, they will have about the same survival rates. These are all big ifs.
If we look at this latest set of guidelines in light of what we know about black women and breast cancer, we have to ask how delaying screening and diagnosis is best for black women.
And the fact is, they don't. Many studies have documented differences in how aggressive providers are in treating breast cancers in black women, as compared to white women.
Health insurance coverage often determines access to care. Women without health insurance are twice as likely to die from breast cancer as women with health insurance. The Association of Health Insurance Plans (AHIP) has already signaled that insurers may revise their coverage policies in accordance with the guidelines changes.
This could mean that women under 50 may find that their insurance provider opts not to cover their screening. State Medicaid programs could also follow suit. The likelihood that Black women and Latinas would have the same access to screening and the same access to quality breast cancer treatment so they can have the same outcomes as insured white women, drops dramatically. It may save insurers money, but it will cost lives.
It is true that the American Cancer Society, the USPSTF and others are rightly concerned about the potential of over-diagnosis, over-treatment and harming women because of false-positive results they say come from too much screening.
However, most women would prefer to endure the discomfort of a biopsy to find out they really don't have breast cancer, than being diagnosed and treated when it is too late.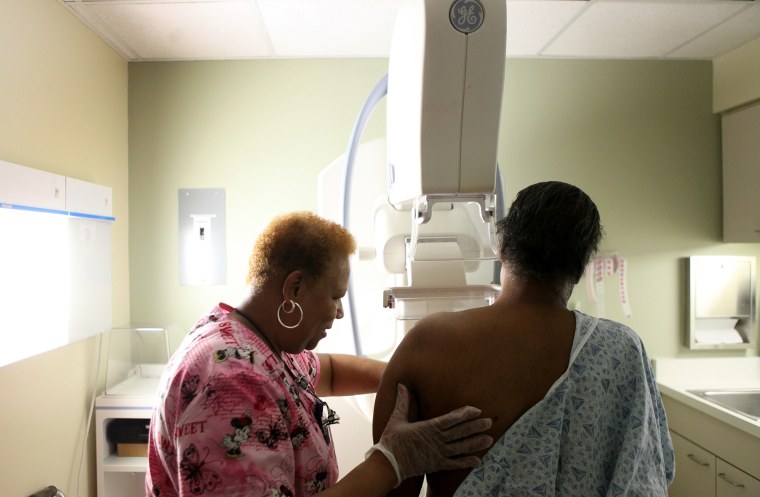 A study reported in 2014 by the Journal of the American Medical Association disagrees with the Task Force's conclusion about the magnitude of the issue. It found that while false positive results do cause anxiety and stress, the anxiety is short-term and doesn't affect the woman's overall health and wellbeing. The Task Force itself notes in its statement that the risk to a woman's life due to diagnostic follow up is very small.
Doctors are conflicted, researchers don't agree and the average woman is left to fend for herself amidst the sea of inconsistent data.
For these reasons, the Black Women's Health Imperative continues to support beginning breast screening at age 40 with no barriers to access or cost sharing and we have called for a two-year moratorium on implementing the USPSTF guidelines until more research can be done to determine the impact on the lives of Black women.
We will, in time, learn the appropriate age for a woman to begin mammography and how often she should be screened. But until then, and while so many of our mothers, sisters and daughters are getting their breast cancers detected at late stages and dying far too young, let's not rush into creating more confusion.
Be Your Own AdvocateNearly 30,000 black women in the US will be diagnosed with breast cancer this year alone. That is why awareness and action are so important. Be an advocate for yourself, your family and your community. The more you know about breast cancer, the better prepared you will be to survive.
Push for regular mammograms if you are age 40 or older. If you have a family history of breast cancer or you discover a lump in your breast push for earlier screenings as well.

Studies from the National Cancer Institute show that many younger black women who get a breast cancer diagnosis have more aggressive breast tumors and do not respond as well to standard breast cancer treatment.

Know your family health history and your risk factors. So often black families do not talk about their cancer history. It is important to about breast cancer on both sides of your family.

Be vigilant about doing breast self-exam each and every month at the same time. If you don't know how to examine your breasts, ask your provider or check out this video from breastcancer.org. If you discover a suspicious lump see your provider right away.

Follow up is key. If you are diagnosed through screening, schedule the follow up and get a plan of action.
Linda Goler Blount, is President and CEO of the Black Women's Health Imperative and a Public Voices Fellow of the OpEd Project