PHILADELPHIA – Since the beginning of his presidency, Barack Obama's opponents have tried to make him something he is not: an angry black man and/or some foreign "other" not entitled to claim the American story as his own.
President Obama, with his Democratic National Convention speech on Wednesday night, answered back. He both endorsed Hillary Clinton and defended America—and himself—against all the insult thrown in Cleveland by Republicans last week.
Again, he thwarted Republican nominee Donald Trump, who had commandeered all the headlines with his latest outrage, all with the simple act of repeating America's founding principles and reminding listeners of its promise and triumphs in the face of challenges.
"That is America. That is America. Those bonds of affection; that common creed. We don't fear the future; we shape it, we embrace it, as one people, stronger together than we are on our own," Obama said.
The crowd drank it in. He sounded more Ronald Reagan than Trump the week before with his bleak vision of America 2016. And when he spoke of his own ancestors and their American story, President Obama tossed in the ad lib, "I don't know if they had their birth certificates," letting Trump know he hasn't forgotten the GOP candidate's "birther" campaign. He won't let anyone else forget it, either.
"We don't look to be ruled," he said in a few pointed and effective words. "Our power comes from those immortal declarations first put to paper right here in Philadelphia all those years ago: We hold these truths to be self-evident, that all men are created equal. That's who we are. That's our birthright—the capacity to shape our own destiny."
All this was after Trump threw in an extra bit of nastiness earlier that day that seems to have slipped under the radar, taking a backseat to the top line in the Republican presidential nominee's statements in his Wednesday press conference/rant. The world began fretting about Trump's suggestion that Russian intelligence services hack and release Hillary Clinton's missing emails. But there was something else, more sinister.
"Putin has said things over the last year that are really bad things," Trump said of Vladimir Putin, the man he has called Russia's "strong leader."
Obama does not take the bait, even when race is added to the toxic stew.
"He mentioned the N-word one time. I was shocked to hear him mention the N-word. You know what the n-word is, right?"
Trump went on to say that Putin has "a total lack of respect" for Obama. "No. 1, he doesn't like him. And No. 2, he doesn't respect him," and then he, of course, implied that he would remedy all that if he becomes president. Trump also called Obama "the most ignorant president in our history."
It was Trump's usual tactic. By saying Putin did it, he distanced himself from the racial slur while simultaneously bringing it front and center in a conversation that he seemed to relish having.
Does Putin disrespect Obama because he demeans him in this particular way, or does the disrespect come first and the slur after? It doesn't matter because, Trump implies, when he takes over for this "ignorant" person, it will all get better, promising some sort of "bromance" with the leader whose approval he craves. In fact, we don't even know what Putin actually said—but it goes in that vague category of things Trump believes he heard.
Trump's particular tactic of ridicule, of trying to bring his nemeses as low as he is willing to go might have worked against his GOP primary opponent Marco Rubio, who answered back in kind without much success. But Obama does not take the bait, even when race is added to the toxic stew.
Obama has always calmly treated every Trump slight as annoyance, a did-he-say-that moment to make fun of or ignore. The Obama smack down later that night was done with his deft touch, though with the urgency of one who sees possible danger ahead. He was serious, but no less dismissive: "Anyone who threatens our values, whether Fascists or Communists or jihadists or homegrown demagogues, will always fail in the end," he said, with the "homegrown" reference being unmistakable.
Instead of the imaginary apologies Trump places in the president's mouth, he never apologized for his country, saying: "America is already great. America is already strong. And I promise you, our strength, our greatness, does not depend on Donald Trump. In fact, it doesn't depend on any one person."
That Barack Obama is one of the most thoughtful of presidents in modern times seems to have made his opponent Donald Trump madder, turning his face a bright shade that is awesome to behold.
Trump is not alone.
Still, Obama and the first lady have grabbed tight onto that language of the "American dream," daring to tweak it with some bracing and much-needed all-American truth. And though they do that to prove the dream's resilience against impossible odds, there is still push back from those who refuse to see richness in complexity. (See the predictable backlash to Michelle Obama's provable mention that slaves' hands helped built the iconic edifice she will continue to call home for a few more months.)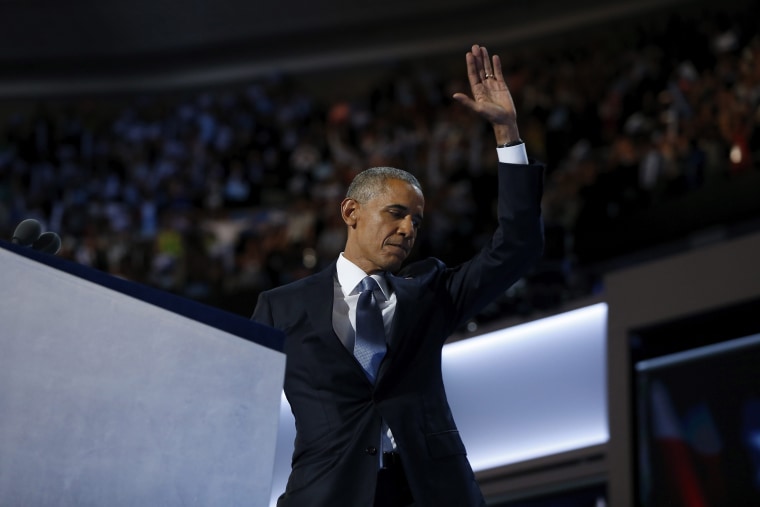 Even many who disagree with President Obama's political philosophy give him and the First Family credit and praise for the exemplary image they have presented to the world. Obama spoke of "we," placing himself square in great American traditions people of color have always fought to preserve and have always loved, even when their country did not love them back.
"We're not a frightful people. Our power doesn't come from some self-declared savior promising that he alone can restore order as long as we do things his way," the president said.
Donald Trump's "divided crime scene" seemed especially small set against the grand sweep of history. But his way has taken Trump this far. He must be hoping that it will work better with Hillary Clinton as a foil than it ever has on Barack Obama. Did he transfer a little of that mojo with that evening-ending hug?
What Trump proved with his latest trolling in the muck—a convoluted racial charge linking him in some twisted way with a Russian strongman—was that a presidential nomination has not changed him.
Maybe Trump wasn't listening to his own wife's inspiration, first lady Michelle Obama, when she repeated the family mantra on Monday: "When they go low, we go high."
Mary C. Curtis is a Roll Call columnist and contributor to NPR and NBCBLK, who has worked at The New York Times, The Baltimore Sun, The Charlotte Observer, Politics Daily and as a contributor to The Washington Post. She is a senior facilitator for The OpEd Project at Cornell and Yale universities. Follow her on Twitter.