Even when you're a white person who demonstrates some level of appreciation or affinity for Black people and black culture—you're still white. You don't get a free pass to play around with the words, phrases, and experiences that reinforce the marginalization of Black people.
Although Quentin Tarantino has received this memo on more than one occasion, he refuses to listen. And it underscores Tarantino's taken-for-granted, enabled status as a white filmmaker who's "down" or familiar enough with Black communities for there to be no problem with his racialized displays. His acceptance speech at the Golden Globes, like many other moments in his career, came at the expense of sensationalizing or cannibalizing elements of the Black experience in the name of being avant garde, or to purportedly make a point.
The cringeworthy moment from Sunday night is much more than the rant of a man in a light, and likely imbibed, celebratory mood. While the "Hateful Eight" director accepted the award for Best Original Score, on behalf of composer Ennio Morricone, Tarantino shared his admiration for Morricone's work, likening him to Mozart and many other famed classical musicians. But he openly resisted terming him a "movie composer," because when compared to the greats, in Tarantino's words, "That's ghetto."
Aside from cameras panning to audience members clearly made uncomfortable by the remark, including Regina King, it took Django Unchained star Jamie Foxx to acknowledge the moment in a brief, but pointed one-word protest as he returned to the platform to present the next award: "Ghetto."
Even a Black actor standing a few feet away on the same stage wasn't enough impetus for Tarantino to proceed more tactfully. It's as if Tarantino believes his cinematic depictions of Black experiences, his hiring of Black performers like Foxx, and his outspoken support of #BlackLivesMatter means he's entitled to act a lot more flagrantly than other white people on matters of race.
But that's not quite how this works.
To be clear, the word itself has a literal definition, but language is much more complicated than that. Although the conventional academic understanding of "ghetto" as an urban area confined to members of minority group, that's not what the term means in most everyday usage, and it's not what Tarantino meant in the context of his acceptance speech. Ghetto has evolved to reference people, places, and things that remain hopelessly destitute and below par—particularly those that are Black.
The word "ghetto" isn't used in reference to white people who experience less-than-ideal living conditions, or who don't care much for live symphony orchestras because they can't afford tickets to a show. It's not used to refer to white people who don't act with the refinement that's supposedly synonymous with the cultural proclivities of the wealthy—otherwise, boastful billionaire Donald Trump wouldn't be a just a "jerk," as Jeb Bush called him, it'd sound something more like "ghetto jerk."
That's why the word, in context, stung for many Black viewers on social media.
But it's also telling that this isn't the only moment where Tarantino's come under fire for his use of anti-black pejoratives.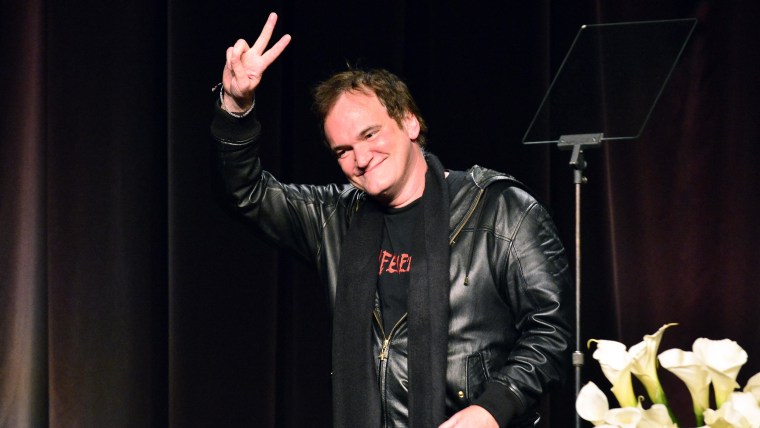 Last fall, he faced criticisms for using the n-word more than five dozen times in The Hateful Eight, all but recreating a similar chain of events stemming from the release of Django Unchained in 2012. One of his fiercest critics was director Spike Lee, who refused to see the film because he said it would be "disrespectful to my ancestors." Tarantino's fascination with the n-word isn't just limited to his two most-recent works. Indeed, it's been a personal hallmark for him in near nearly every film he's ever created.
There's nothing wrong with being fascinated with Black culture as a white person. But when there's not enough respect for the everyday racial slights experienced by Black people, and how that connects with the larger system of white power and privilege in America, any sense of maintaining a respectful boundary gets lost.
Black people aren't asking for white folks to walk on eggshells around them. Black people are asking to be respected and understood. And when people like Tarantino disregard the constructive criticisms of Black people, they're not really interested in using their power to help the community—they're instead reveling in tacit validations of their own racial privilege.