On the first Sunday in March, 1965, TV networks interrupted their regularly scheduled programming to show law officers on horseback chasing and beating unarmed Americans on the Edmund Pettus Bridge in Selma, Alabama. "Bloody Sunday" shocked the nation, exposing the extremism of Congress' Jim Crow caucus, which had resisted the expansion of voting rights for nearly a century.
52 years later, America is reeling from the political extremism unleashed by the first election in half a century without the full protections of the Voting Rights Act. In the midst of our present crisis, the blood of Selma's martyr's cries out as clearly as in 1965: America cannot suppress the vote of any one group without hurting everyone in this democracy.
While "Bloody Sunday" is memorialized in history books and cinema as a great turning point in America's civil rights movement, the struggle for voting rights in Alabama did not begin when Dr. King came to town, nor when the Student Nonviolent Coordinating Committee (SNCC) sent organizers to Selma two years earlier.
The local Dallas County Voters League inherited its insistence on the right of African-Americans to vote from ancestors who remembered the ratification of the 15th amendment, following the Civil War. "Slavery is not abolished until the black man has the right to vote," Frederick Douglass said in 1865. Even though Jim Crow laws had relegated them to second-class citizenship, black people in Alabama remembered that the promise of Reconstruction meant little without the right to vote.
Throughout the South in the late 1860s and early 1870s, black Lincoln Republicans (unlike today's GOP) voted with local whites to elect progressive state legislatures that challenged corporate interests, expanded public education, and sought criminal justice reform. These coalitions were violently attacked by the Klan, but they also faced a relentless propaganda campaign from Southern Democrats who accused black and white legislators of stealing elections through "voter fraud."
Related: OpEd: How We Resist Extremism
After the end of Reconstruction in 1877, unfounded accusations of voter fraud became the basis for literacy tests, poll taxes, and other voter suppression tactics. Though challenged in the courts under the 15th amendment, Jim Crow voting laws were upheld for decades because they did not deny the franchise based on an individual's race. But after Selma, the Voting Rights Act recognized that their intent and effect was the suppression of African-American votes and the destruction of the progressive coalitions that black political power made possible.
We cannot make sense of President Trump's unsubstantiated claim of 3 to 5 million illegal votes in last year's election apart from this history. "Voter fraud," though proven to be statistically irrelevant in modern elections, has been the primary justification for voter suppression bills in 22 states since the Supreme Court stripped the Voting Rights Act of its power in their 2013 Shelby decision. Though it is the responsibility of Congress under the 15th amendment to guarantee voting rights to all Americans, they have failed for nearly four years to restore the VRA.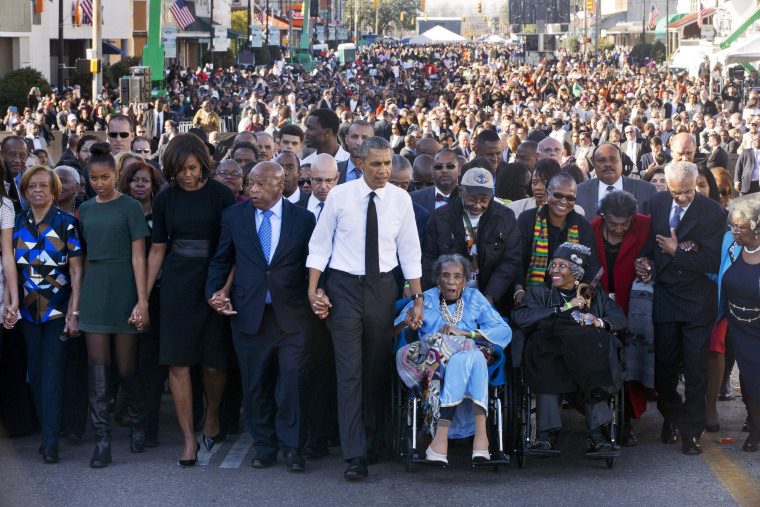 Like their 19th century forbears, today's extremists are using the lie of voter fraud to justify voter suppression. North Carolina's omnibus voter suppression bill, which we challenged and beat in NC NAACP vs McCrory, sought to roll back early voting, same-day registration, pre-registration for 16-17 year-olds, and polling sites on college campuses, in addition to adding a voter ID requirement. Ruling in our favor, the 4th District Court of Appeals noted that while there was no evidence of significant voter fraud, the legislation targeted African-Americans with "almost surgical precision."
Texas' "voter ID bill," which Attorney General Sessions' Department of Justice has now refused to challenge before the Supreme Court, attempts to establish a 21st-century poll tax, discriminatory in both intent and effect, even if it doesn't name black and poor people as its target. As during the Jim Crow era, today's extremists have concocted an array of tactics to suppress the vote and its impact.
Related: OpEd: Prophetic Moral Challenge After the National Prayer Breakfast
The real fraud in the 2016 election was not individuals voting twice or out of precinct, which only happened in a handful of isolated cases, but the rigging of representation through racial gerrymandering. Republicans won 9 of 12 Congressional districts in North Carolina, even though the received less than a majority of the total Congressional votes in the 2016 election.
The districts they won, as well as North Carolina's state legislative districts, have been declared racially gerrymandered by federal courts. But their party still controls Congress and the statehouse. Whatever the findings of a probe on Russian hacking, we know America's democracy has been hacked by domestic extremists.
Even more sinister than they lie of voter fraud is the lie that voter suppression only hurts black people. The policies of progressive coalitions that include African-Americans, Latinos, LGBTQ, poor and working people today are now, as during Reconstruction, policies that lift up the good of the whole.
Extremist attacks on these coalitions hurt all Americans. The dismantling of the Affordable Care Act, the DOJ, public schools, and the EPA, as well as attacks on immigrants and religious minorities, affect all of us.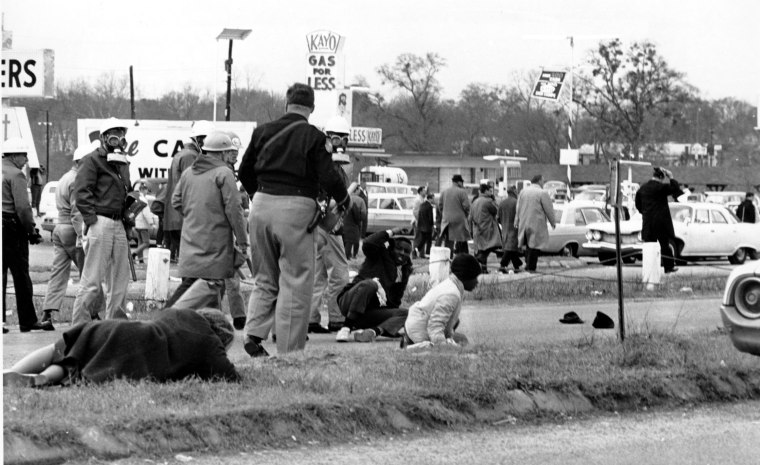 52 years ago, Americans who were stunned by footage of "Bloody Sunday" heard Sherriff Jim Clark shout, "Get those goddamned niggers! And get those goddamned white niggers!" As in Reconstruction, white and black people came together in Selma to say that you cannot suppress the voting rights of any one group of Americans without empowering extremists and hurting all Americans.
Politically, it didn't seem like the coalition in Selma had any chance of winning. Just a couple of months earlier, Martin Luther King, Jr. had pressed President Johnson on the need for voting rights legislation. "I just can't do that right now," Johnson retorted. "I don't have the power."
But direct action to expose the brutality of extremism and demonstrate the power of coalitions across race and class lines moved Johnson to say, just one week after "Bloody Sunday," that "it is not just Negroes, but really it is all of us, who must overcome the crippling legacy of bigotry and injustice."
The extremism that now infects the White House, Congress, and dozens of America's state houses would not be possible without the 21st-century voter suppression which has flourished in the absence of VRA protections.
"Bloody Sunday" doesn't only offer a diagnosis of our malady; it also shows us the way forward. Diverse coalitions of people who are willing to put their bodies on the line to expose extremism offer the greatest hope of reviving the heart of our democracy.
Follow NBCBLK on Facebook, Twitter and Instagram