There could be a new Sheriff in town. And he ain't friendly to black folks.
Controversial Milwaukee County Sheriff, and FOX News contributor, David Clarke claimed Wednesday that he would be taking a high level, non-Senate Confirmed position with the Trump administration in the department of Homeland Security.
Clarke told a Milwaukee radio station that he was going to "accept" a senior position where he would take over the office that coordinates the Department of Homeland Security's outreach efforts for state, local, tribal, territorial governments and local law enforcement agencies.
A DHS spokesman told NBC News that Clark's comment isn't true -- at least, not yet – and said the Department would only announce when made official by the Secretary.
Under normal circumstances it would be welcome news to the black community to hear that President Trump is considering appointing an African American to a high-level role in his otherwise very white, very male White House staff, cabinet and sub-cabinet.
But, the appointment of Mr. Clarke is not good news to black people and it should not be good news for mainstream Americans. He has been a loyal supporter of the President since the primaries (which I have no issue with as that is his right), and he has spewed more anger, vitriol and threats at his own community than any law enforcement officer ever seen on national TV.
At the Republican National Convention during his speech, although he quoted Dr. Martin Luther King, he also rallied the crowd with a "Blue Lives Matter" cry.
For example, Clarke's incendiary comments include claiming that both ISIS and Black Lives Matter activists were forming an alliance to destroy America. Sheriff Clarke also referred to the Ferguson Missouri demonstrators in the aftermath of Michael Brown's death at the hands of a policeman as "vultures on a roadside carcass."
Related: Editorial: Comey Firing Is the Symptom, Not the True American Problem
And then there was this recent tweet encouraging "Pitchforks and torches time."
The question that we should all be asking, however, is whether Clarke is actually qualified to do the job. And more importantly does he have the temperament and demonstrated record as a public servant to "outreach" to diverse communities as is a big part of his new responsibilities as Assistant Secretary?
I think he does not.
His appointment sends a troubling signal to law enforcement and community leaders alike looking for solutions on how they can come together and build bridges.
One glaring concern I have with Clarke beyond the aforementioned, is that a grand jury recommended criminal charges against several staff members at a jail run by Sheriff Clarke in connection with the death of an inmate last year. That inmate, Terrill Thomas, who had bipolar disorder, died in April 2016 after the staff members cut off the water in his cell for a week. The grand jury did not recommend criminal charges against Sheriff Clarke, but he was the person in charge of the jail and the treatment of prisoners.
Worse than that Clarke is yet another "black person" in a line of few Trump appointees of color who are not very well connected to or liked by the black community. This is a troubling trend that shows how out of touch the administration is with the real-time issues between black communities and policing.
I think most black people believe that Dr. Ben Carson is a nice man, a well-respected physician who has rightfully earned a place in the National Museum of African American History and Culture but is he the right choice to lead the Department of Housing and Urban Development, which has such a huge impact on black people in the United States?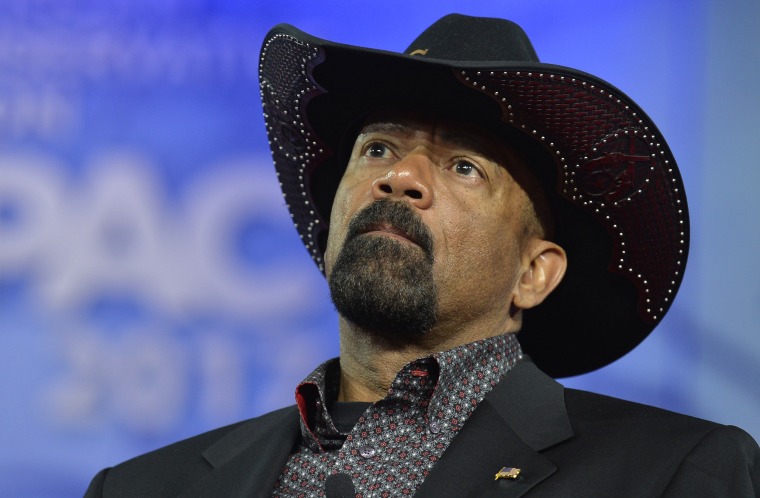 Then there is Presidential staff aide, Omarosa Manigault, who is a Trump loyalist, HBCU graduate, and adviser on HBCUs, but is she the right person to represent the President to the Black Community on critical matters of public policy?
Whatever conclusions you come to about Trump and his like or dislike of the black community, the appointment of Clarke is troubling, when so many young black boys and men are being killed at the hands of police and not being held to account.
Just yesterday, in Tulsa OK, police officer Betty Shelby was found not-guilty of manslaughter of an unarmed black man last summer. Sheriff — potentially assistant Secretary — Clarke, is not someone who even believes that the black community is victimized routinely and profiled unfairly by Police. That is a huge disconnect with the reality and statistics.
Related: Opinion: Lessons From Alton Sterling: When Will the 'Walking Dead' Live Free?
Bottom line: Sheriff David Clarke makes some valid points about the work we as a community may need to do to clean up our own neighborhoods, and take hold of our own destiny. The problem for Clarke is that no one is listening because he has allowed himself, like the President, to become a conservative caricature of intolerance, anger, name-calling and division.
It will be interesting to see if Clarke actually gets the appointment that he has so brazenly bragged about in the media. Assuming that he does, his appointment sends a troubling signal to law enforcement and community leaders alike looking for solutions on how they can come together and build bridges.
If the President wants to appoint a man of color to lead his outreach efforts at Homeland Security, I applaud that. But, Sheriff David Clarke is the wrong man for such a time as this.