All is not well with my soul.
I went to bed Tuesday and woke up to the news that an unarmed black man, Alton Sterling had been shot and killed in Baton Rouge, in an altercation with police. In seconds, one of the officers shot and killed him.
I went to bed on Wednesday, only to wake up to news that Philando Castile was shot and killed in a suburb of St. Paul, Minnesota by a police officer, while his fiancee and her 4-year-old daughter sat buckled beside him.
I went to bed on Thursday, only to wake up to news that snipers ambushed and killed police in Dallas, as retaliation.
How can one not be mentally shaken when it seems that this country has declared open season on us? I CAN'T BREATHE. So I spoke to Dr. Annelle Primm, psychiatrist and Adjunct Associate Professor of Psychiatry and Behavioral Sciences at The Johns Hopkins School of Medicine — and one of the leading voices on black mental health issues.
"The impact on the black community of repetitive images of shootings of black men, is feelings of anger, rage, sadness, fear, stress and collective trauma," Dr. Primm tells me.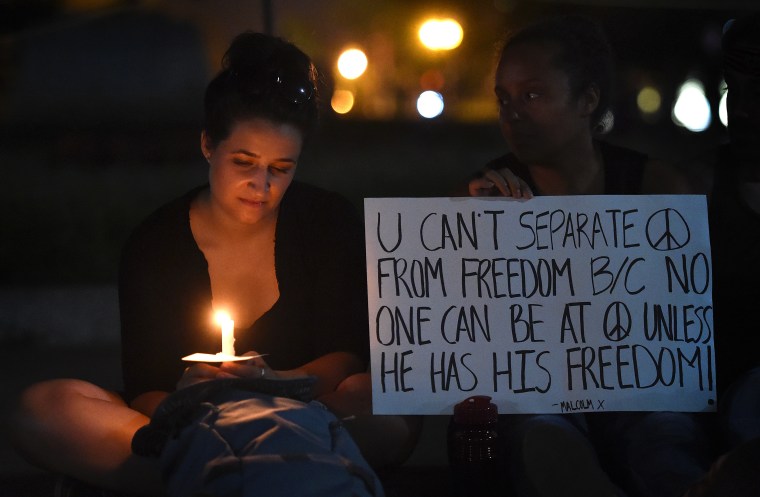 Dr. Primm is right. I am scared for my family members. I have slept in fits all week. Comedian and radio host, D.L. Hughley told CNN that he may keep his clothes on at night in case he has to go to see about his grown children. He came to tears, and his voice trails off as he says, "It's too much. It's just too much..."
I know what that feels like. I keep my keys and phone in the bed with me every night. Even though I have grown children, when they are both here, I do a head count before I go to bed and when I wake up. Especially when I wake up.
Black America knows that the shootings are not new, the difference is there are cell phones that can document and give witness to living while black.
"Black people around the country realize that no matter what their station in life, they, too, are vulnerable to being profiled—because of the color of their skin—and possibly losing their lives," Dr. Primm says.
It is too much to have to hold in your head and your heart, packed tightly next to your fear and anger and hopelessness. I am sick and tired of being sick and tired. To much of white America this plight seems new. Black America knows that the shootings are not new, the difference is there are cell phones that can document and give witness to living while black. While the stories are important they chip away at our spirits and gnaw at our feelings of safety and well-being.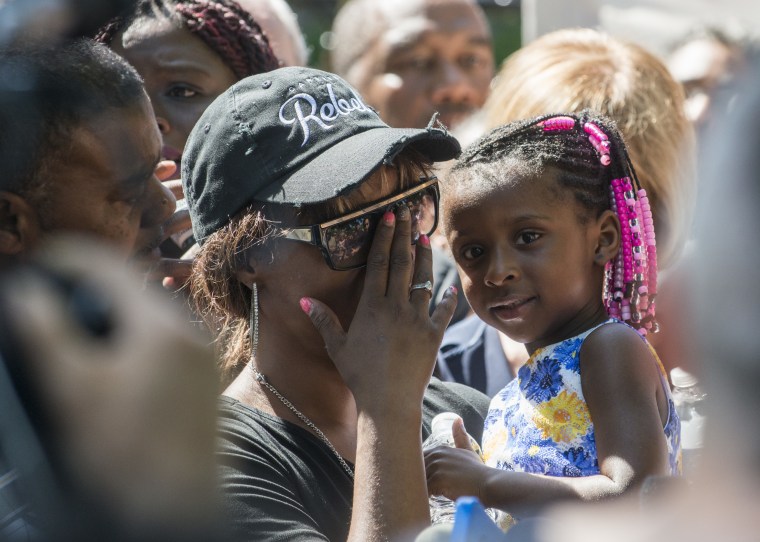 Dr. Primm says that it is important to find ways to keep ourselves intact during times like these. "Some people manage their stress through prayer and self-care practices such as meditation, relaxation techniques, and physical exercise."
She also acknowledges that others may use alcohol or other drugs to extinguish their pain. Some people find it helpful to discuss the issues with family and friends. Dr. Primm points to The Community Healing Network, which has developed Emotional Emancipation Rapid Response Teams to help members of black communities process their feelings after crises linked to racism.
"Anger about incidents can boil over into rage and people may take to the streets in protest," Dr. Primm says. "Some people find constructive ways to collaborate and play a role in advocacy to change the policies and practices that lead to disturbing events of violence."
Like so many, I feel the pain of knowing there is nothing I can do but be hurt for these men and their families, and terrified for my own.
As a black woman, who has been entrusted with the love, nurturing and support of my black family I feel at a loss. I have no real words to describe my pain, for yet someone's father, son, husband, loved one that I didn't even know.
What I do know is that it is endless. And I know I feel helpless because I have no good solutions. Like so many, I feel the pain of knowing there is nothing I can do but be hurt for these men and their families, and terrified for my own.
I wanted to look away, but I just couldn't. I fell down the social media rabbit hole to share this experience with others who couldn't find the words either. The more I watched, the more I needed to watch. It brought me no relief or peace. I experienced a real spiral of anger, stress and helplessness.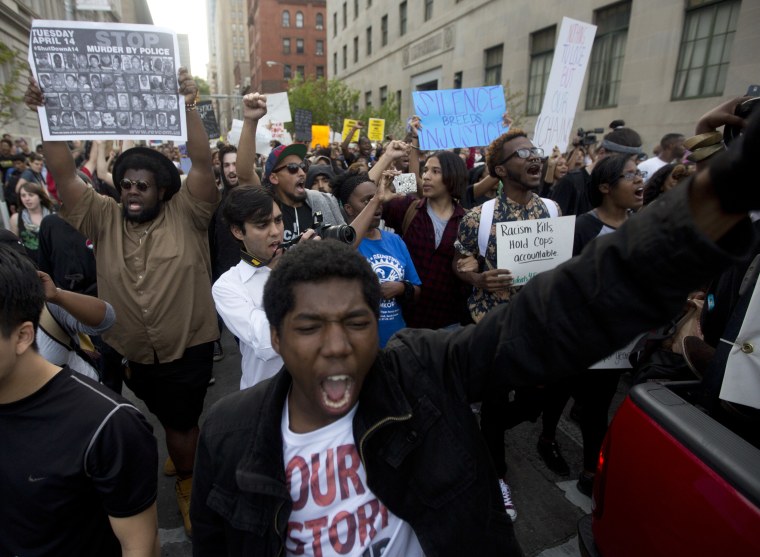 Dr. Primm says social media is a good way for people to come together. "It is a forum in which people can express their feelings, share their views and engage in dialogue about what policies need to change to stop the unnecessary killing of black people during police encounters," she adds.
But she also suggests that for keeping balance it should be used in moderation. "Social media can be a helpful tool for communication around tragic incidents and can be a constructive outlet for anger," Dr. Primm says. "People should gauge what their limits are and reduce their involvement in social media in relation to tragic events like these, if they find themselves becoming overwhelmed when they lose a sense of balance."
I took Dr. Primm's counsel and used my social media pages to offer a safe place for people to vent and hurt. I put a simple post on my social media pages, asking all my friends and followers for thoughts and solutions, big and small.
Here is my post:
I didn't know what I would get back but I knew that for my own peace of mind, I needed to find a way to create a safe space for people to express their pain and to think about being change agents. After I hit post, I walked away from the computer, television and the phone for a few hours, for my own self-care. Here are some of the excerpts from some of the comments I got back:
---
Jasmine Lee, PhD. Michigan State University
Just keep trying to keep from being/staying angry, because you know, love and light, right? But the only other feeling present is despair. These options don't seem fair when others get to carry on with life freely.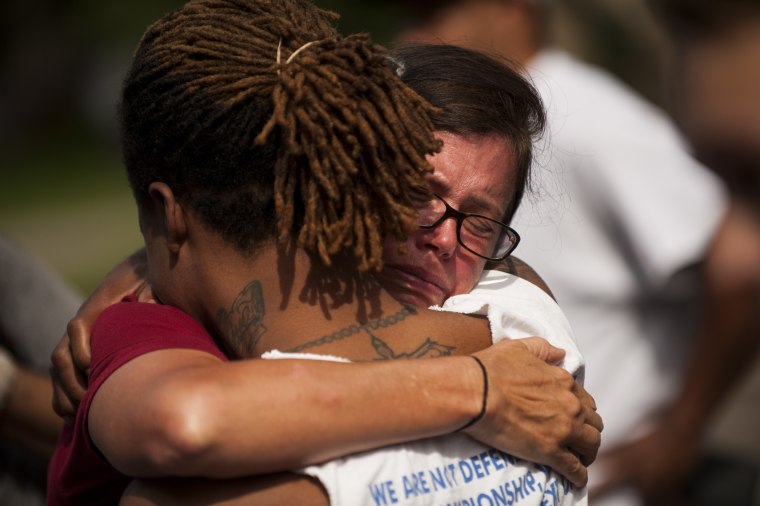 ---
James Harris, Insurance Agent, Gary, Indiana
Something is terribly wrong in America right now. It certainly appears that Black Men seem to be under attack by White trigger happy Police Officers. There are a lot of Black Men with concealed carrying permits. This young man in Minnesota told the officer he had a weapon in the car and was getting his drivers license and registration out of his pocket when the officer just opened fire. This really disturbs me. Normally I wouldn't comment on these matters to such degree but this is beginning to piss me off as a Black Man with a young Black Son. This guy was with his girlfriend and a young Child in the back seat. It's time for all of Black America to stand up and let's put an end to this crap.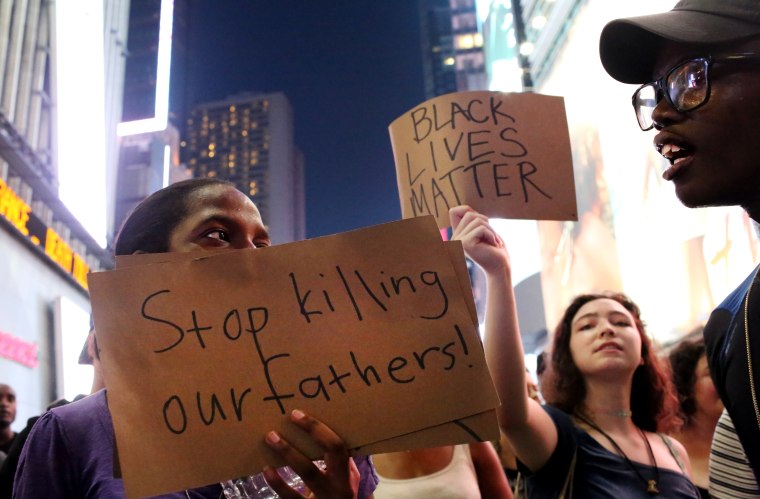 ---
Keith Foster, a retired Atlanta policeman
This post is primarily for my fellow officers. We can NOT and must NOT be silent now. When we see something that just isn't right and is contrary to our training it can NOT be just non-law enforcement who speaks out and is enraged.
Now, we have been trained to get all the facts first. I myself will refrain from getting emotional and caught up on FB hysteria. That's my makeup. But so far from the videos I've seen it's not making sense. If new and CREDIBLE information comes forth or is presented showing these shootings to be justifiable I'll retract some of my statements.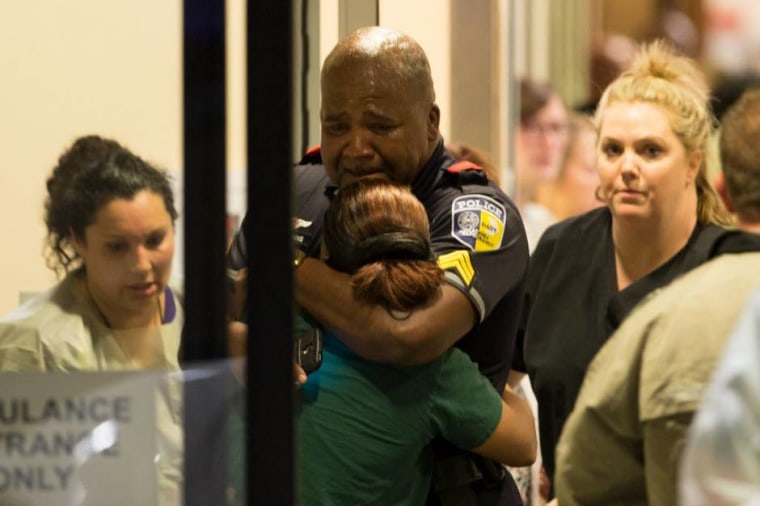 ---
Keecha Harris, a consultant in Birmingham, Alabama
And, miss me with any notions about how much Black folks kill ourselves. Just the facts please - Whites kill whites at a higher rate, But, of course, intraracial (sic) homicide only matters when people are trying to dig a deeper trench for mass burial of Black folks.
Nonetheless, all hell would break lose if the state was taking whites out in this manner, on the regular, for being SUSPECTED of breaking the law.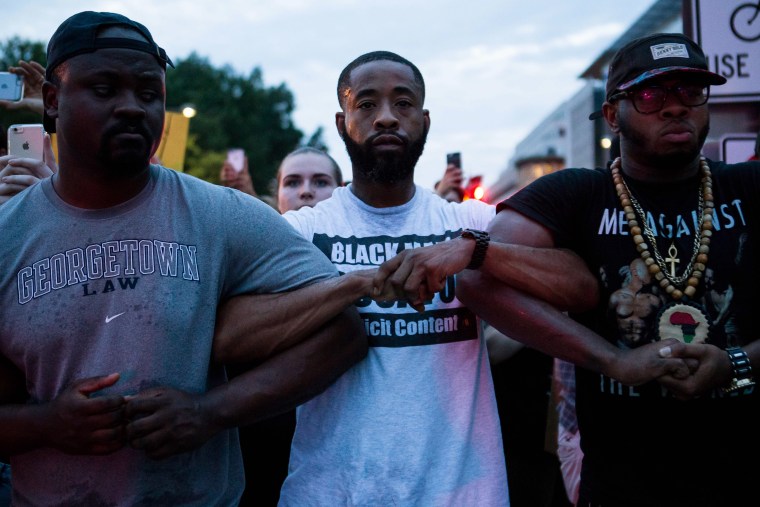 ---
Daniel Davis, Human Resources Professional, Author, Glen Burnie, MD
Every time there's an issue affecting the black community we protest without an objective. We don't even protest together because we can't agree on what we should protest. This sickens me. Now I'm not about discussing problems without solutions so here's what I think moving forward.
Before we protest, let's make a plan with an overall goal and objectives. If there's a protest or people coming together for a cause, support it or keep it moving but don't belittle it or interject with, "what we should be taking care of is xyz." Comments like this are damaging because it divides us.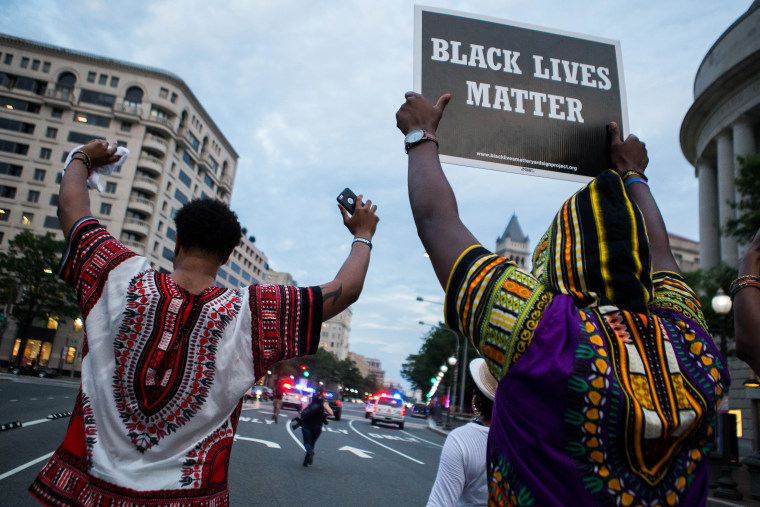 ---
David Malebranche, MD. Marietta, GA
I'm exhausted. Open carry gun laws in this country seem to be a freedom that only non-Black men can enjoy. I guess police are trained to view any Black man as "threatening" - shoot to kill first, ask questions later. These gun laws are meaningless when many cops suffer from the affliction of racial prejudice and stereotyping.
I'm not watching and sharing another video akin to a 2016 version of lynching in this country. This is a White people's disease, and the decent White and other non-Black people who are not infected with it need to be vocal, speak out, and change the insidious racialized murdering institutions that many police departments have become in the United States.
It's obvious that when Black folk speak about these heinous acts, we are just "playing the race card," even with video evidence. None of this surprises me anymore.