I am Angela Angel and I am a survivor of domestic violence. I survived because my abuser didn't take my life…there are countless others that weren't that fortunate.
I hate to say that. But it's true.
I know what it's like to feel powerless and trapped. When one man's actions control your every move - even your thoughts. For those of us who survive, the emotional and physical toll remains long after the physical scars heal.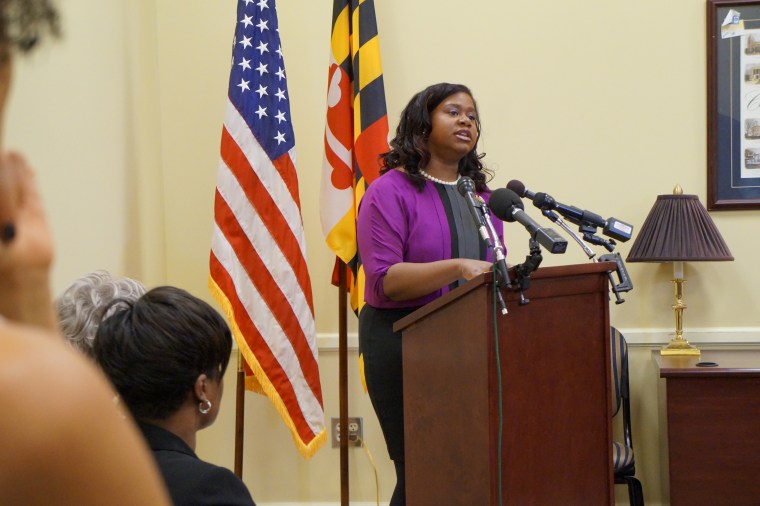 I know the heartache and the desperation when the systems that are supposed to protect, don't.
I've sat in a courtroom and had a judge apologize as I described my torment because there was absolutely nothing he could do to help me. I heard him tell others the same - the actions we were describing were wrong and undoubtedly a crime. But there was no protection to be offered to us as victims under current Maryland laws.
What the current state law is missing is the recognition that serial harassment is abuse too and our laws should protect victims of this type abuse before it becomes physically violent or deadly. This is a powerful message to domestic abusers that Maryland is a safe haven where the rights of offenders are sacrosanct, and the rights of victims are an afterthought.
RELATED: White House Summit Focuses on Women in Prison
I find myself looking not at a locked room or door, but a locked system. One that allows the exertion of power and requires the complicity of all. A system that is built to demand that you suffer your violation in silence. Because if you cry out they will claim you are overreacting but if you remain silent they will kill you and declare you liked it.
Today, I stand as a survivor, fighting for all those who can't fight for themselves.
In the first three months of 2016, seven women in Maryland's Prince George's County alone have died as a result of domestic violence. How many lives must be lost before we decide to take action? Something must change and it must change now.
Thanks to the people of District 25, I now sit in a seat in the Maryland House of Delegates. But I refuse to just sit here. I've come too far to do nothing.
Today, I stand as a survivor, fighting for all those who can't fight for themselves. That is why I've proposed HB1396 in the Maryland House of Delegates, which would allow for protective orders to be issued for serial harassment and malicious destruction of property. The bill would also provide for schools to teach age-appropriate lessons on domestic violence.
HB 1396 is currently held in the House Judiciary Committee and has not come to the House Floor for a vote. Similar legislation has been introduced and held since 2005. When will this end, Maryland?
RELATED: Editorial: If Girls of Color Are Not Safe in School, Where Can They Be?
I never sought to be a dissident. An incendiary provocateur isn't really the nature of this little Black girl from South Bend, Indiana. I also didn't plan to be a single mother of five. I never thought I would know how it felt to receive a kiss on a cheek that was bruised by my husband's fist.
We don't get to pick our battles. We just have to see right from wrong and decide where we will stand. I stand with the victims, the survivors. Maryland, where will you stand?
Delegate Angela M. Angel was elected to the Maryland House of Delegates in 2014. She serves on the House and Government Operations committee.