In Hollywood, filmmakers often complain that projects with characters of color hit a wall when it comes to finding funding. "Can't the hero have a white friend?" ask the suits in the front offices of major studios. I thought of that as I watched two African-American men – President Barack Obama and comedian Larry Wilmore – take center stage at the 2016 White House Correspondents' Dinner without a white friend, unless you count Joe Biden.
I wasn't in the room, but the discomfort of the mostly white audience oozed through the television screen. As someone who writes about the intersection of politics, culture and race and has been in those kinds of rooms for most of my life, I recognized the vibe.
It was two African-American men speaking, particularly in Wilmore's case, without the filter usually used when black folks talk to a white audience. Wilmore called out President Andrew Jackson's racism, name-checked "Black Lives Matter" to raise a scare and used the phrase "All Lives Matter" to make a point about those who will never understand the difference between the two slogans. Then, he ended with a term not often heard in a room of gowns, tuxedos and pearls to be clutched.
At the 2015 dinner, the president used Keegan-Michael Key's comedic character of "anger translator" Luther to bust through the Obama calm and channel his "authentic" self. But increasingly, Obama has been skipping the translator, portraying more passion, humor and truth – though he still retains that calm.
RELATED: Mixed Reaction as Larry Wilmore Drops N-Bomb at #WHCD
Maybe he knows by his last year in office that those who interpret his cool as angry will never change. Hence, the commander-in-chief made jokes this year about "CPT" (in the process reminding white people that that is something they may never joke about), used slang when talking about earning some "serious Tubmans" for future speeches, and reacted to Wilmore's calling him another word whites should not use, not with shock but an affectionate embrace.
When outsiders find themselves on the inside, they are taking the opportunity to speak, no translation needed.
African Americans are not monolithic in their views, and no doubt many may not have approved of Wilmore's use of "the word." But they knew it was not said as an insult. On the other hand, many on pundit row reaching for the smelling salts are the same folks who engaged in actual actions of disrespect – from casting doubts on the president's citizenship and patriotic love of America to holding up nominations it is his duty to offer.
So, please.
The reason the Key and Peele "Luther" skit always resonated was because it's rooted in real life. It's not that every person of color is filled with anger; it's that most know they must show little emotion when making a point with passion, because it will be perceived as anger, turning off the person you are trying to persuade. "Code switching" — speaking differently to different audiences — is a way to navigate spaces, especially when you are the only one or one of a few. You make your point without rattling anyone's — any white person's — sensitivities.
RELATED: Helen Mirren Sports Prince Tribute at White House Correspondents' Dinner
Commenting on racism is itself now judged racist, which makes the sharing of a perspective informed by personal experience as a person of color difficult. Couch criticism in the most benign way possible, and you still may be branded racist for bringing up the subject at all.
Wilmore's set definitely played better outside the room than in, though even among the public watching from home, opinion was mixed. Yet he was the superstar of many voices on Black Twitter, who liked the jokes almost as much as the sight of so many of the comfortable being made uncomfortable.
There were groans and scattered boos in the room, some, of course, for Wilmore's calling out individual journalists and the faltering finances of the journalism industry. As someone in the business, I sympathize on that score, but still appreciated that he dared to "keep it 100," as he would say.
For example, Wilmore is allowed a dig at Andrew Jackson. This president who did good things was a leader who owned human beings and implemented the forceful and brutal removal of Native Americans from their land. And the fact that he adopted a Native American boy doesn't make it all better.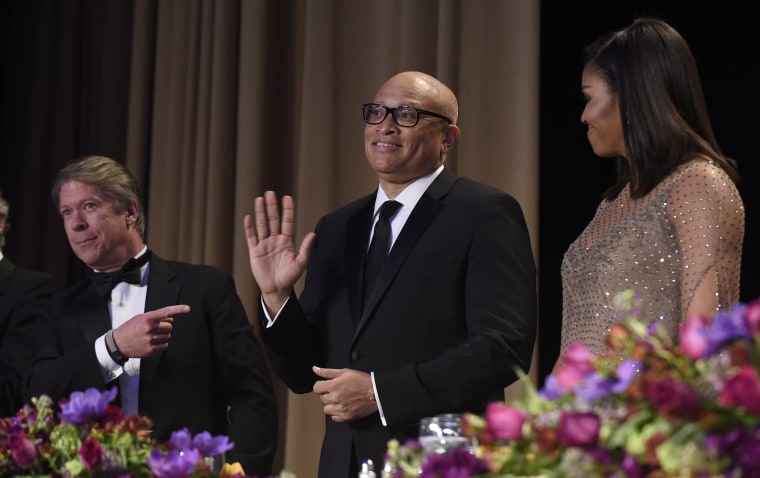 The narrative of America as a great country that did some bad things is being corrected as more people say out loud that the inequality and spoils that went and still go to some while denying others, are baked into the soil. To point out imperfections doesn't mean any citizen loves the country less.
It's happening, and not just in a Washington, D.C., ballroom. Also this past week, a California resolution to declare a "John Wayne Day" failed by six votes when members of the state assembly highlighted the actor's own words in 1971 that "I believe in white supremacy until the blacks are educated to a point of responsibility." He said of Native Americans, "Our so-called stealing of this country from them was just a matter of survival. There were great numbers of people who needed new land, and the Indians were selfishly trying to keep it for themselves."
Assemblyman Matthew Harper, the Republican from Orange County who sponsored the resolution, unsurprisingly pushed back: "Opposing the John Wayne Day resolution is like opposing apple pie, fireworks, baseball, the Free Enterprise system and the Fourth of July!"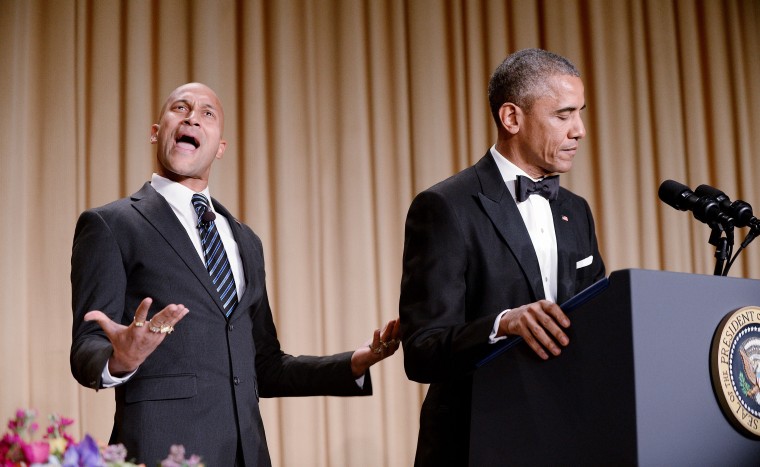 No, actually. A lot of people who love all those things now get to vote and raise a voice to say your view is not mine, mine counts as equal and an actor who expressed racist views is not deserving of a special day and isn't that huge statue of him in the Orange County international airport named for him more than enough.
When outsiders find themselves on the inside, they are taking the opportunity to speak, no translation needed, which makes the verdict on Larry Wilmore's Washington set beside the point, though he shouldn't expect to be invited back.
Mary C. Curtis, a columnist at Roll Call, has worked at The New York Times, The Baltimore Sun and The Charlotte Observer. Follow her on Twitter @mcurtisnc3.