On Tuesday, November 29th, I joined fast food, healthcare, childcare and other service workers across America to protest slave wages in 21st-century America. Together with 53 workers and fellow clergy in Durham, North Carolina, I was arrested and taken into police custody.
While I do not take lightly the restraint of my free movement or the consequences of criminal charges, I did not feel that I had a choice. I had to stand with the Fight for 15 because of choices I made long ago.
As a Christian minister, I follow a brown-skinned Palestinian Jew named Jesus. In his very first sermon, Jesus quoted the prophet Isaiah to say that he came to preach "good news to the poor." The word he chose for poor—ptokos in the Greek—means "those who are made poor by unjust systems." Jesus came to preach freedom to people who work for slave wages.
After America's Civil War, when formerly enslaved African-Americans served in Southern legislatures for the first time, they re-wrote the Constitution of North Carolina. "We hold these truths to be self evident," they said, borrowing language from a Virginia slaveholder to assert that we are--all of us--"endowed by our Creator with certain inalienable rights." They affirmed that among them are life, liberty, and the pursuit of happiness. But that was not all. When formerly enslaved people shared political power with their neighbors, they added "the just fruit of their own labors" as an inalienable right.
This is not a right or left issue; it's a right or wrong issue.
Labor rights became fundamental Constitutional rights when people who had been divided came together. So I had to stand with workers this week not only because I am Christian, but also because I am an American. With Langston Hughes I say, "America never was America to me / and yet I swear this oath / America will be."
No, we have never yet been what we aspire to be in this nation. But every stride toward a more perfect union has been the result of people coming together, pushed by a moral movement toward higher ground.
RELATED: Editorial: Charlotte is Drowning in Systematic Injustice
When Francis Perkins, a labor secretary motivated by the Social Gospel, was buoyed by a moral movement to press Franklin Delano Roosevelt toward a New Deal, a sitting US President declared, "No business which depends for its existence on paying less than living wages to its workers has any right to continue in this country."
That was 83 years ago. America knows that it's past time to guarantee all people a living wage and the right to form a union. It took us 400 years to go from zero to $7.25. Working people are not about to wait another 400 years to get to $15 an hour.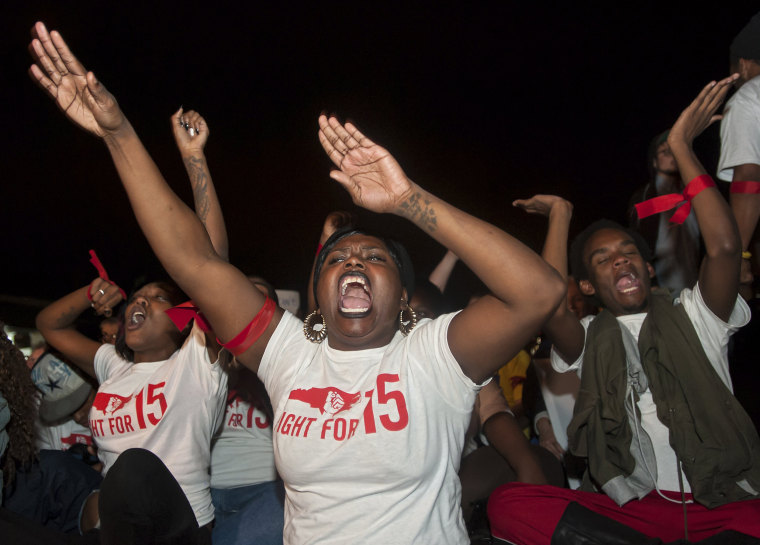 Nearly eighty percent of North Carolinians are for a living wage. But our state legislature and governor have refused to challenge corporate interests or put the issue before the people as a ballot measure. In fact, they wrote into a so-called "bathroom bill" this year a provision that didn't gain nearly the attention that discrimination against transgender people did, but impacted far more citizens of this state: their addendum made it illegal for municipalities to pass a living wage ordinance that requires employers to pay more than the state's minimum wage.
RELATED: Black Student Movements Are Evolving With Time
Such subversion of democracy is not a partisan issue. It's a moral issue. Earlier this year, I marched in Montgomery with workers and clergy from Birmingham, Alabama who had worked to pass a local living wage ordinance only to see their state legislature deny their city's authority in an act of overreach that betrayed their lip-service to "local control."
I was arrested this week because it's wrong for the richest nation in the history of the world to pay half its African-American workers and 60% of its Latino workers less than $15 an hour.
It's wrong that extremist politicians continue to appeal to the so-called "white working class," pitting poor white people against poor people of color when 50 percent of all workers make less than $15 an hour.
It's wrong that greedy corporate criminals on Wall Street have gotten bail outs while those who insist on the just fruit of their labor are being locked up. This is not a right or left issue; it's a right or wrong issue.
I went to jail with the Fight for 15 because the only thing that has ever changed this nation has been people of conscience joining together—black, white, and brown—across dividing lines and refusing to back down in the face of injustice.
This movement has married righteous anger with committed courage to shine a light of hope in the darkness of injustice. Everything I know tells me that it's better to go to jail with a movement like this one than to stand down in the face of injustice.
Rev. Dr. William J. Barber II is President of Repairers of the Breach. He is also Pastor of Greenleaf Christian Church, Disciples of Christ in Goldsboro, North Carolina and architect of the Forward Together Moral Movement.