At a political rally in Alabama, President Donald Trump encouraged American football fans to "leave the stadium" when they see "those people" taking a knee during the playing of the national anthem. The predominately white crowd chanted "U.S.A." in affirmation, and Trump urged NFL owners to "Get that son of a bitch off the field" for "disrespecting" the flag.
Again, we see that President Trump is stoking white prejudice and fears to position himself as the heavy-handed authoritarian who can reclaim order — even in the NFL. Trump threw down the gauntlet and the NFL needs to decide: is it on the side of their players and employees or are they selling a fantasy in football about equality and progress in America?
What Trump and many NFL owners want fans to believe is that the players, many of whom are Black, are not impacted by the hostile political and racial climate of the United States. Three weeks into the football season and the NFL is still silent about the blacklisting of Colin Kaepernick for his protest rather than his play. This silence is deafening at a time when NFL players are requesting a month dedicated to activism and social justice.
The excessive force used on Seattle Seahawks' Michael Bennett is an example of the regular police encounters faced by many law-abiding Black men and women. Bennett was told by a Las Vegas cop, "Don't move or I will blow your f----ing head off."
The broader narrative of the denial of players as people is a case study in the importance of stating, "Black Lives Matter" and a reminder to the NFL that they have a responsibility to create a work environment that is hospitable rather than hostile to its employees.
Related: NFL Anthem Dispute: NFLCommissioner Roger Goodell Fires Back at Trump
In our role as professors, we conduct workshops with student-athletes about racism and equity. In one workshop, after the shooting death of Philando Castile, Black athletes admitted to being traumatized by recent police shootings. Nearly all of them had a story about a near fatal police encounter where they were brutalized similar to Bennett.
By allowing Kaepernick's silent protest to have such dire professional consequences, the NFL is creating a toxic work environment for its employees.
One player said this happened while his mom was forced to watch helplessly from the car. What if the NFL took the time to listen to its players without the threat of repercussion to their careers? By allowing Kaepernick's silent protest to have such dire professional consequences, the NFL is creating a toxic work environment for its employees.
This is why the boycott among fans and players seems to be growing in intensity. At the heart of the boycott is truth about racial bias in America's criminal justice system. We have conducted research showing how police stops are more likely to turn deadly for minorities and how criminal courts systematically discriminate against minority defendants despite due process protections. According to FBI data from police officers themselves, Blacks who are unarmed and not attacking are significantly more likely than whites to be killed by police.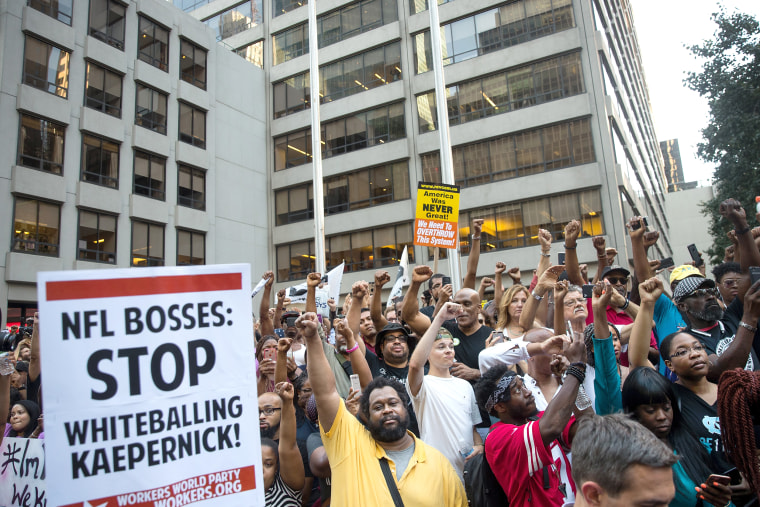 Despite fame and money, the privilege of being professional athletes cannot save players from racism, as evident in such incidents involving Kam Chancellor, LeBron James, and Kevin Sumlin. These incidents, and many more like them, show how affluence does not change minorities' exposure to police brutality and racism. As one college player mentioned during a workshop: "My football gear, that [university] logo, last week's touchdown, can't save me once I'm out there. I'm just another Black man."
The NFL needs to acknowledge that social injustices centered on racism and police brutality affect its employees regardless of how much money they make or how they perform on any given Sunday. While owners and marketers may find this "risky business," perhaps they should examine how the NBA is handling the issue while honoring the humanity and constitutional rights of their players.
Instead, the NFL's silence is read as a tacit endorsement for the type of police brutality faced by Michael Bennett and an invitation to participate in the code of silence and violence endemic in many police departments across the nation.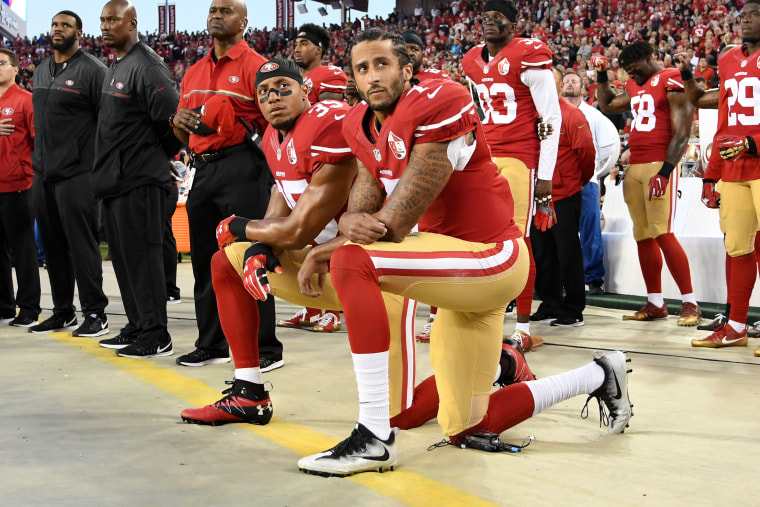 The head of the union representing Las Vegas police officers requested that NFL Commissioner, Roger Goodell, investigate and "take appropriate action" against Bennett for the mere accusation that he was racially profiled.
Now, the president of the United States is using the silent protest of some players, which is well within their First Amendment rights, as a rallying cry to stroke racial divides and stigmatize African-Americans as being unpatriotic for merely expressing how racism and criminal injustice affect their lives and the lives of other people of color. The NFL's refusal to comply with the Las Vegas Police Union's presumptuous request shows it is capable of doing more to support players. Now, how is it willing to stand up to the President?
We are NFL fans and enjoy our role in educating the next generation scholar-athletes that graduate to the professional ranks. However, this year, we are participating in #BlackoutNFL.
We do not want to be complicit in a league that is making billions off the backs of mostly Black athletes on the field without taking seriously their lives off the field.
---
Nicole Gonzalez Van Cleve is an assistant professor of criminal justice at Temple University and the author of "Crook County: Racism and Injustice in America's Largest Criminal Court."
Rashawn Ray is associate professor of sociology at the University of Maryland and incoming co-editor of Contexts magazine.