There is a prayer I grew up reciting called "The Lord's Prayer."
It starts, "Our Father who is in heaven, hallowed be thy name, thy kingdom come…" Near the end of this prayer we say, "And lead us not into temptation, but deliver us from evil."
Tuesday night, as protestors gathered in Baton Rouge after news that the Department of Justice would not be filing charges against the police officers accused of killing Alton Sterling last summer as he stood outside a local convenience store, one of the protestors recited those same words: "Lead us not into temptation, but deliver us…"
Deliver us!
I understand how the woman, identified as Aunt Veda, must feel. I do not know her, but I can relate – many of us can.
Once again "the system" has let us down. Once again, a Black body has been exterminated forcefully by those sworn to protect and serve, and once again there seems as though there will be no justice for the anguish, tears and frustration of an entire demographic.
Once again, the actions of those in "power" would suggest that protecting what scripture calls, "the least of these," does not seem to be a concern or care. They have sworn to execute the office of which they hold and do their best "to preserve, protect and defend the Constitution of the United States" so help them God. Yet, some of us find ourselves begging the universe externally and internally, to deliver us!
There have been some glimmers of…"hope" in the system, however.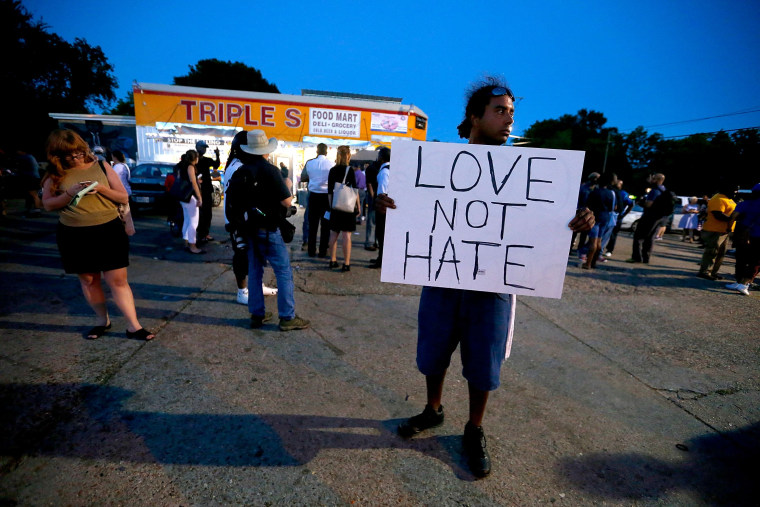 Michael Slager, the former South Carolina police officer caught on tape shooting and killing Walter Scott in 2015 as Scott attempted to escape his eventual fate, admitted that his actions were unreasonable and that his use of force excessive.
The officer accused of shooting and killing 15-year-old Jordan Edwards with the use of a rifle as the car, packed with young teens, approached him, was fired on the same day that Slager was charged.
Weeks ago two police officers in Gwinnett County, a suburb of Atlanta, were fired for using excessive force against Demetrius Hollins during a traffic stop. However, charges have yet to be filed.
And the officer who shot and killed Philando Castille in St. Paul, two days after Sterling was killed in Baton Rouge, was also charged with manslaughter last November.
But, I am not so quick to celebrate. I'm sorry, but I am not.
Am I happy that charges have been filed or that these officers have been punished somewhat for their actions? I would be happier if these Black souls were still living, breathing, impacting society, making memories, creating legacies – and their families weren't having to mourn, march or demand answers.
If they were still here, then that, for me, would be justice.
Once again, it seems, we have been left with the short end of the stick. Once again, it seems, we have been forced with having to settle for something less than what should be afforded us – our inalienable rights of life, liberty and the pursuit of happiness without fearing for our lives.
To quote Bettina Love, associate professor of Educational Theory & Practice at the University of Georgia (UGA), "We are not really living."
"To live with the fact that you and your love ones can be murdered at any time by the violence of whiteness for being black is a life of trauma, anxiety, grief, and feelings of hopelessness. Black folks are the real #walkingdead," Love wrote on her Facebook page Tuesday afternoon.
Yes, charges have been filed in some of these cases and there will probably be a trial, unless it's Baltimore (and we are all too familiar with the charges filed, charges dropped scenario, right?).
But that is still no guarantee – remember Rodney King? Twenty-five years ago a band of Los Angeles police officers were caught on tape, beating him in the street after a traffic stop. Yet, they were still found not guilty of ALL charges!
It makes me think of what Adele said after the Grammy Awards when she beat out Beyonce's Lemonade for Album of the Year, "What the f*** does she have to do to win Album of the Year."
What do we have to do for the extermination of our leaders, our loved ones, our brothers AND sisters, our young and our seasoned to be given true justice; the kind of justice that allows them to live freely rather than the walking dead, as Dr. Love describes?
The Lord's Prayer suggest that we "forgive those who trespass against us." If only it were that simple.
Lord, deliver us!