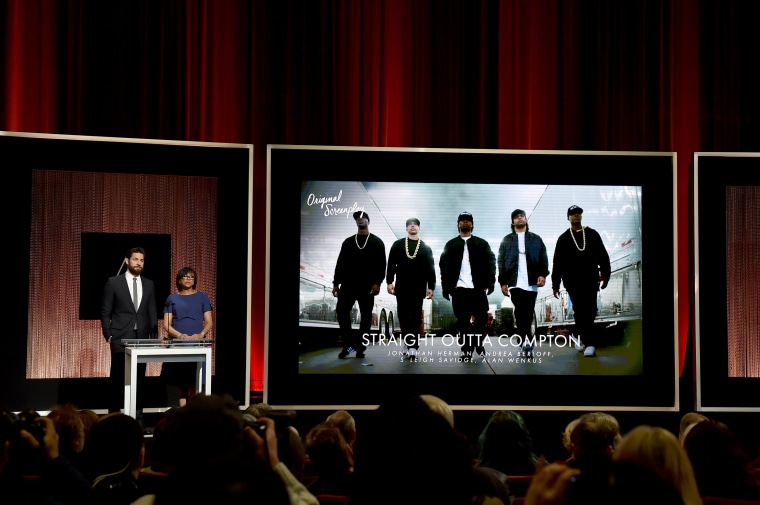 While the theme of the 88th annual Academy Awards is "We all dream in gold," that dream does not seem to be attainable for actors of color this year.
Academy President Cheryl Boone Isaacs along with directors Guillermo del Toro and Ang Lee, and actor John Krasinki announced the 24 category nominations Thursday morning from the Academy's Samuel Goldwyn Theater in Beverly Hills.
Straight Outta Compton, the only film made up of a majority black cast, was nominated for Best Original Screenplay. However, the writers for the film are white. What Happened, Miss Simone?, the documentary about the career of singer, songwriter and pianist Nina Simone, and The Weekend's ballad, Earned It, written by the Canadian-born singer/songwriter of Ethiopian descent were honored with nominations.
Stephane Dunn, director of the Cinema Television & Emerging Media Studies program at Morehouse College, warns against reading this outcome as a step backwards.
"In the last few years there has been this chatter about the Oscars being less whitewashed because you have had some major and some historical representations of people of color," Dunn told NBCBLK.
RELATED: 'Representing My Father': Eazy E's Daughter Follows in Footsteps
Dunn sees the issue beyond just nominations in an individual year because they don't necessarily signify systemic change.
"Fruitvale Station. The Butler. 12 Years A Slave. Mandela. It was like Hollywood, the Academy, didn't know what to do with so many noteworthy, critically lauded films directed by black directors with such fine award-worthy best actor and supporting actress performances," she said. "Hollywood, the Academy, could not imagine these dominating major categories so one film among them was basically chosen to be The One. It was 12 Years a Slave."
Dr. Anna Everett, professor of Film & Media Studies at the University of California, Santa Barbara believed it conceivable that actors like Will Smith (Concussion), Idris Elba (Beasts of No Nation), Michael B. Jordan and director Ryan Coogler (Creed), could get individual nods perhaps for best actor and some kind of music (Chiraq) nominations/award could have happened.
"However, with Chris Rock as the show's host and Reginald Hudlin as co-producer, I imagine a scenario wherein The Academy congratulates itself on having its diversity box fully checked this year," she told NBCBLK.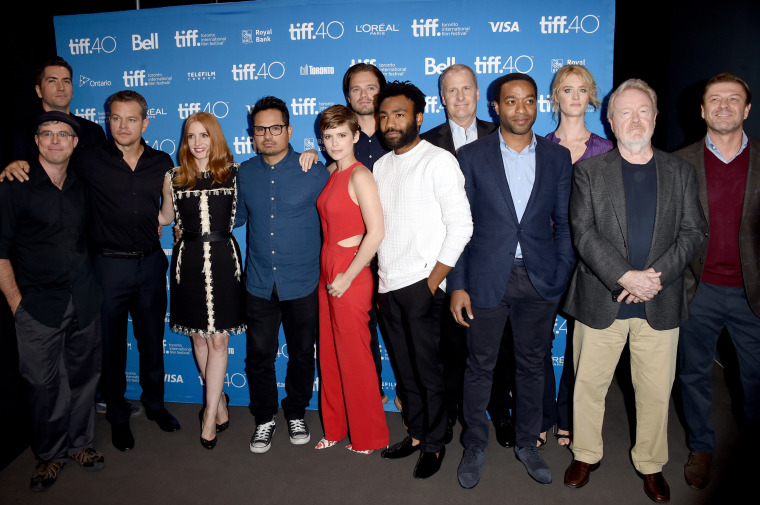 While Alejandro Inarritu has been recognized in the category of best director for The Revenant, Everett finds the hopefulness of people of color around this time to be interesting. She said there have been historically persistent 'whiteouts' of deserving people of color (POC) for Academy Award nominations.
"To say nothing of them being award recipients, African Americans, especially, remain hopeful of breakthroughs year after year. At the same time, generally POC and specifically African Americans tend to be jaded about the process," she said. "It seems to me that black folks' expectations of exclusion function as a necessary coping device against the familiar pain of rejection. And still, actors of color rise, as Maya Angelou might put it."
RELATED: Chiwetel Ejiofor On Obsession, Forbidden Love, & Diversity in Film
This year's list of nominees is reminiscent of 2015 when Ava DuVernay, director of Selma, and David Oyelowo, who played Martin Luther King, Jr. in the same movie were absent from the Academy Award nominations.
As a result, #OscarsSoWhite was born. The brainchild of sorts by attorney and blogger, April Reign, the Twitter hashtag gained traction throughout social media. Black moviegoers felt robbed by the nominations and made their frustrations known. As the days approached this year's nomination announcement, there were many who speculated there could be a rebirth of the popular social media activist movement, which could potentially be another embarrassment for Hollywood.
For Everett, zero nominations in at least the big categories should not be an option today.
"Last year's Sony hack that revealed Hollywood's structural racism, and those damning intersectional critiques of the industry's endemic sexism and ageism were not helpful to the Hollywood brand," she said. "Today, there are many high grossing films featuring racially mixed casts, i.e., Ride Along, Star Wars, Spectre, Creed, Straight Out of Compton, among others, that counter the myth that African Americans and other people of color in big films fail in international film markets and box offices."
In today's global film culture and business the lie is no longer tenable, she said.
Dunn, referencing 1970s when the Academy Awards snubbed black actresses like Diana Ross, Cicely Tyson and Dianne Carroll for the best actress category, said Hollywood still has not changed much even from those days.
"We have had historic moments before," she said. "But when more black directors and writers become voting members of the Academy then we will possibly begin to see the change we are expecting. That is one of the necessary components of making or getting that type of progress done."
"Hollywood has this year's diversity alibi covered," Everett said referencing Rock as host and Hudlin as co-producer.
"Besides, The Academy is still resting on its recent laurels for awarding all those people of color who contributed to the successes of Twelve Years A Slave, The Help, Precious, and of course Selma's original music score," she said. "Be that as it may, I know one thing for sure, Chris Rock will 'bring it!' So, yes, I will tune in and follow the live-tweeting feeds, as usual."