The president of a local chapter of the NAACP who has identified as partially black on official documents is "Caucasian by birth," according to her parents, who are accusing her of misrepresenting her identity.
Rachel Dolezal, head of the NAACP chapter in Spokane, Washington, does not speak to her parents. This week, they told reporters that Dolezal is white, despite how she portrays herself.
"She knows it's false, but I think she's told herself as well as she's told others this erroneous identity of hers enough that by now, she may believe it more than she believes the truth," Dolezal's mother, Ruthanne Dolezal, told NBC affiliate KHQ in Spokane. Ruthanne and her husband Larry live in Montana and have not been in contact with their daughter for years.
"She is Caucasian by birth," Larry told KHQ.
On Friday in an interview with HuffPost Live, Dolezal's parents added that it wasn't their daughter's identification with African Americans that was painful, but "for her to reject us as her parents is what hurts."
Ruthanne went on to plead to her daughter, "we love you, please tell the truth."
On Friday, the NAACP said it has a "long and proud tradition of receiving support from people of all faiths, races, colors and creeds."
"NAACP Spokane Washington Branch President Rachel Dolezal is enduring a legal issue with her family, and we respect her privacy in this matter. One's racial identity is not a qualifying criteria or disqualifying standard for NAACP leadership," it said in a statement, adding that it stood behind her advocacy record.
In addition to her position at the NAACP, Dolezal, 37, is the chairwoman of Spokane's Office of Police Ombudsman Commission, a volunteer appointment. On the application for the job, she identified as white, black, and American Indian.
Prompted by claims from her parents that their family heritage is Czech, Swedish, German and a trace of Native American — but not black — the city is looking into whether Dolezal violated policy by lying about her race on a job application.
"We are gathering facts to determine if any city policies related to volunteer boards and commissions have been violated," Mayor David Condon and Council President Ben Stuckart said in a statement Thursday. "That information will be reviewed by the City Council, which has oversight of city boards and commissions."
"I would definitely say that yes, I do consider myself to be black."
In the meantime, controversy is swirling over Dolezal's appearance and NAACP role.
After pictures of Dolezal as a freckly girl with straight blond hair and light skin were put on social media side-by-side with photos of her now — with a bronze complexion and dark, curly hair — tweets started accusing her of deceit.
Blair L. M. Kelley, an associate professor of history at North Carolina State University and host of a weekly podcast that discusses race issues in America, said she doesn't understand why Dolezal wouldn't identify as white.
"Many of the founders of the NAACP were white," she told NBC News. "It was founded as an interracial group. So there's white people in the NAACP, and there's no need to be not white in the NAACP."
Dolezal did not return media inquiries from NBC News. But in a tearful interview with CBS affiliate KREM in Spokane, Dolezal said she has no relationship with her biological parents, and doesn't see why they feel the need to bring up her ethnicity.
"I do not talk to Ruthanne or Larry anymore," she said. "What I say to them is, you know, I don't give two ***** what you guys think."
As for who she considers to be her family, in January, Dolezal posted a photo on her NAACP chapter's Facebook page of herself with a black man whom she referred to as her father.
Jeff Humphrey, a reporter from KXLY in Spokane confronted her on Thursday about the photo, asking if it was really her dad. When Dolezal said it was, Humphrey pressed her: "I was wondering if your dad really is an African-American man."
"I don't know what you're implying," Dolezal replied.
"Are you African-American?" he asked.
"I don't understand the question. I did tell you that yes, that's my dad," she said before walking away.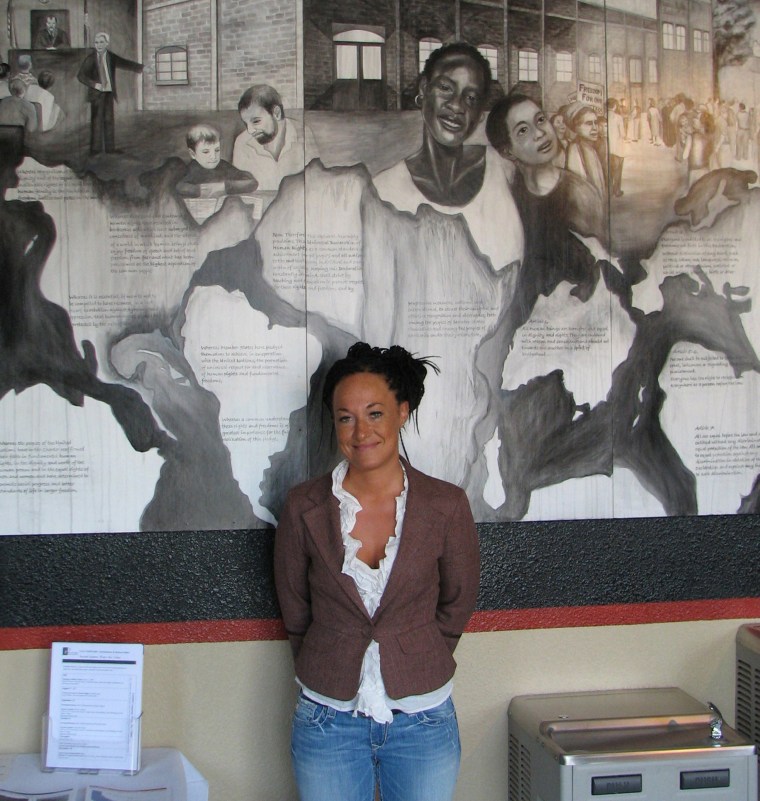 Her biological parents told The Spokesman-Review in Spokane that Dolezal began to "disguise herself" in 2006 or 2007 after the family adopted four black children; Dolezal told KREM she considered herself to be the mother, not sister, of one of those children.
"I am his mom," she insisted. "He's not my brother. That's not our relationship."
Dolezal's parents told HuffPost Live that Rachel's presentation of herself was "puzzling" to her siblings, who kept this family secret, instead of blowing her cover.
Dolezal received media attention in February when she alleged that someone had mailed threatening, racist letters to the NAACP post box. In 2011, in an interview with the BBC, she described being threatened by neo-Nazis who put nooses and a swastika on her workplace door. She told KREM she didn't feel a need to explain whether she misrepresented her identity to the public when she alleged she was the victim of a hate crime.
"It's more important for me to clarify that with the black community and with my executive board than it really is to explain it to a community that I quite frankly don't think really understands the definitions of race and ethnicity," she said.
She also told The Spokesman-Review on Thursday that there are "a lot of complexities" when it comes to race, adding about the human race in general: "We're all from the African continent."
Asked blatantly by KREM whether she identifies as African-American, Dolezal replied, "I actually don't like the term African-American. I prefer black. And I would say if I was asked, I would definitely say that yes, I do consider myself to be black."
A source at the NAACP in Spokane told NBC affiliate KHQ it held an executive board meeting Thursday night, and as of now, had no plans to make any changes to its leadership in light of the controversy.
In addition to her NAACP position, Dolezal is a part-time professor of Africana studies at Eastern Washington University, teaching classes called "The Black Woman's Struggle" and "African American Culture," among others.
Dolezal's self-identification of a race other than what her birth parents say she is prompted a discussion about whether race is as much of a social construct as some argue gender is. "Transracial" was a trending hashtag on Twitter, with many asking whether Dolezal was providing a new perspective of race identity as much as Caitlyn Jenner recently did by coming out as transgender, and transitioning from male to female.
Kelley, the history professor, felt that comparison diminished the woes of transgender individuals, who have a high suicide rate in their community and struggle with homelessness and joblessness.
"There's not thousands of white women throughout our history saying, 'Oh, I feel black on the inside, and if I don't become black, I don't want to live,'" she said. "This isn't bigger than this particular woman. There may be a handful of people who have done this, but not a whole population in society."
Others expressed anger at Dolezal's apparent deception and appropriation of black culture.
"White person running chap of NAACP? No problem. White person pretending to be black and running chap of NAACP. BIG problem," Jonathan Capehart, an opinion writer for the Washington Post and MSNBC contributor, tweeted.