Parents and students at a Massachusetts high school are speaking out over what they believe to be discriminatory dress code rules targeting students of color.
Mya and Deanna Cook, 15-year-old sophomores at Mystic Valley Regional Charter School in Malden, Mass., have each been given detention and stripped of sports team privileges, extracurriculars, and even banned from prom for violating the school's dress code policy that prohibits "extensions."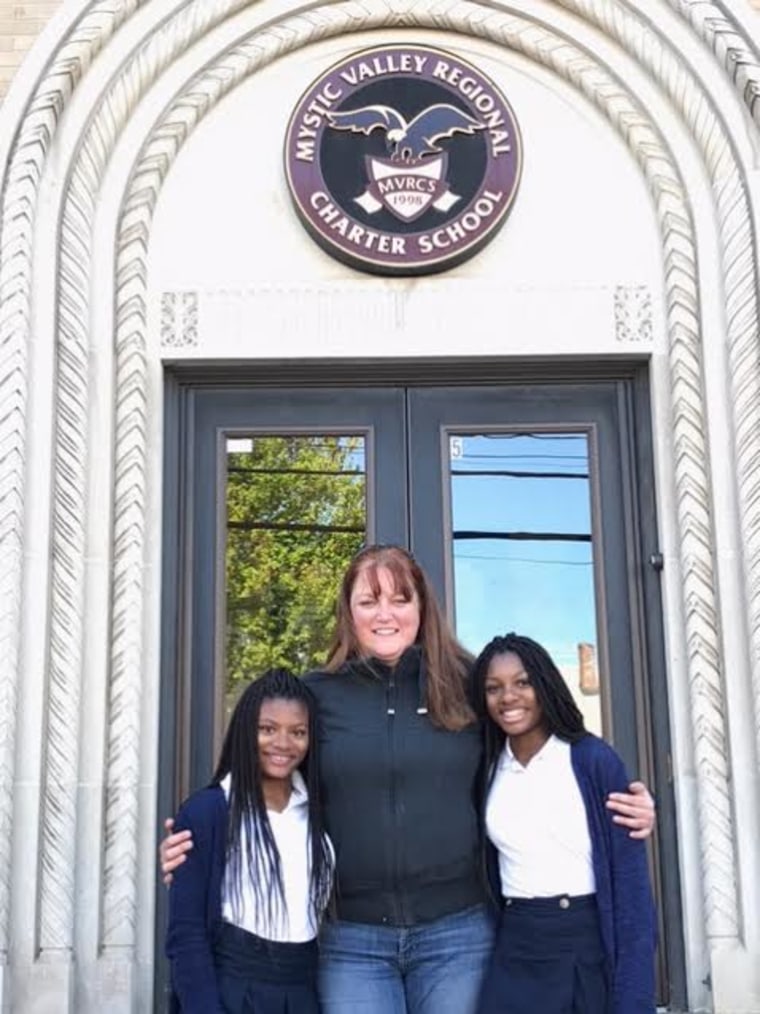 "It makes me feel horrible that the school won't let me wear my hair," Deanna said. "The school doesn't appreciate my culture which is my hair and it makes me feel like they just want us out more than just for the reason of our hair. It's our skin color that they want out of the school."
The twin sisters have attended the school since kindergarten and in April they got braids with added hair to "embrace their culture and protect their natural hair."
The school's hair and makeup policy states in part:
Students may not wear drastic or unnatural hair colors or styles such as shaved lines or shaved sides or have a hairstyle that could be distracting to other students (extra-long hair or hair more than 2 inch in thickness or height is not allowed). This means no coloring, dying, lightening (sun-in) or streaking of any sort. Hair extensions are not allowed.
The twins say that on April 25th a teacher noticed the difference in their hair and sent them to have their braids inspected by the school nurse who asked them, "Is your hair real?" The girls say they explained to the nurse they had added real hair into their braids. According to the girls, the nurse told them they would need to take the braids out by the next school day or risk detention.
The Cook girls have been banned from Latin Club, sports banquet and cross country until the braids are removed. Deanna missed a track meet last week and wasn't allowed to travel with the team. "They wouldn't even let her on the bus," mother Colleen Cook said.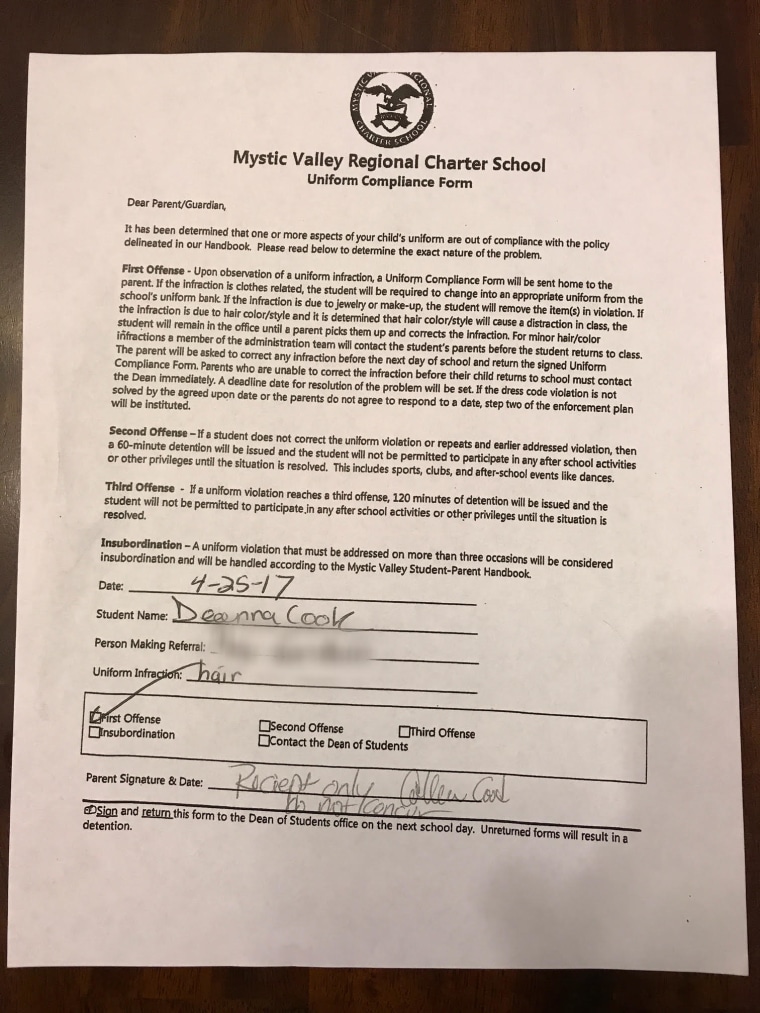 The twins' father says the school is "stuck in a 1950's mentality" and doesn't understand African American culture. "They cannot get away from the fact that this is simply not their natural hair without the understanding if you did this to their natural hair the braids wouldn't last long or be easily maintainable," said father Aaron Cook. The Cooks said they were aware of the school's hair policy before the detentions, but that the school had been lenient about enforcing the ban on hair extensions because other students had been wearing braided extensions for years.
The Massachusetts Charter Public School Association, which represents more than 70 charter schools in the state issued a statement Wednesday condemning the schools "discriminatory policy and its decision to punish students who express their cultural heritage."
"Our schools celebrate diversity and respect cultural differences. We nurture our students to learn from each other. Our doors are open to all families."
Related: School District Tells Elementary Student to Change Hair
NBC News asked the school for clarity on its policy, but the school declined to comment, instead referring to a statement to parents released on Friday which states, "...Mystic Valley purposefully promotes equity by focusing on what unites our students and by reducing visible gaps between those of different means. We foster a culture that emphasizes education rather than style, fashion, or materialism."
With regard to the hair policy, the statement continues: "The specific prohibition on hair extensions, which are expensive and could serve as a differentiating factor between students from dissimilar socioeconomic backgrounds, is consistent with our desire to create such an educational environment, one that celebrates all that our students have in common and minimizes material differences and distractions."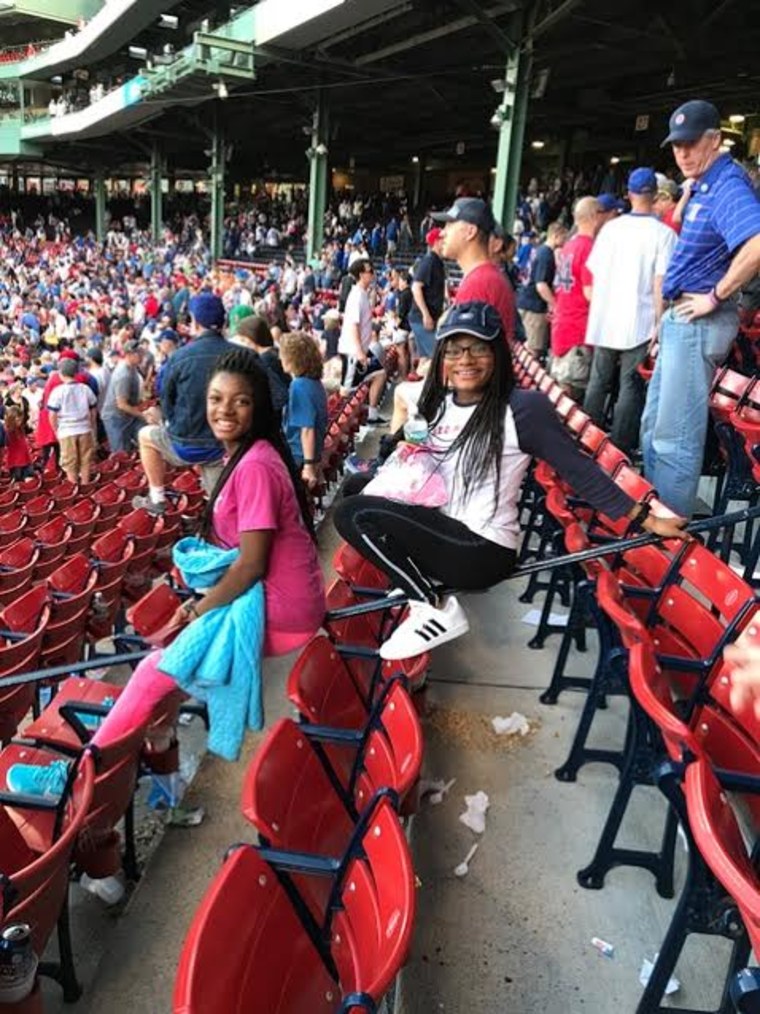 The Cooks say this letter is evidence that school doesn't understand black culture.
"When we talked to the school they basically said it's unnatural, we want it out. Now they say it's 'socioeconomic,' they never brought that up to us," Colleen said. "That just tells us how out of touch they are with the black community because it doesn't matter how rich or poor, black girls get their hair braided."
The school's hair policy is also impacting the boys. William Granderson says his son Isaiah, a 17-year-old junior on the football team, received detention for wearing his hair in a short afro in fall of 2016.
Another part of the school's policy prohibits "extra-long hair or hair more than 2 inch in thickness or height." Granderson believes the policy specifically targets students of color and says the issue has been ongoing.
"They were harassing my child to the point that he came home one day so distraught and wanted us to relax his hair so he could fit in," Granderson said. "I asked, why do you want to do that? He said, 'They told me my hair has to be less than two inches high and has to be different.' The school has made him feel not wanted, the school has always harassed him."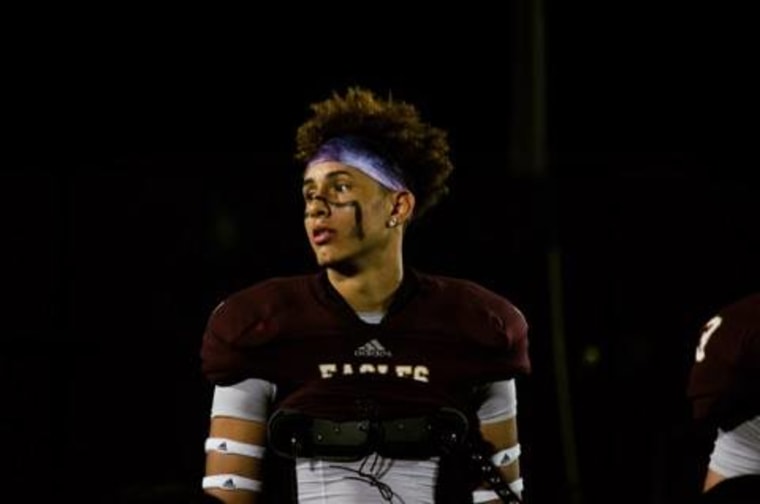 Granderson said he has met with Alexander Dan, interim school director, multiple times to try to educate him on African American hair and address disciplinary action taken.
"I asked him, 'What is the policy when it comes to a white male child's hair? Can it grow all the way down to the ground in a ponytail?' He said, 'Absolutely as long as it's neat,'" Granderson recounts. "I said, 'Well Mr. Dan you're being discriminatory,' and he said, 'Oh I don't think so, it's our policy.'"
Hair extensions are not exclusive to the black community and the Cooks say they know of white students that have violated the hair policy by dyeing their hair and wearing it long but have not been disciplined.
Related: Essay: 'Mommy, I Can't Be a Princess Because I Have Braids'
The school is located six miles outside of Boston, with over 1,500 students in grades K-12. The school website says there are currently over 3,000 students on a waiting list to be accepted. The school is publicly funded and according to U.S. News and World Report, 17 percent of students at the school are black and 57 percent are white.
The parents say they believe a lack of diversity among staff and faculty is a contributing factor for the disconnect in understanding African American culture.
"They don't even give the blacks the respect of being students. I feel like they treat them as the bastard step child. Like, 'We know no one is going to come to their rescue so we can treat them however we want to treat them because their parents aren't going to say anything because they should feel lucky they're even here.'" Granderson said.
The Cooks say that ever since their daughters have been called out for violating the hair policy, other black girls and girls of color have been called down to the nurse's office to have their hair checked, and some have received detention and been suspended while others have complied taking their braids down.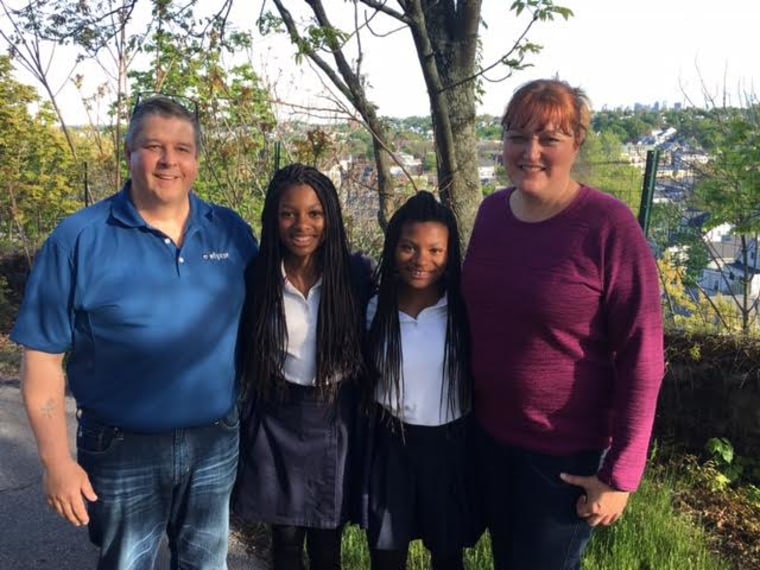 The parents plan to keep fighting the school's dress code policy and have been contacted by their congresswoman, Rep. Katherine Clark, who said in a Facebook post she is "deeply troubled by reports of black girls being disciplined for how they choose to wear their hair."
In a letter to school administration, Clark says, "In light of recent conversations with parents and per recent media coverage, it has become evident that the aforementioned Uniform Policy—specifically the prohibition of hair extensions—is disproportionately punitive toward students of color."
Parents have also been in contact with civil rights organizations such as the Anti-Defamation League, ACLU, Lawyers and Committee for Civil Rights and Economic Justice, and the NAACP.
The Mystic Valley Branch of the NAACP said in a statement it "feels that any school policy that restricts hair styles culturally connected to primarily Black students is discriminatory and violates federal anti-discrimination laws."
Mya and Deanna also say they will continue to stand their ground and they will not change their hair, nor will they change schools.
"We've been at the school for 11 years, I'm not going to leave just because they don't like my hair or my culture, I'm still staying," Deanna said. "I don't care if they wanna throw me out, I'm not leaving without a fight either."
Related: 'Pushout' Aims to Stop Criminalization of Black Girls in Schools
By not removing the braided hair extensions, Mya and Deanna risk more detentions and suspensions including expulsion. The parents, along with their daughters say this a risk they are willing to take in order to do what is right for other students.
"Even if our girls were suspended or expelled we would continue this fight to change the charter school," Aaron said.
Granderson said the fight against the school isn't just for his son, but for all students of color.
"We can't just leave, absolutely not. Because someone needs to stay there and fight. And stand up for what's right not just for one, but for everybody and who's coming after you," Granderson said. "So if we just leave and up and take my kids out and let this become water underneath the bridge, what are they going to do to the poor kids that are after them?"
Granderson says he brought his grievances directly to the administration, calling the school policies "racist" and "discriminatory." He hopes that by speaking out this will push the story beyond school walls.
"I explained to him, there's two different types of positions in this world: people power and position power. You're position power, you're sitting on a horse of white supremacy and you don't want to come down and come down with the people," Granderson said he told Dan.