As the nation continues to cope with the escalation of school shootings and gun violence, faith leaders are also faced with the aftermath of this crisis and the devastation and trauma that it leaves on communities across the country. Pastor Touré Roberts, who at 16 years old was a victim of a drive-by shooting, is hoping to help others look within "the cracked mirror" of their lives and begin that journey to healing and restoration in his current Amazon Best Seller, "Wholeness: Winning in Life from the Inside Out."
Roberts, 45, co-pastors The Potter's House at One L.A. and The Potter's House in Denver, Colorado with his wife, Sarah Jakes Roberts, the daughter of prominent megachurch pastor Bishop T.D. Jakes. Known among celebrity circles in Hollywood, Roberts created the Artist Resource Center in Southern California to give artists and marginalized youth resources and training in the entertainment industry.
NBCBLK spoke with Roberts about his struggles with brokenness, the #MeToo movement, and bringing the message of faith to millennials and beyond.
[This interview has been edited and condensed for clarity.]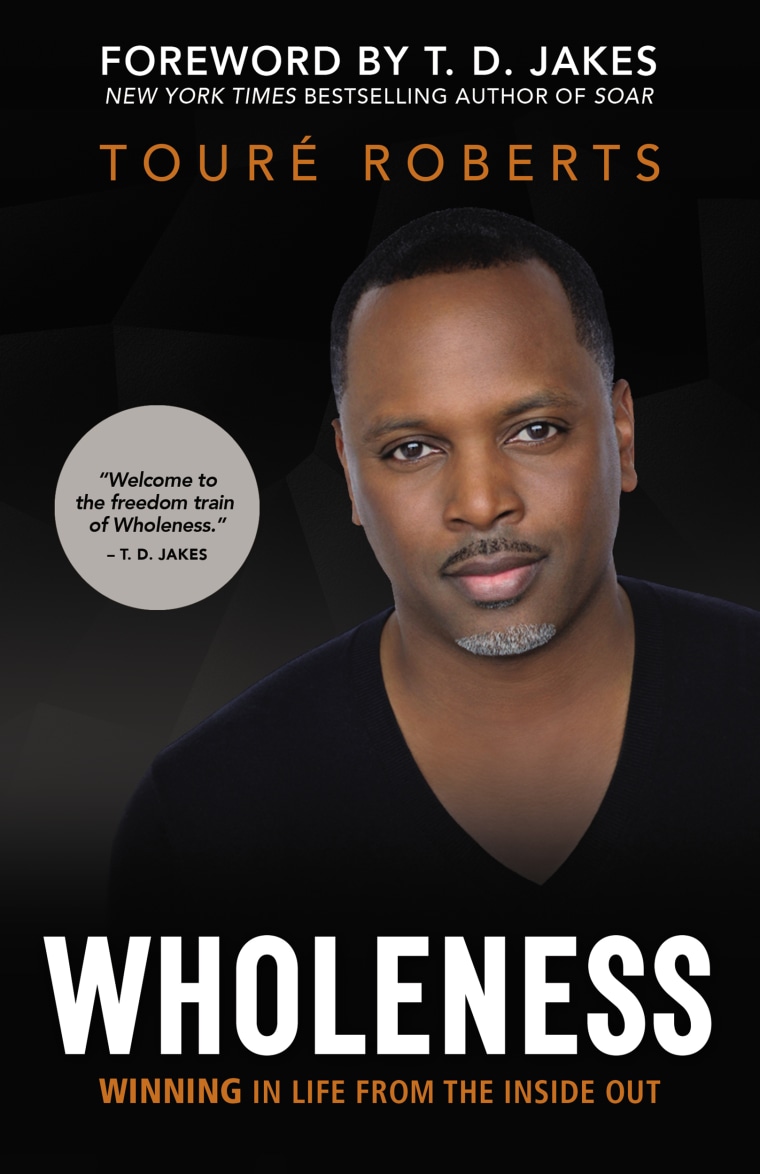 NBCBLK: How do people get from brokenness to wholeness?
Pastor Touré Roberts: Wholeness is highlighted on the backdrop of brokenness. The first step to get from brokenness to wholeness is to acknowledge that you're broken. Almost everyone will admit that they are not perfect, but often they have a difficult time acknowledging that they are broken.
The reason people have a difficult time admitting that they're broken is that to acknowledge that I am broken, mandates being fixed and it costs something.
The second step is to become self-aware. We're in an information age, and we are knowledgeable about everything outside of us, but often we are ignorant of what's going on inside of us. We need to understand the invisible patterns that are underneath all of the actions that we make.
What about brokenness in the family and personal relationships?
The family is often where the brokenness first starts. In the book, I talk about my broken relationship with my father and the effects that brokenness had on my entire life, and how it translated over into other relationships. The familial environment is one of the first areas that a person experiences brokenness.
The love sometimes is misinterpreted. My dad was tough. He would give what might be called tough love. But if you're a five-year-old kid, and you don't understand tough love, then tough love can look like hate. That creates brokenness.
The family environment is where, if people are authentic and genuine, we can see restoration and wholeness take place that will affect generations to come.
Let's talk about the #MeToo Movement. What are some of the underlying issues that could have brought this on?
I don't think that any one man is the same as any other man. But in many cases, we are talking about the issue of control, and in some cases, an unhealthy sexual perspective. Often that can stem from brokenness early in a person's development. Some men may not have received love and affirmation from their mother, believe it or not.
As a result, they become sex addicts because they're trying to find the touch from their mother that they didn't get as a child. Others, they could have been looked over in high school, and not very popular, but now have become very powerful people. Some might even have a grudge against women. Secretly some men may have some disdain for women.
I am excited about the #MeToo Movement. I am glad that these issues are being brought to light, but that's only half the battle. After we have acknowledged and made certain that women have equal rights and equal voice, and have a safe place to run to, what about the damage?
Women are still broken and have to pick up the pieces in their life and learn how to heal, and how not to let what happened to them rob them for the rest of their lives and hopefully give them the ability to forgive, release, and let go.
Black people have been fighting for justice so long that we have forgotten that we're still bleeding."
What about brokenness from a social justice and race perspective?
As African-Americans, we have been fighting for justice, and we've seen great strides, we've got a long way to go, but that's only half the battle. What about the trauma of slavery? What about the trauma of Jim Crow? What about the trauma of some of the things that have taken place?
Black people have been fighting for justice so long that we have forgotten that we're still bleeding. We've got to get justice, and we have to stop the bleeding, but we haven't come to a place where we begin to assess the damage. That's another level of transformation of healing that the African-American community and any community that has been marginalized is going to have to undergo.
What are the challenges of reaching the millennial generation as it relates to worship and church attendance?
I do know that studies show that millennials are not attending church or are leaving churches in significant numbers. Our experience is the exact opposite; millennials are the fastest growing demographic in our church, particularly on the Los Angeles campus. One of the reasons we believe that we're having success with millennials is because we understand the language.
I believe the church has a language problem. I don't think that the message changes necessarily, but the language in which to communicate changes. We listen [to the millennials] so that we can learn and perceive the language. And as a result, we've cultivated language that speaks to the heart of this generation. I believe that's why we've had the success that we've had.