The story of the transformation of East Lake Meadows in Atlanta from a distressed, crime-ridden public housing community into a viable, thriving neighborhood has been told before, but not with the depth and spirit of Sarah Burns' and David McMahon's new PBS documentary that airs on Tuesday night.
"East Lake Meadow: A Public Housing Story" recounts the 30-year trauma and horrid, dangerous conditions of that "project." The people, tenants and families who lived in the 650-unit complex not 10 minutes from downtown Atlanta — and across the street from the famed East Lake Golf and Country Club — drive this 115-minute film.
They tell the story, their story, in compelling detail and emotion. They share why they moved to East Lake Meadows—now the Village at East Lake—why they stayed, what they endured, and, most significantly, how their experiences benefitted them.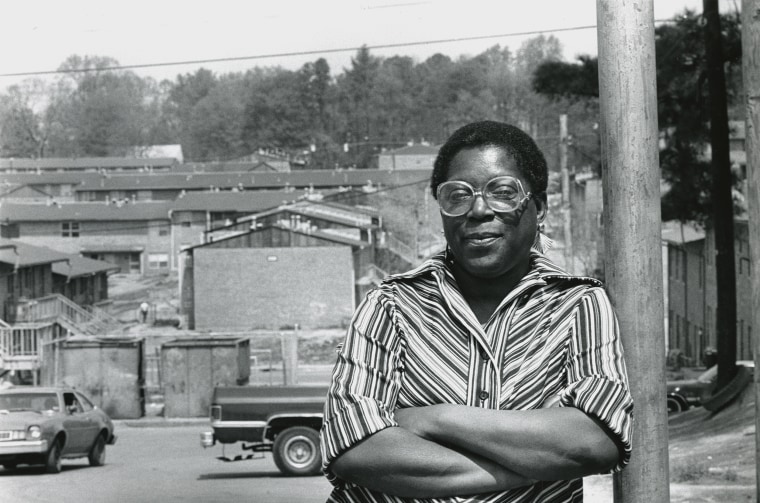 "So many of the former tenants we found who lived there asked, 'Are you going to tell the good stuff, too?" Burns told NBC News. "They had fun and good times. For so long, East Lake Meadows has been portrayed one way. And the crime, violence and terrible conditions were always that one side.
"But David and I believed that was an incomplete story," she said.
The husband-and-wife team took three years to research the history of public housing in Atlanta and America and to find former East Lake Meadow residents, at one point hiring a private investigator to find contact information. But creating a page on Facebook for East Lake Meadow former residents enhanced their search.
"In a week, we had 1,500 engagements," Burns said. "We found hundreds of residents."
Those residents, in whole, told a story of fear and anguish living in a complex dubbed "Little Vietnam" because of the violence and death that permeated the area. They told of the disappointment in the government that failed them with substandard domiciles and disgraceful-to-nonexistent maintenance of the properties.
But they also shared the heretofore untold story of the benefits of their tumultuous plight. Most of the tenants built bonds, used their imagination to create entertainment, raised families and created life-long friends. The struggle built character. Yearly, the film shares, former residents convene for a reunion cookout.
"People never gave enough credit (to East Lake Meadows) for what it was for people who worked very hard to build a life for themselves, who had people they could depend on when there was no one else who was going to be there," journalist Nikole Hannah-Jones of The New York Times said in the documentary.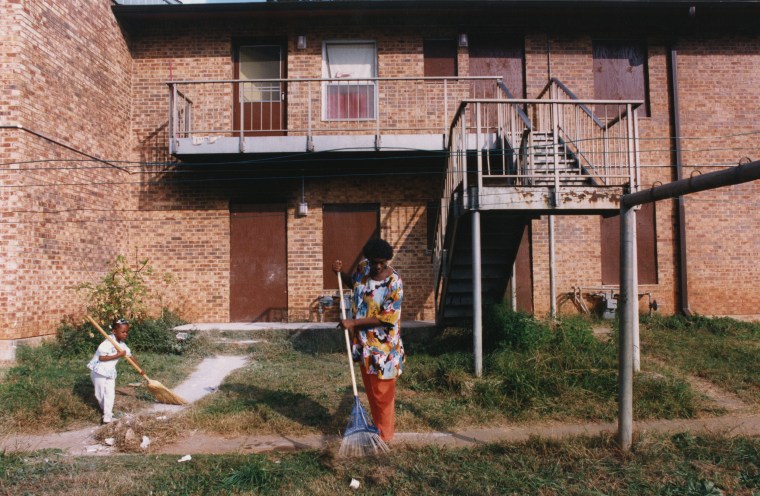 East Lake Meadows was constructed in 1970 as a public housing project where mostly white, affluent families lived. Originally, the film points out, there were 800 white residents and nine blacks—all of whom worked at the development. When a black family moved in, whites fled.
Laurence Lightfoot, a former resident, says in the film that when his aunt moved in to East Lake Meadows in the early 1970s, 'For Sale' signs went up everywhere at white households. "They gave away the community."
There was excitement for blacks who moved there, though. Rent was $45 a month for three- and four-bedroom units. "It was like heaven to us," Beverly Parks, a former tenant, said.
But that changed. Drugs infested the community and bullets flew. Meanwhile, the poorly constructed domiciles eroded. Raw sewage set in the streets. Pests—roaches and rats—were commonplace. Holes in walls were not fixed. Broken cabinets went unrepaired.
Amid all this chaos and fear, the families bonded. The glue was a "spit fire" of a woman named Eva Davis, a single mother of eight who was the community leader with a dogged determination to make things better. She used her money to help families. She confronted drug dealers, demanded services, argued with police and negotiated with politicians.
Harvard sociologist Mario Small said in the film: "It's a myth that people aren't trying. You get really high-quality schools in a low-income neighborhood, and you're going to see kids one after the other saying: 'I want to go to college. I want a good education.' This idea that peopleas a general statement want to stay in their conditions because they want to be wards of the state is just not consistent with the evidence."
In 1996, the demolition of East Lake Meadows, captured on video by students, began as part of Atlanta's eradication of all public housing developments. Davis orchestrated a vote—although the Atlanta Housing Authority did not need the residents' permission—on whether to vacate as the development was rebuilt. The community agreed, many reluctantly. Trust in the local government had eroded.
Their distrust was warranted. Only 20 percent of former tenants returned after new construction.
"I imagined there would be a lot more of the people who lived there first who returned to the new buildings," said McMahon, who directed the award-winning "Central Park Five" documentary with Burns. But they changed the qualifications" and many were forced to move into Section 8 dwellings or accept vouchers.
"This film shows that happy, sad and tragic all co-existed with the people of East Lake Meadows," he said. "It does not offer a policy prescription. But it is an emotional call to action."