When N.W. A. released the single, "F**k tha Police," nearly 30 years ago, it caused a firestorm of criticism. The group had its defenders, but far more people were shocked and outraged. The general hue and cry among many, regardless of ethnic background, could be summed up as "What were they thinking?!"
If that single were released in the last two or three years — in the wake of an alarming number of tragic police interactions with young black men in particular — there would be some public denunciation. However, it would be far more muted. Most would exclaim, "What were they thinking?!" except they would be referring to the police.
It is within this charged environment that several films and other works at the 15th annual Tribeca Film Festival weigh in. One is "Perspective: Chapter 2 The Misdemeanor" from Rose Troche and Morris May. The film is having its New York premiere through April 23.
The film is part of "Tribeca Experiential," the section of the festival where storytelling unfolds through mediums other than the film lens. "Perspective 2" is ensconced in the Virtual Arcade on the 5th floor of the festival Hub at Spring Studios. It is a space that has lighting reminiscent of a nightclub and is home to experiences as far out there as Pluto.
"Perspective: Chapter 2" involves a fictional police encounter near a Brooklyn bodega. With undertones of "Les Miz" and a common enough occurrence in certain neighborhoods, two teenage boys are accused of stealing apples.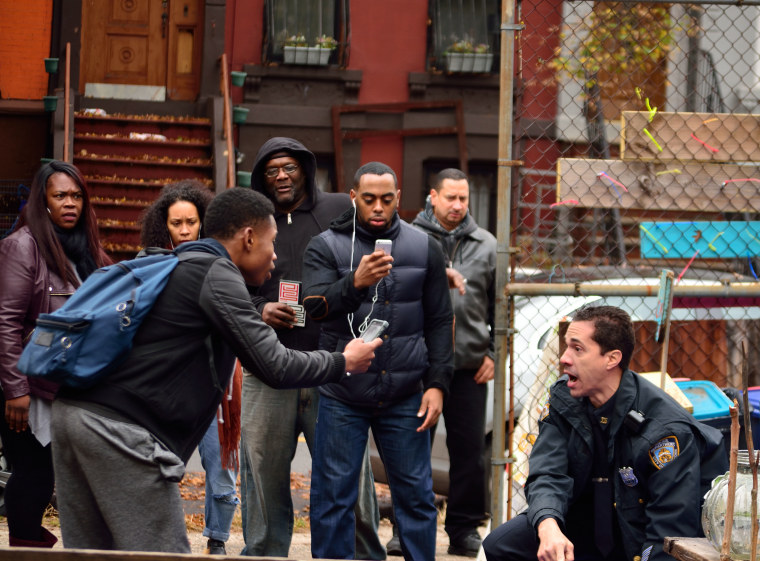 It is significant that "Perspective: Chapter 2" is in the Virtual Arcade because to access it viewers use a swivel chair, headphones and goggles with a mobile phone embedded within them. The film is described as a 360-degree experience because one can look up, down, side to side and turn all the way around in the chair to view the action in each of four videos.
A button on the goggles acts as a mouse. Using the mouse, viewers can choose the video they wish to view. Each video depicts a version of what happened, told from the perspective of the main players. The police are black, Latino and white; the suspects are black.
One wonders whether Troche, a Puerto Rican from a family of Chicago cops, recognizes one of the parallels of this encounter. The two suspects are blood brothers and the two policemen are brothers in the blue uniform — blue bloods.
RELATED: Your Guide to The 2016 Tribeca Film Fest
"Perspective: Chapter 2" reminds us that we cannot easily stand in the shoes of another. We cannot declare with any certainty what they see, feel and hear. From one perspective Officer Bell (Johnathan Tchaikovsky) hears something like "put the weapon down" rather than, say "put the phone down."
Meanwhile, Officer Arroyo (Joey Auzenne) appears to be just crouching over a dying youth doing nothing. Yet another perspective presents a picture of a man speaking gently to an injured boy as if he were his son, assuring him that he's going to be OK.
A central question in "Perspective: Chapter 2" is whether Damon and Shaun (Shemar Jonas and Javon Jones) stole apples. For the sake of argument, let's say they did. Of course, stealing is wrong. But the act is little more than a childhood prank. (He or she who has not pinched the odd grape, cast the first stone.) Why should a simple case of theft of the most petty variety result in a boy lying on the ground of a community garden possibly bleeding out?
RELATED: Anita Hill Discusses Kerry Washington's New Film Based on Her Story
On the other hand, police do a very difficult job. In the heat of the moment it is not always easy for them to distinguish between mischievous juveniles and hardened young criminals with a chip on their shoulder and deadly weapons on their persons.
Of "Perspective: Chapter 2," Troche says in the director's notes, "is an attempt to push an understanding of how we have come to this place, this impasse. It is a film that does not shy away from the strong emotions of those who have already aligned themselves with either the victim or the victimizer – the cop vs. the young man, or the young man vs. the cop.
Viewers will be hard pressed to choose sides and assign the role of villain in "Perspective: Chapter 2." It gives us two good cops and two good kids. And possibly one tragedy.
Visit http://www.tribecafilm.com to learn more about the 15th annual Tribeca Film Festival, including schedule, screenings and how to purchase tickets.