ROCK HILL, S.C. — On a recent Sunday morning, Pete Buttigieg stood before rows of black churchgoers, a group he and the other Democratic 2020 candidates must win over for a reasonable chance of capturing their party's presidential nomination.
"I know what it is to look on the news and see your rights up for debate," he told the crowd gathered in the sanctuary of an African Methodist Episcopal events center in Rock Hill. "I also know what it is to find acceptance where you least expect it and to find compassion when you most need it."
As Buttigieg, the mayor of South Bend, Indiana, highlighted his personal knowledge of the marginalized American experience, and as he quoted verses from the books of Proverbs and Matthew, he did not overtly describe himself as gay or mention the husband he adores. He was trying to connect with a group of potential voters who, on the whole, have been skeptical of his candidacy.
Buttigieg, 37, may have won over many members of the mostly white political commentariat in New York and Washington, and recent polls of Iowa's overwhelmingly white electorate put him at or near the front of the crowded Democratic field there. But, at the start of October, a poll referenced in The Charleston Post and Courier found Buttigieg had no black voter support in the state and just 4 percent support overall.
That has left two questions generating a stream of television commentary, social media memes and heated disputes. How much of Buttigieg's difficulty with black voters, and in many cases religious voters, is because of his sexuality? And, given that black voters make up about 20 percent of the Democratic Party's base nationwide, why is he still considered a serious contender for the nomination when he doesn't have black voters' support?
Rep. Jim Clyburn, the veteran African American congressman from South Carolina who serves as House majority whip, told CNN recently that there was no question that support for an openly gay candidate was a "generational" issue for older African American voters and would affect Buttigieg's popularity in the state.
"I know of a lot of people my age that feel that way," Clyburn, who is 79, said. "I'm not going to sit here and tell you otherwise. I think everybody knows that's an issue."
But others say that it is more complicated, and that there are other factors dampening Buttigieg's support in the South.
"I am sure some latent homophobia is influencing some people's coolness toward Mayor Pete Buttigieg," said Andra Gillespie, a political scientist at Emory University who studies black political behavior. "But it's more complex than 'They are religious and he's gay.'"
Black Americans are significantly less likely than white Americans to support same-sex marriage, a metric researchers see as a proxy for acceptance of gay people. According to the Pew Research Center, 51 percent of black Americans support same-sex marriage, compared to 62 percent of white Americans.
Historically, that gap is an outgrowth of the black American experience with racial bigotry, Horace Griffin, a black and gay Episcopal priest wrote in his 2010 book, "Their Own Receive Them Not: African American Lesbians and Gays in Black Churches." Some black Americans remain wedded to the idea that outward displays of traditional values, including what they regard as sexual purity, serve as a bulwark in a country inclined to dehumanize black Americans.
Nonetheless, support for gay marriage among both white and black Americans has been rising for more than a decade. And while just 27 percent of white evangelicals support gay marriage, 45 percent of black Protestants say they are in favor, according to an October poll by the Public Religion Research Institute. In both groups young people were more supportive of gay marriage.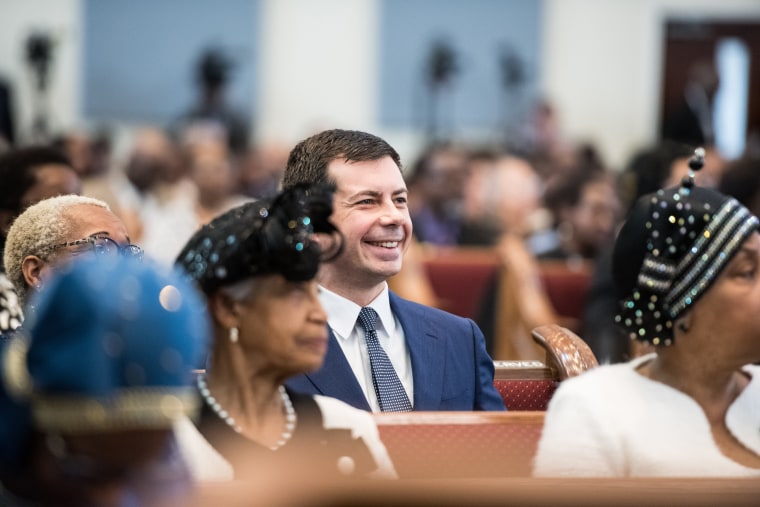 Venus Sabb, 60, who lives in Columbia, South Carolina, where she and her husband raised their son, said her black Baptist church has about 4,000 members. Young members, she said, are more open about every aspect of their lives and expect the church to engage on all sorts of social issues — gentrification, immigration, civil rights, gender and sexuality, to name just a few.
"It's very different than the way I came up," Sabb said. "Very. That's for sure. But it is certainly where I and a lot of other people want to be."
There are so many factors for black voters to weigh in 2020 that a candidate's sexuality is unlikely to be the deciding one, according to political and public opinion experts, as well as more than a dozen black voters in South Carolina who recently spoke to NBC News.
But that doesn't necessarily translate to support for Buttigieg, whose biography includes more than just his sexuality. Buttigieg is arguably 2020's most overtly religious Democratic contender, a combat-tested veteran and the mayor of a 100,000-person city who has never been responsible for national policy. He's a moderate, a let's-improve-the-system-not-explode-it candidate.
Black voters have historically made the pragmatic choice in both primaries and presidential elections. In the primaries, they've often selected the least bad option, the white Democrat who can win and has said the fewest or the most tolerable of the offensive or dismissive things often said about black experiences and political priorities. In general elections, that means they've supported candidates promising the greatest push for equality, experts say.
According to a Public Religion Research Institute poll last month, priorities among religious black voters include health care, crime reduction, presidential election fairness, race relations and jobs — and in several of those areas, experts and undecided South Carolina voters say they see weaknesses in Buttigieg's positions.
"The true Pete Buttigieg test, the one he's unquestionably failing," Gillespie said, "has to do with the résumé and the issues."
Voters and values
Buttigieg arrived in South Carolina about a week after the leak of results from three focus groups commissioned for his campaign. The McClatchy News Service reported that interviews with 24 uncommitted black voters in Columbia, ages 25 to 65, revealed a pattern of tolerance for Buttigieg rather than full acceptance of him.
Interviews did not reveal aversion to electing Buttigieg because he is gay, McClatchy reported. Rather, many of those queried expressed discomfort with an openly gay man and Buttigieg's frankness about his sexuality. Several also expressed concerns about the mayor's youth and inexperience. But Buttigieg's faith also offered a strong testament of character to older black women in the focus groups. Just one participant, a woman in her 40s, said she was contemplating a vote for Buttigieg.
A flurry of stories about black voters, sexuality and values followed, raising questions like: Was it correct to label black Democratic voters in the South social conservatives? Could 24 voters really speak for millions? Who had leaked the information, and to what end? And why were black voters allegedly weighing down the otherwise rocket-like Buttigieg campaign?
The campaign declined to comment on the leaked analysis, saying only that Buttigieg's sexuality came up organically during the discussions.
"As Pete connects with black voters across the country, we find that they identify with his message and his vision to tackle the urgent challenges they face," Marisol Samayoa, a spokeswoman for the Buttigieg campaign, said in a statement.
The campaign also noted that 400 South Carolinians have endorsed Buttigieg's plan for empowering black Americans, though some of them have not endorsed Buttigieg for president.
One of the black voters who heard Buttigieg speak during his swing through South Carolina recently was Sabb, a housing counselor at a Columbia historically black college.
"I may not agree with his lifestyle, Mayor Buttigieg," Sabb said. To her, though, there's more to consider than Buttigieg's sexuality.
"Really, my choice comes down to how is this person going to affect the whole American body," she said after attending a criminal justice forum where Buttigieg spoke. "How committed is this person to meeting as many of all of our critical needs as is possible? That is the person I want to vote for. That, for me, is going to be the key and deciding factor."
Sabb is watching Buttigieg but said she's leaning toward former Vice President Joe Biden or Sen. Elizabeth Warren of Massachusetts.
The next day, as Buttigieg spoke at the Rock Hill service, some parishioners lifted church fans bearing the image of the Obama family to support him.
"What will it be like," Buttigieg said, "the first day after the current president is no longer our president? Picture the relief we will feel on that day, but also, the pain that will be with us on that day."
That inspired a round of applause and some interjected, emphatic amens.
"That spoke to me," Maurice Sanders, 64, a church usher who works in the nuclear power industry, said afterward. "There's a lot of damage that's been done, a lot of repair that's going to have to be undertaken. There's a lot of healing that needs to begin."
When a reporter asked how Buttigieg's sexuality might influence his decision, Sanders said he was unaware that Buttigieg is married to a man. That's "part of the young man's private life that is of no consequence or concern to me, as long as there is transparency," Sanders said.
The issues that matter
In the 2000s, the majority of black voters moved politically from activist and far-left positions to the center of the Democratic Party, said Gillespie, the political scientist. But their sense of what is most important has consistently been informed by a struggle for equality.
Religious black voters — the people some political commentators have dubbed the party's conservatives — are also committed to the same issues. A full 79 percent of black Protestants identified health care as their chief political priority in the Public Religion Research Institute poll in October. White evangelicals put terrorism as their top concern, an issue that didn't make the top five for black Protestants.
"It's not just about partisanship but what white and black Christians see as in need of urgent attention," said Robert P. Jones, CEO of the Public Religion Research Institute, who researches faith, culture and politics. "In political spaces, the way they move, what they prioritize could not be more different."
Buttigieg's brand of centrism with change that can be measured by inches may fall short of what some progressive black voters hope to see in a 2020 candidate, Gillespie said. These are weaknesses "that black voters may see particularly well," she said.
Take the top priority identified in the institute's poll of religious voters. On health care, Buttigieg has said that a government-controlled, single-payer-only health care system would be economically disruptive. He supports what his campaign described as a "national option." A Buttigieg system would offer a government program for those unable to afford private insurance. That government program would aim to be affordable, but also so attractive in terms of offering what people need that it forces private health insurance programs to compete. It's not entirely different from the dual Obamacare and private health insurance system that exists now.
Several black voters in South Carolina told NBC News they were skeptical of any plan that maintained the existing public-private health care system, which they said had not produced equity.
And when the Kaiser Family Foundation aggregated the results of its July, September and October tracking polls, support for a dual system ran higher among black Americans — 84 percent — than with white adults, 68 percent. But the gap in support for "Medicare for all" was even more vast. A full 73 percent of black adults supported a unified national health care system while just 43 percent of white Americans agreed.
When trying to woo more moderate voters, Buttigieg also has to compete against the other moderates in the race, chiefly Biden, the popular former vice president elected alongside the first African American president. In October, a series of polls of South Carolina Democratic voters — a group that's mostly black — put Biden 21 to 39 points ahead of Buttigieg. Then there are the two black moderate candidates: Sens. Cory Booker of New Jersey and Kamala Harris of California.
Buttigieg must contend with questions about his record on race, police accountability and crime reduction in South Bend, which came to the forefront after police there shot and killed a black man in June. The city's violent crime rate is double the average of comparably sized cities. And the number of shooting victims in the city has nearly doubled since 2018. Buttigieg was also criticized for firing the city's first black police chief, who viewed himself as working to expose and remove racist white officers, in 2012, the year Buttigieg took office. Buttigieg is widely perceived as not having handled the situation well.
"If nothing else, hopefully it will come across that among the candidates I'll be one of those who has engaged these issues and the challenge that they represent," Buttigieg told The New York Times in August. "This is not a specialty or back-burner issue for me."
Asked about what will prompt them to pick a candidate, many black and religious South Carolina voters pointed to the desire to defeat President Donald Trump, as well as to specific issues, including eliminating gender and racial pay gaps.
Sabb said she wants a candidate to prioritize "fairness, mercy and decency." Her faith demands it, she said. There's a biblical command to care for those with the least.
"America, it is supposed to be the land where dreams come true, where things are possible for anybody," she said. "That's not true, right now."
CORRECTION (Nov. 18, 2019, 1:29 p.m. ET): An earlier version of this article, based on inaccurate information from the Buttigieg campaign, incorrectly described the 400 South Carolina residents who have endorsed Buttigieg's plan for empowering black Americans. The group is multiracial; the residents are not all black.