Photos and a video posted online that show several white Chicago-area high school students in blackface has led school officials to condemn the incident and caused outrage among classmates, who staged a walkout Tuesday.
In the photos posted over the weekend on Facebook, three Homewood-Flossmoor High School students are seen in a car with their faces painted black.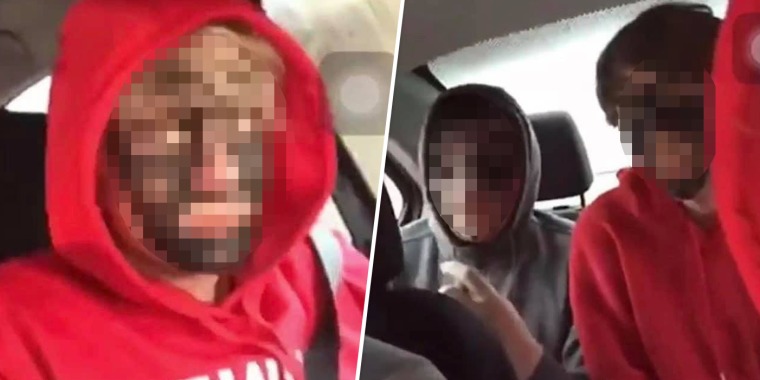 A video filmed by one of the teenagers, and also posted on social media, shows them in the drive-thru of a McDonald's, joking and laughing as a black worker hands them their food. A fourth student is seated in the passenger's seat but it's unclear if he was also in blackface.
To protest the social media posts, roughly a thousand of students walked out Tuesday around 12 p.m. chanting "We want justice" and "No place for blackface," according to the Chicago Sun Times.
In a letter sent Sunday to parents and students, Homewood-Flossmoor High School said school officials had met with those involved in the "culturally insensitive" incident.
"The social media postings that were seen and heard were not representative of the high expectations we have for all students that attend our school," the school said in the letter. "This type of behavior is contrary to our expectations, is being addressed quickly and appropriately and will not be tolerated."
Based on information supplied by the school, there are almost 3,000 students at Homewood-Flossmoor and almost 70 percent of the student body is African American.
The video and images drew immediate outrage from students and parents and criticism from community officials.
"I would like to see the students expelled," parent Dr. La-Shawn Littrice told NBC Chicago. "I would like to see some cultural sensitivity training."
Due to confidentiality laws, the school could not say whether disciplinary action will be taken against the teenagers.
Student Abimbola Oyefeso told NBC Chicago that she doesn't think the situation was handled correctly by the school because the students involved are not being punished. In a statement Tuesday, the school said it would be having a "schoolwide conversation" with students.
Homewood Mayor Rich Hofeld and Flossmoor Mayor Paul Braun released a joint statement condemning the video and photos.
"No matter the age or the action of the person, hurtful and offensive behavior is neither accepted nor condoned," the statement read. "Our diversity is a fundamental value that should be fully embraced, respected, and at the forefront of our community."