This teacher gets a D- in racial sensitivity and an F in common sense.
A teacher at an Alabama middle school has been placed on administrative leave after it was discovered she distributed a questionable math quiz last Friday to her students that referenced gang-related activities like drive-by shootings, cocaine and prostitution.
According to parents of kids at Cranford Burns Middle School in Mobile, the students were shocked after reading questions like these:
"Tyrone knocked up 4 girls in the gang. There are 20 girls in his gang. What is the exact percentage of girls Tyrone knocked up?"
"Pedro got 6 years for murder. He also got $10,000 for the hit. If his common-law wife spends $100 of his hit money per month, how much money will be left when he gets out?"
Dwayne pimps 3 ho's. If the price is $85 per trick, how many tricks per day must each ho turn to support Dwayne's $800 per day crack habit?
Parent Erica Hall told NBC affiliate WPMI that she was outraged to find out that longtime Language Arts teacher JoAnne Bolser would hand such inappropriate content out to her son's eighth grade class.
"My son, he took a picture of it in class and he texted it to me. I couldn't believe it," Hall said.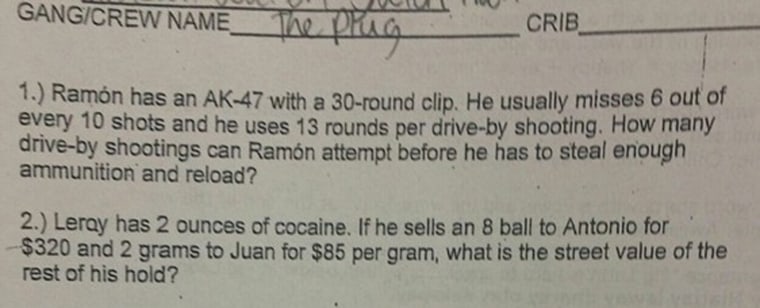 "They took it as a joke, and she told them that it wasn't a joke, and they had to complete it, and turn it in," Hall said of the 10-question quiz.
"I was shocked because she's a strict teacher," a student who asked to be referred to only as Elizabeth, told WMPI.
Bolser was set to retire this month, WMPI reported.
'While some of the kids may know what these terms mean they shouldn't have to be flooded with them from school administrators and teachers," said parent Jason Boyington, whose son took the quiz. "At some point somebody's got to take a stand for righteousness and I think the ball got dropped on this big time."
Related: #BlackInBrooklynTech: Students Use Hashtag Activism to Call Out Racism
Angered by the teacher's actions, Hall and her husband came to the school the following Tuesday to address the issue.
"The principal looked into it and then our school resource officer investigated it and then we immediately put the teacher on administrative leave," said the school's director of communications, Rena Philips.
Philips told NBCBLK that Hall and her husband were the only parents to report their complaints to school, despite the outrage displayed on social media.
"We've only had the one complaint and it was [when] the student took a picture and went home and showed it to his parent — that was the parent that came and saw the principal mid-morning [on] Tuesday."
Though the school reviews its teachers' lesson plans, it is unclear whether Bolser's test was submitted to upper administration for review or a decision solely by the teacher, according to Philips.
Related:Alleged Discrimination Against Dallas Prep School Students Offers a Lesson
"We regret that this happened so close to the end of the school year, today was the last day of school," Philips told NBCBLK. "The vast majority of [our teachers] are doing an outstanding job. So it's unfortunate that this news is overshadowing the work that they're doing every day."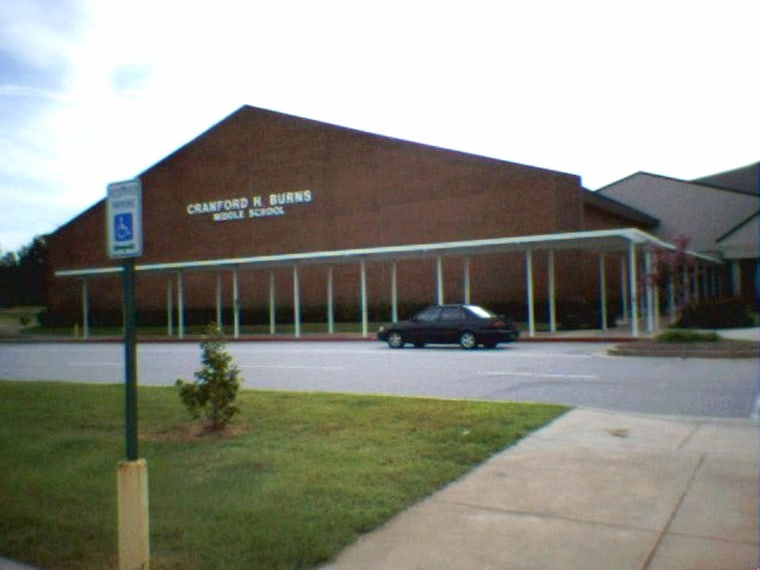 The test itself however, dubbed "The L.A. Math Proficiency Test" by online hoax-watchdog Snopes.com, has been circulated online for years, occasionally landing other administrators and officials in hot water.
Six years ago, Richard E. Perez, a South Florida police chief was forced to resign after he was found having sent the a copy of the test to his staff, accompanied by the inflammatory subject heading, "Urban schools are finally starting to teach practical math that these kids can use in real-world situations!!"
As for Bolser, it is unconfirmed whether or not she will appeal the school board's decision to be placed on administrative leave, Philips said.