In Texas, officials in mostly white Waller County, citing cost concerns, announced that they would not make an early voting site available on the campus of a historically black university. Then the state passed a law effectively requiring other communities to take similar action.
A Tennessee law threatens third-party groups that register citizens to vote with criminal penalties if they make mistakes on forms or the forms arrive incomplete. The state's governor, a Republican, said the law will make elections fairer.
And in Florida, state lawmakers overrode the results of a ballot initiative restoring voting rights to felons who have completed their sentences. Lawmakers who opposed the initiative insisted it was up to them to define what constitutes a completed sentence.
States across the country have, in the wake of the Supreme Court's 2013 decision striking down part of the Voting Rights Act, moved swiftly and repeatedly to reshape almost every element of voting. Lawmakers are using a variety of race and age-neutral measures with explanations as pragmatic as cost and as prudent as election security. Now, with Election Day less than 10 months away, a range of lawsuits are pending or have recently been resolved challenging what Marc Elias, a lawyer working for the Democratic Congressional Campaign Committee, described as "nothing short of a tidal wave" of voter suppression targeting black and young voters.
What's happening "is tantamount to being asked how many beans are in a jar," said Rep. James Clyburn, D-S.C., and the House majority whip, referring to the tactics being deployed around the country since the Supreme Court's 2013 decision in Shelby County v. Holder.
That 5-to-4 decision struck down portions of the Voting Rights Act, passed in the 1960s to counteract poll taxes, tests and other policies, as well as outright violence, that made it near impossible for most black Americans and many Latinos to vote.
"It's just much more modern," Clyburn said of voter suppression efforts. "They can do it electronically, they can do it digitally and in ways we never thought about when I was coming along."
Clyburn spoke days after an out-of-court settlement produced what he described as a critical victory for Democrats and for voting rights. The case was one of 11 the party has brought since 2018 after bringing two in the last election cycle. The policy in question is emblematic of the decisions shaping voter eligibility around the country.
In 2018, South Carolina voting officials estimated that the state was home to about 950,000 eligible but unregistered voters, a figure almost as large as the 1.2 million people who voted in South Carolina's gubernatorial election that year. Among the reasons, according to Democrats: a state requirement that those registering to vote list their entire Social Security number on registration forms.
In November, the state's Democratic Party and the Democratic Congressional and Senate Campaign committees filed suit challenging the Social Security requirement. South Carolina settled the case this month, agreeing to require just a portion of Social Security numbers.
"We are seeing stark levels of voter suppression efforts," said Kristen Clarke, president and executive director of the National Lawyers' Committee for Civil Rights Under Law said. "In a post-Shelby world, the burden falls to citizens and civil rights groups to monitor and challenge all that is going on. But what's really made this worse is what's happening at the Justice Department. "
States are engaging in aggressive voter roll purges, polling site closures and uneven voting resource allocations that, in some cases, violate the law, Clarke said. However, the Justice Department under President Donald Trump has not filed a single voting rights case on behalf of voters of color, only lawsuits to protect military voters.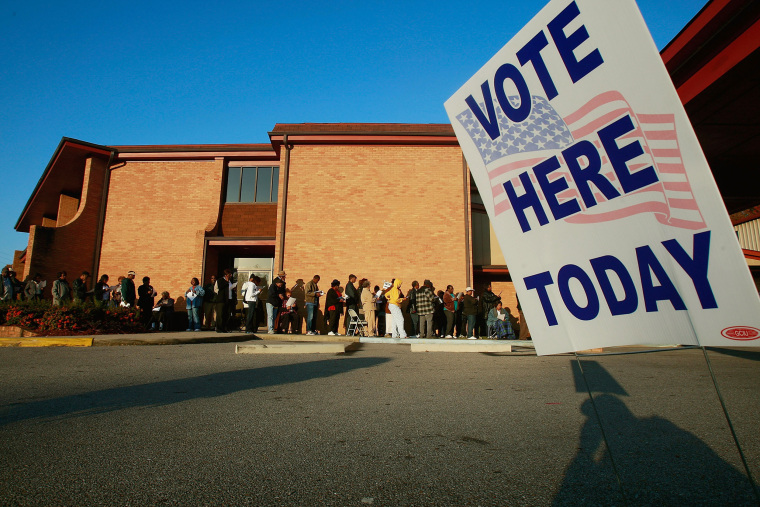 On the other side of the country there are also participation issues. During the last decade, left-leaning political groups began collecting sealed mail-in ballots from Arizona voters and delivering them to voting officials; they also helped large numbers of voters join a permanent list to receive a mail-in ballot. The efforts boosted black, Latino and Native American voter participation, helping to push the once deep red state into the purple or out of the solidly red.
To Republicans, the practice amounted to "ballot harvesting." In 2016, lawmakers in the state Legislature argued that ballot collection operations left too much room for potential ballot tampering and passed a ban.
In April 2016, just before the ballot collection ban was set to go into effect, Arizona Democrats and Hillary Clinton's presidential campaign filed suit.
On Jan. 27, a federal appeals court ruled that the state had violated the Voting Rights Act and struck down Arizona's law banning ballot collection from nonrelatives.
Other voting rights cases brought by civil rights groups have only become more complex.
In 2018 as the country was barreling toward midterm elections in which Democrats would make major gains, officials in Waller County, Texas, announced they would not set up an early voting site on the Prairie View A&M University campus, a nearly 10,000 student HBCU in a county of about 53,000 people.
Students filed suit, describing the move as the latest in a string of events in the county since 1971 that have become the subject of repeated voting rights cases. (One that gave students around the country the ability to vote in college towns.) After the suit was filed, Waller County changed its plans and set up a limited early voting schedule with one on-campus early voting site.
More than a year later, litigation continues. This cycle, Waller County made plans to operate a short-term early voting site in the town that includes the university. The off-campus location is, however, hard for students to reach because the country has no public transportation. Also of concern to the students: Waller planned to operate two early voting sites for longer periods of time in a second town with half the voting age population and more white residents.
"What we are seeing in Waller County right now and a lot of other places is that the right to vote is still under attack," said John Cusick, a lawyer with the NAACP Legal Defense and Educational Fund who is handling the Prairie View student's suit against Waller County.
In June, the state's Republican-dominated Legislature passed a bill proponents said would resolve the problem in places like Waller County and help secure elections. It required state election administrators to set up early voting sites that will be open for all 12 days of the state's early voting window, no temporary early polling site arrangements allowed.
The bill prompted election administrators around the state to close temporary and short-term polling sites, many of them on college campuses. In October, Texas Democrats, the Democratic Senate and House Campaign committees and other groups filed their own suit challenging the law on the grounds that it curtails the ability of young people to vote.
That lawsuit is also pending.
"You see and hear these explanations," said Cusick, "these claims that Jim Crow suppression, overt suppression, does not exist. You've seen this use of seemingly neutral terms to couch what is really going on. But what's happened is individuals making decisions who have detached their actions from historical circumstances, from the reality that decades of state and private segregation have left behind."
Then there is Florida.
In 2018, Florida was one of just four states that still had laws on the books permanently banning those convicted of felonies from the voting booth. The policy had been put in place during the Jim Crow-era in an overt attempt to limit black voter influence.
Before Florida voters that year sanctioned, by a wide margin, restoring many convicted felon's voting rights, the state's felon disenfranchisement policy had rendered about 10 percent of the state's eligible voting population unable to vote. That included about 20 percent of the state's black population. But months after more than 1.6 million Florida residents with felony convictions regained the right to vote, Florida's Republican-controlled Legislature implemented a law requiring that individuals pay fines and fees associated with their convictions before being able to vote.
The measure, Republicans said, wasn't a poll tax -- a practice that in the United States originated in Florida -- or an effort to suppress the black vote. It was move to define the nebulous terms put to Florida's voters, they said.
The ACLU, the NAACP Legal Defense and Educational Fund, the Fair Elections Center and other groups filed suit. Not only are black voters more likely to have felony convictions but also outstanding fines and fees when compared to white Floridians with felony convictions.
"Florida has a long and very troubled history in terms of voter suppression tactics, many specifically related to racial discrimination," said Jonathan Topaz, an attorney with the ACLU's Voting Rights Project and one of the lawyers on the case challenging the fines and fees requirement. "The Legislature's move is certainly part of it."
On Tuesday, a U.S. Court of Appeals heard arguments in the case. One judge noted that Florida lawmakers had created a situation where two people can commit the same crime, be sentenced to and serve the same time and then, only the convicted felon with the money to pay fines and fees ever regain the right to vote. It sounded, the judge said, like a punishment for poverty.
The court is expected to rule soon. Florida residents must register to vote in the presidential primary by Feb. 18.