While the country is in disbelief, there is a finite group of people who are mourning Prince in their own special way. They aren't fans, they are his musical family. Over Prince's 40-year career, the musical genius employed hundreds of musicians. Drummers, guitarists, saxophonists, singers, trombonists, and engineers. These select musical wizards had a personal, up-close relationship with 'the Purple One.' It's those private memories that they hold onto.
We lost more than an icon, we lost a family member. He was the last ambassador of real music.
"I just talked to Prince yesterday," says Bass Player Josh Dunham. "He sounded fine. I called the studio (Paisley Park) around 3pm just to check on him. I was shocked that he picked up. That is rare, usually it is one of the assistants or the secretary. He said 'Hello'. I said 'hey this is Josh.' He said 'Hey man'. "I said 'I was just calling to check on you'. I asked him if he was busy and he said yeah that he was having lunch. And I said ok, I just was just calling to check on you, take it easy, and he said 'ok thanks, take care."
Prince: The Death of a Superstar
A Man of His Word
Dunham may have been one of the last few people to have a conversation with Prince. He and his wife, Cora, were members of Prince's band. Dunham first met Prince through his wife. "Cora was my girlfriend back in 2004. She was a drummer for (singer) Frank McComb," he remembers. "Prince was in LA and wanted to hear some live music. Someone told Prince about Frank, so Prince went to the club. Cora was on drums, she texted me in shock saying 'Prince just walked through the door'".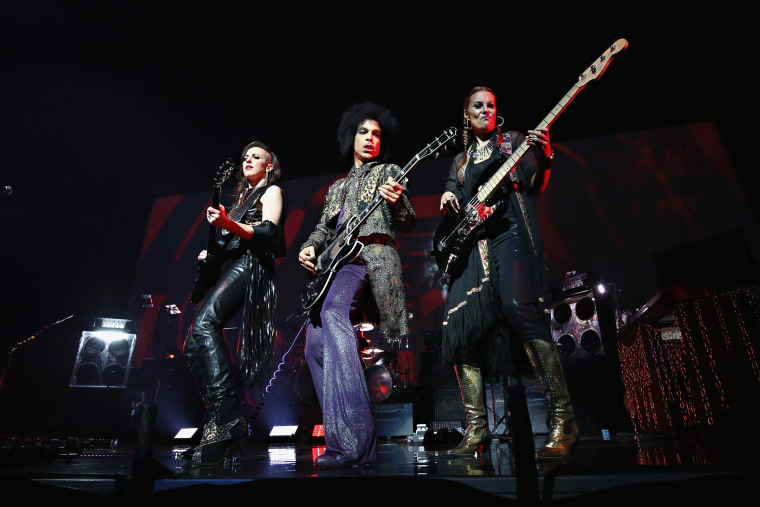 It was that chance encounter that forever changed both of their lives. During the night, one of Prince's confidants told Cora that he wanted to speak with her. Prince asked her who she liked to listen to, the type of gear she likes to play on. He advised her that she needed to play on a better drums set so he offered to buy her one. "He said pick your drum set and I'll pay for it" recalls Dunham.
Prince was a man of his word. Cora picked the drum set and it was delivered. After she received her new drums she left to go on tour with Frank in Japan. Fortunately for Dunham, Frank's bass player couldn't make the trip so Cora vouched for her boyfriend. After the McComb tour Dunham went out to LA to rehearse with Frank. "One day Cora called Prince to thank him for her drum set and he asked her to bring it over to play," reflects Dunham. "So we packed up the drum set, went to Prince's house and we were jamming." From this night, their long term friendship was born.
"In 2005, a week before our wedding, we both went to Paisley Park. We get there and cameras were everywhere. Prince was shooting a lil mini movie and I don't think it ever came out. He had a private showing and put it up somewhere. Its probably in vault somewhere with some other music we played on."
Dunham and his wife accompanied Prince on tours around the world for years and played on albums such as 3121. Their fondest memory was the "Planet Earth" tour in London. "He just wanted to rock it out, it was me, Cora and Prince. A trio thang," says Dunham. "The energy was great, the people loved it. We didn't stop playing until 4am. Then Prince wanted to do a photo shoot...so we're riding around London looking for different areas to get some pictures at the crack of dawn. Just us three. I've never seen the photos."
While everyone paid big bucks for a chance at a Prince ticket, it was smaller venues that he preferred to perform in. "We did a jam session at the House of Blues in (LA) in the entry area by the bar. It was wild. He just wanted to sit there and play. He would play anywhere, just little spots here or there on the road."
"Prince always wore heels. ALWAYS! Even his flip flops had heels" – Josh Dunham, Bass Player
Hollywood celebrities can all vouch for Prince's impromptu private home concerts. Dunham recalls being in rehearsal for hours, from noon until midnight, and after midnight assistants would start lighting candles, and that's when they knew guests would be coming over. "Salma Hyeck, Floetry, Morris Day, Eryka Badu, Chaka Khan, Chris Rock, Eddie Murphy. Kanye West. P. Diddy, and the list goes on and on," remembers Dunham. "Sometimes he'd go out and find random people, not stars, and invite them to his house for us to play."
Dunham chuckles when he admits that sometimes bandmates would be so tired from impromptu calls that they'd often turn off their phones just to get some rest. "Prince pushes the envelope. He is different. He would wouldn't have had as much attention if he wore a low cut and jeans, laughs Dunham. "Prince always wore heels. ALWAYS! Even his flip flops had heels," he chuckles.
For engineer Rick Sanchez, who worked on the artist's first album in 1978, he had his doubts as to whether Prince would survive the life of a touring musician. "He was very quiet, almost skittish in his demeanor, but he knew what he wanted and went for it."
"Watching this guy work in the studio was something incredible" says Sanchez who watched Prince setup his own drums, bass, guitar, and keyboard at the famous Record Plant recording studio in northern California. "He had a producer, but he didn't really need one."
"He invited us to his rental house for a party one night and he said hello and disappeared for a long time," says Sanchez. "Then someone said that he wanted to see me in his room. He did this for a number of the people who worked with him and at the studio. I went in and he played me some Weather Report, some Sly Stone and some Beatles songs. Barely spoke, but watched me listen. Then he nodded and figured that was it. He smiled and said 'See you on Monday.' That was what I knew of Prince."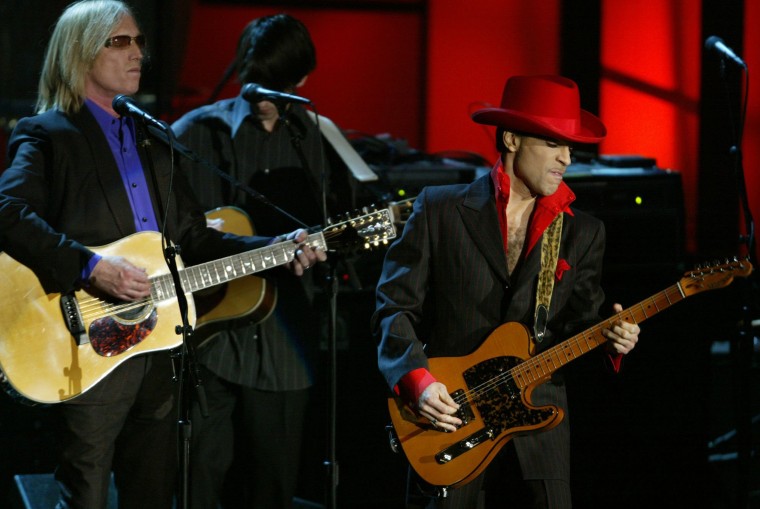 Adrian Crutchfield started playing sax with Prince when he was only 26 years old. Crutchfield was on tour with Grammy Award winning singer-songwriter Anthony Hamilton in 2011 when they opened for the musical icon in Charlotte.
Later that same year Prince wanted to put together a horn section for one of his artists, Andy Allo. And that's when Crutchfield got the call.
"I was excited, I was hungry," recalls Crutchfield. "We shot a video of the horn section that we put together and sent it to him…and he liked it."
He never treated us like employees, we were his bandmates
In Fall of 2012 Crutchfield, along with the horn section, went to Paisley Park to perform live for Prince for the very first time. He recalls the day:
"Walking into Paisley Park and seeing all of Prince's bandmates …New Power Generation….John Blackwell, Morris Hayes, Mike Scott, it was amazing. We idolized them. We were terrified, nervous and hungry…we wanted to prove ourselves. So we started working, learning music, and then Prince walked in. He asked if we needed anything. I said water, he actually went and got our water. He didn't send someone. I was so confused. I didn't mean to send Prince to get my water. But that's the kind of guy he was. Prince was very polite. He was quiet…but not shy, if he chooses to say something it's going to be profound."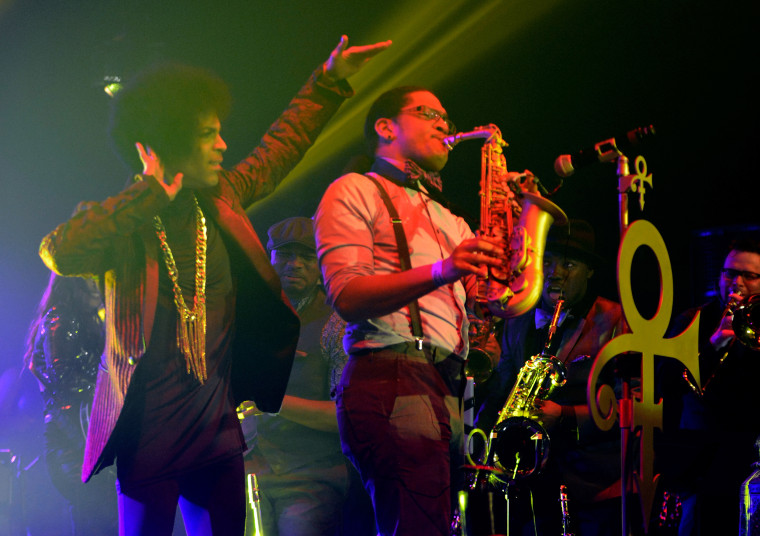 Crutchfield performed his first show with Prince at Chicago's United Center. He admits that when they started playing "Pop Life" he broke down in tears because he couldn't believe he was sharing the same stage as Prince.
Crutchfield went on to play with Prince for several more years and recording albums like "Art Official Age" and "Hit n Run Phase II."
When Doves Cry: Prince's Career in Photos
"Being on the road with Prince was amazing, the way he treated us, was beautiful. He never treated us like employees, we were his bandmates" says Crutchfield. "The way we looked at him when he played music, is the same way he looked at us when we played. It was a fellowship."
Prince gave a lot of spotlight to his bandmates launching careers such as Sheila E, The Time, New Power Generation, Vanity, Carmen Electra, Apollonia, and so many more.
"The one thing that will surprise you is that he is a person, and the way he treated us and respected not only the music but also the musicians," says Crutchfield. "He let us shine".
"Today we lost more than an icon, we lost a family member. He was the last ambassador of real music."