Purple Rain, Purple Reign.
The world has been mourning the death of Prince by dusting off their record crates and reminiscing about the first time they heard the artist formerly known as genius.
Minnesota Governor has even declared today, June 7, Prince Day. (The purple one would have turned 58 today.)
Many of his albums have returned to top the charts -- "Purple Rain" shot to the #3 spot on Billboard's Top 200.
RELATED: Prince Album Sales Soar on Amazon, iTunes
Arguably, the most definitive album in the retro fevered '80s decade, and indeed, the most important album of his career, Purple Rain remains the sixth biggest soundtrack of all time selling over 20 million copies worldwide. Aside from the monstrous sales, Grammys, platinum certifications, there is no denying that 'Purple' dynamically helped Prince transcend musical boundaries and unconventionally served as a generational cornerstone for hip-hop artists.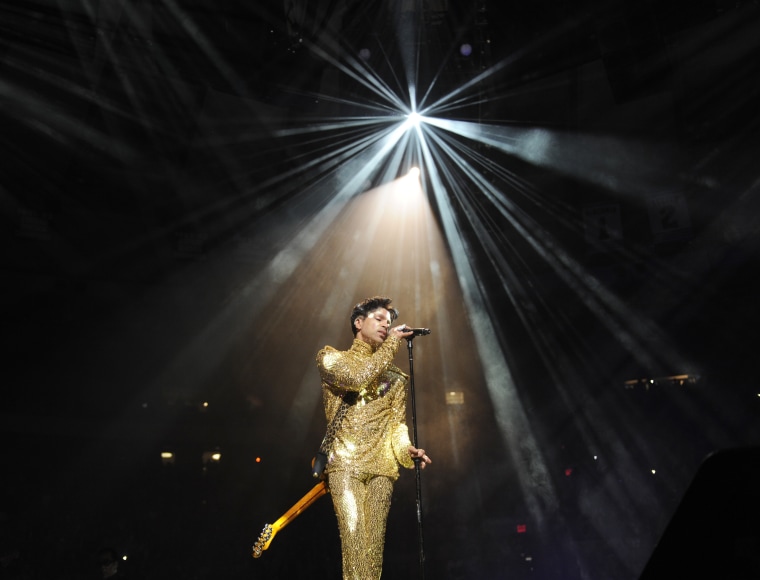 Even though popular music in the '80s was categorized as either black or white, R&B or Rock, with minimal gray area, his musicianship on that album alone surpassed all labels and brilliantly proved you couldn't fit him into one box.
"What was also special about him was his ability to mix genres in his music. He played every instrument known to man, literally, so he really understood it," said music executive and former SVP of Marketing for Columbia Records Shanti Das who worked closely with Prince on his 2004 album Musicology. "In any given song, you might hear references of pop, rock, soul, country, blues, or hip-hop funky beats. That's why his music was so well known and loved by all ages and genres because he gave everyone a piece of their soul to enjoy!"
Throughout the album, he projected every note through icy electronic synthesizer effects and multiple layers of guitars through songs like "Computer Blue," "The Beautiful Ones," and "I Would Die 4 U."
RELATED: Prince Fought Big Labels For Ownership, Artistic Control
Many of the organic instrumentation and psychedelic sounds he introduced to audiences in the '80s became in demand for the new wave of rap performers in the '00s like Kanye West, Chance the Rapper and Lupe Fiasco.
"His occasional use of the hi-hat, funky drum and bass made some of his music easy listening for hip hop enthusiasts," Shanti told NBCBLK. "I think his music as a whole was a musical multi genre kaleidoscope! He got more hits than Babe Ruth! So many of his songs could easily be blended to other songs with dope beats especially in the 80's and 90's!"
Now one thing's for sure, Prince was not a big fan of other sampling music or other artists covering his songs. Surprisingly enough, he let a few rappers off the hook. Even still, the authenticity of a Prince record is often imitated; but cannot be duplicated.
Here are 5 rap records that have tastefully sampled songs from Purple Rain.
Public Enemy -"Brothers Gonna Work It Out"
The "Let's Go Crazy" guitar rift accentuating the hook while Chuck D and Flava Flav trade lines, "You got it…What it takes" is as legendary as it gets.
"The Fear of a Black Planet"single stands alongside their signature anthem, "Fight the Power" in an early '90s effort to fight against police brutality.
Diddy - "Special Feeling"
Prince's influence is all over Sean 'Diddy' Combs's 2006 top charting album, Press Play, particularly "Special Feeling."
The whole track screams nothing but "Baby, I'm a Star." Everything - from the back-masking in the beginning, to the repeated paced drum machine patterns, to those irresistible chord changes over the bridge - shrieks 'Star' power.
Nicki Minaj - "Blow Ya Mind"
Rap's finest femcee Nicki Minaj incorporated Prince's perfectly fitting "Darling Nikki" on "Blow Ya Mind," a bonus track for her Debut LP, Pink Friday. She added her own personal twist, "She said her name was Nicki."
Tupac - "Heartz of Men"
Tupac also sampled "Darling Nikki" for his 1996 hit "Heartz of Men" from All Eyez on Me. The sample is very subtle, not boastful at all. Pac raps, "Tell the cops to come and get me / rip the crowd like a phone number." Who would have ever thought that Pac and Prince would be a picture perfect match in heaven?
MC Hammer - "Pray"
MC Hammer borrowed from "When Doves Cry" to uplift and deliver a positive, genuine message on "Pray." "We got to pray, just to make it today," he rhymes as the choir stacks background vocals.
"Pray" went on to become Hammer's biggest hit, peaking at #2 on the Billboard Hot 100 singles chart. The video is just as inspirational as the song's message.