DALLAS — Reproductive justice advocates are rallying behind a Dallas-area couple after authorities took their 3-week-old daughter over concerns about her medical needs. 
More than two dozen organizers with The Afiya Center, a Black-centered reproductive justice group, advocates and others gathered outside the Texas Department of Family and Protective Services, or DFPS, in Dallas on Thursday demanding it return the newborn, Mila, to her parents, Rodney, 37, and Temecia Jackson, 38. Mila, born March 21, was taken into state custody last month after a pediatrician told authorities that the parents opted to treat her for jaundice at home rather than admit her to a hospital. 
"The doctor gave them options for care that the family agreed to follow," Qiana Arnold, a doula and birth justice advocate with the Afiya Center, told NBC News. "They even agreed to connect the doctor with their midwife, but they were clear that they were keeping their baby under the midwife's care. It felt like retaliation from the doctor."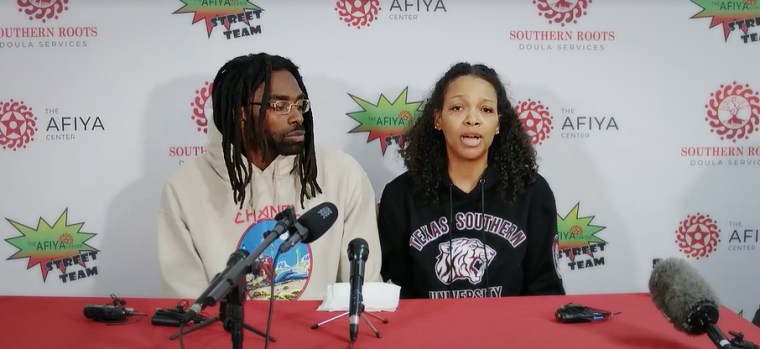 She said the Jacksons' licensed midwife, Cheryl Edinbyrd, is associated with the center and immediately contacted the organization when Mila was taken by the authorities.
Baylor Scott & White Health, which employs the pediatrician, Dr. Anand Bhatt, declined to comment on any specifics of the case but said in a statement that the health care system abides by "reporting requirements set forth in the Texas Family Code and any other applicable laws." However, Bhatt previously told court officials that he "authorized the support of CPS to help get this baby get the care that was medically necessary and needed," according to KABC. 
Jaundice is common among newborns and occurs when there's too much bilirubin in the baby's blood, according to the Johns Hopkins All Children's Hospital. Babies with jaundice usually develop yellowish skin and eyes. The parents and midwife had already begun treating Mila for jaundice with breastfeeding and sunlight, both of which are common, effective treatments for jaundice, according to Johns Hopkins. 
It's been over two weeks since the Jacksons had their newborn taken and they now say a rescheduled court hearing will keep them from their daughter even longer. They said at a news conference, held by the Afiya Center and the Next Generation Action Network social justice group, earlier this month that they believe authorities are only targeting them because Temecia  Jackson gave birth at home and employed a midwife. 
Police in DeSoto, Texas, a suburb in Dallas County where the couple lives, said the department, along with child protective services, tried to perform a welfare check at the home on March 25 but were denied entry. Three days later, Dallas County constables went to the home with DFPS officials and took Mila. 
"We are just as heartbroken today as the moment the Constables removed her from my arms," Temecia Jackson said in a video update shared Wednesday on Instagram. Her husband added: "We're still without our daughter and it's been 14 days. Every moment we're thinking about her, seeing her smile." 
Advocates have used social media to fight for Mila's return using the #BringMilaHome and #JusticeForMilaJackson hashtags. In Wednesday's update, the couple said that a judge rescheduled an April 6 hearing for April 20 and denied their request for an emergency hearing. 
On Thursday, dozens of demonstrators gathered outside the DFPS building with signs that read "CPS Is Wrong Bring Mila Home," "Stop Policing Black Families," and "Stop Medical Racism." They marched around the parking lot of the building where, Arnold said, the Jacksons were on their weekly visit to see their newborn. 
Officials with the DeSoto Municipal Court did not immediately respond to a request for comment. 
The Jacksons have been allowed a few supervised visits with Mila, who is now in foster care, Arnold said. The family has also condemned the removal affidavit, which lists the wrong name for Mila's mother, not Temecia, according to the Dallas Morning News. Authorities noted on the affidavit that the woman listed as Mila's mother on the affidavit has a history of child removal. The Jacksons said they do not know those people and the family's supporters have called the discrepancy.
"Everything about this is wrong," Arnold said. "There was never an investigation. We have a Black baby in the system with no birth certificate yet and the wrong folks' names are attached to her. We can't lose her to the system."
DFPS officials declined to comment on the matter "due to CPS cases being confidential by Texas statute," a spokesperson said.