Critically acclaimed science fiction author, Octavia E. Butler, wrote the dystopian futuristic novel, "Parable of the Sower" in 1994. Her book, which now seems like prophetic text, imagines an America where government has collapsed and a once civil society reverts to violence and chaos due to scarcity created by climate change, unimaginable poverty and rapid drug use.
Butler's America visualizes communities walled off from one another, media outlets outside of radio defunct, education non-existent, illiteracy rampant—creating an opening for the heroine of the novel, Lauren Olamina, to create a new religion, Earthseed, which believes that God is change and that change is our only constant.
Musician, artist and activist Toshi Reagon in collaboration with her mother Bernice Johnson Reagon, set Parable to music—creating awe-inspiring political theater that was made for this moment of resistance.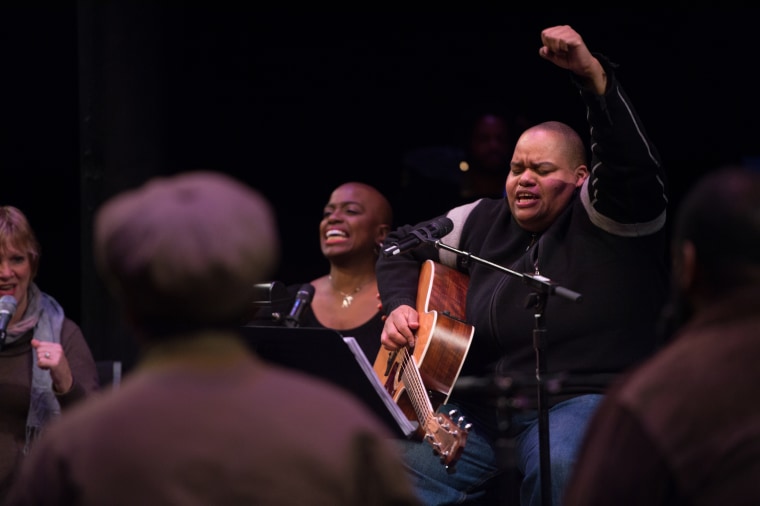 In anticipation of her upcoming performance in L.A. on May 25th at Fueling the Frontlines with the Astraea Lesbian Foundation for Justice, Toshi discusses activism and art with NBCBLK.
NBCBLK: Tell me about Parable of the Sower the Opera. Why did you feel compelled to create this opera based on Octavia Butler's novel?
Toshi Reagon: My mom and I are both Octavia Butler fans. All of her books lend themselves to life outside of the page. I was drawn especially to Parable because it seemed so true. Like she was really saying, "Do this, here is a map. A way if being." I was like yes.
Related: Octavia Butler's Legacy, Impact, and Afrofuturism Celebrated
Art and activism have often times gone hand in hand, yet during these perilous times many artists have chosen not to engage in the resistance. Is your art intrinsically tied to your activism? Why or why not?
I'm Black and I live in America. If I wake up and breathe in my right mind and do anything on my own time and in my own way it is simultaneously an act of residence and an act of expansion. I am building off the backs of my ancestors who rejected and fought against a legalized system of violence misogyny fear and thievery. I can make that list longer.
I don't understand this separation between activating my path and being alive. We have always had to do it at multiple levels in many ways.
Why was it important for you to share your opera with Astraea's members? Why do you think we need to support organizations like Astraea?
Astraea empowers and engages community leaders from all over the world. Parable is about embodying in yourself a way if being that does not destroy what is around you and does not isolate earth from the universe. It says take your rightful place in this gigantic system.
Related: Black Leaders Emerge as Powerful Allies in LGBTQ Fight in U.S. South
Astraea believes that humans in the front line become world leaders by their commitment to living a just life in this planet. Thinking not just about humans but the environment that we all need to exist. Parable of the Sower is having this conversation. Astraea's work funding LGBTQI communities globally and reaching out to diverse voices is what we need right now.
How do you think artists are fueling the front lines right now?
So many people are looking to activate while using an artistic lens. I'm a visiting professor at UNC and I am working with faculty who want to engage students and community through art. It is still hard for me to make this separation-- activating your existence and art.
What is more important and what is vital about Parable is when people in the novel start getting attacked by their government. When governments begin to give permission to people to act with violence and have a blatant disregard for life--we all become storytellers right away.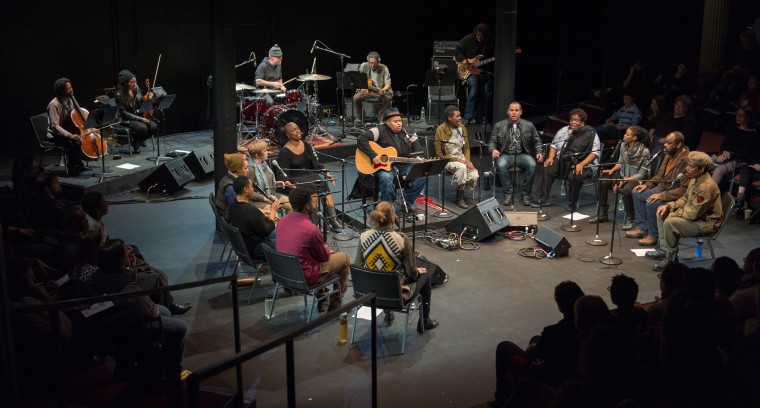 Nina Simone once said "an artist's responsibility is to reflect the times". Do you believe that? Do artists like journalists have a responsibility to the people?
Art operates better than journalism. Journalism in this country, in the mainstream, has become biased, oppressive, and opportunistic no matter the cost. Again, the artist uses their voice widely. You can always find the truth on the artist line. In the creation of homes, on a page, in the passing down of songs, and recipes, in the stolen inventions of the indigenous people. In language and sonic landscape that reveals just how far we traveled to get here.
How do artists help forge a pathway forward through the darkness we are experiencing?
In being of service to your people.
Related: Protest Art: After Ferguson, Artists Respond to the Movement
What does it mean to you right now that it's queer women of color who are leading the resistance?
I'm not surprised. We have always done this—lead the resistance. Now we can say out loud we are queer at the same time that we say our mission.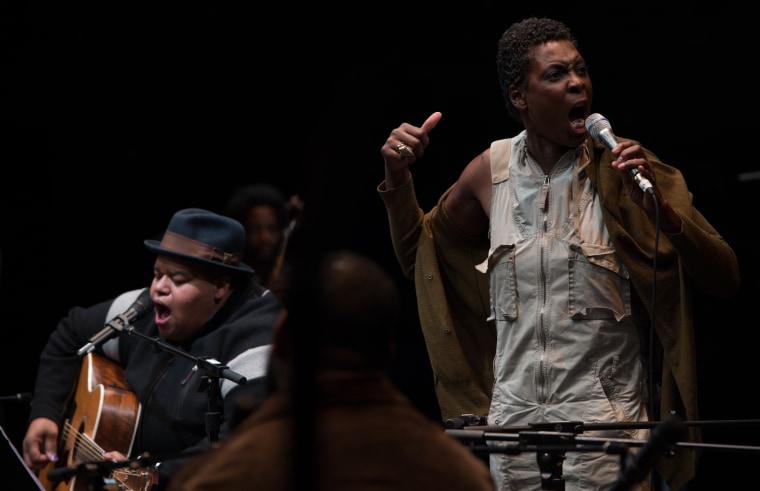 As an artist and activist how do you stop yourself from burning out? How do we all remain vigilante and engaged without losing our steam?
I don't have a good answer for this. I am differently abled. I believe that I am doing more great work as I get older. Like many of us, I am working good and hard in these incredibly uncertain times. I have the luxury of resting so I try to do it well and take care of myself.