In the early `90s, Norman Brown was found guilty of possession and distribution of crack cocaine—his third such criminal offense.
As he stood nervously before the judge who would render his fate, the resulting mandatory sentence was crushing: life without parole in federal prison. He was 22-years-old.
"It's hard to describe how hopeless I felt," recalls Brown, now 49. "I knew I'd made mistakes, but for a nonviolent offense, the time did not suit the crime. It seemed like overkill."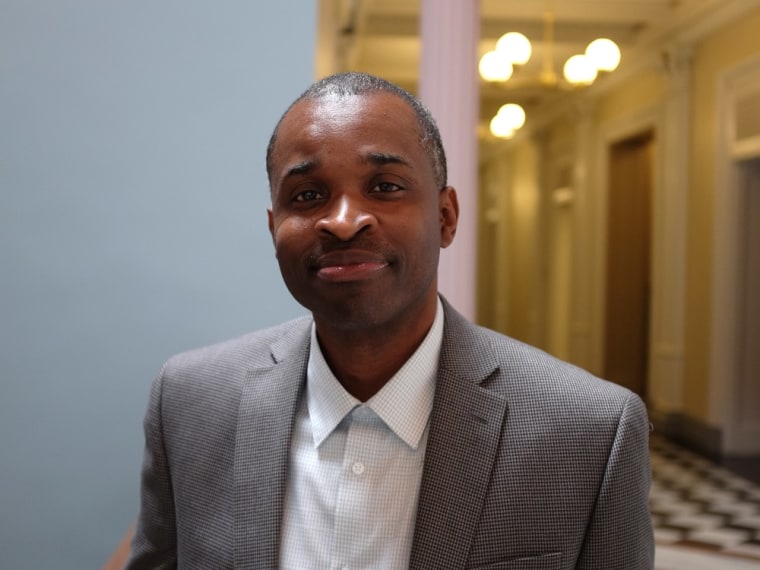 After spending 24 years behind bars, the `model' inmate—who'd taken educational courses and mentored peers—was granted commutation in November 2015 by President Barack Obama. To date, the Commander-in-Chief has commuted the sentences of 1,023 men and women, including 300 individuals who were serving life.
"It was a happy day for me, my family and the lawyers who'd devoted years working on my case pro bono," said Brown of the call that informed him that freedom was imminent. Later, he had the honor of having lunch with President Obama who met several people he'd granted clemency. "He was warm, and very open to hearing about our experiences.
RELATED: This Entrepreneur Found The Prison to Wealth Pipeline
On Wednesday, Brown was among the invitees to a White House convening on criminal justice reform, an event that drew activists, law enforcement, elected officials and former offenders from across the country. Guests included Piper Kerman, whose true story inspired the TV series, `Orange is the New Black' and Kemba Smith, a onetime college student turned federal prisoner, whose nearly 25-year sentence was commuted to time served (six years) by President Bill Clinton in 2000. Both women are national advocates.
With 50 days left of the Obama Administration, participants discussed criminal justice progress made during the past eight years, reviewed best practices, and charted ways to tackle the challenges that remain.
The session included an armchair discussion with White House Senior Advisor Valerie Jarrett and Attorney General Loretta Lynch. Jarrett spoke of visiting prisons and juvenile detention facilities nationwide to see firsthand the "human consequences of an inhumane system." Lynch discussed issues such as the expansion of courts, especially for veterans. "Their behavior reads criminal but is based in trauma and illness."
More than 2.2 million Americans are incarcerated—more than half for drug offenses—at an estimated cost of $80 billion dollars annually.
The vast majority of these men and women will return to their communities, Jarrett said, so improving educational and employment opportunities is vital to helping reduce crime and making communities safer.
To that end, a series of new commitments and actions were announced on Wednesday, which the White House, Department of Justice and other officials say are aimed at improving the fairness and effectiveness of the criminal justice system. They range from a federal "Ban the Box" rule, to Federal Bureau of Prisons reforms and more:
The Office of Personnel Management is finalizing a rule to ensure that applicants with a criminal history have a fair shot to compete for federal jobs. The rule effectively "bans the box" for many positions by delaying the point in the hiring process when agencies can inquire about an applicant's criminal history (some 70 million Americans have some type of a record) until a conditional offer is made.
The Justice Department announced a series of reforms at the Federal Bureau of Prisons (BOP). They include reforming "halfway" houses and covering the cost of obtaining state-issued IDs for inmates prior to their release from custody. Additionally, BOP is creating a semi-autonomous school district within the federal prison system, which will offer programs for literacy, high school diplomas, post-secondary education and individuals with learning disabilities. BOP will also begin enhancing programs for female inmates.
New companies have signed the Fair Chance Business Pledge, which the White House launched in April. This call-to-action urges the private sector to expand their talent pools by eliminating unnecessary hiring barriers facing those with a criminal record. New commitments bring the total number of pledged employers to more than 300. Companies include Ben & Jerry's, Clif Bar, CVS Health, Gap, Intel, Kroger, LinkedIn, Monsanto, Perdue Farms, Shinola, Target, Tyson Foods, Union Square Hospitality Group, and WeWork.
Brown, now employed by Project New Opportunity—a nonprofit that works to ensure the successful reentry of offenders whose prison sentences have been shortened— believes these types of collective actions can have a powerful effect.
"We've got to help those who return to society get their balance," he said. "My organization offers services and points people to resources. It's important to show men and women who've served time— and youth especially — their hidden potential."