FLINT, Mich. — LaTosha Brown stepped off what she calls the "Blackest Bus in America," to the sound of James Brown's "I'm Black and I'm Proud."
The longtime political organizer was in Flint to mobilize black voters — one stop on an 11-state tour. Brown and her organization, the Black Voters Matter Fund, which she co-founded with political strategist Cliff Albright in November 2016, are doing this work in an unusual way. In the first 20 minutes or so in Flint, before a group of about 20 people, the words "vote," "voting" and "election" never left Brown's mouth. Not once.
Instead, she asked community organization leaders who had turned out to Flint's Neighborhood Engagement Hub about the details of life in Flint, the challenges faced and the solutions imagined and tried.
The stories came quickly. A retired General Motors autoworker bemoaned the city's high rates of crime and joblessness among young black men. A retired teacher raised concerns about the massive share of Flint children who failed state reading assessment tests after lead leached into the city's drinking water. A mother with a toddler in tow spoke about her irritation with the way that many charities and part-time philanthropists run clean-water giveaways and demand residents' personal data in exchange.
Brown listened as Albright made notes: a list of entry points, reasons to connect people inside and outside of Flint to support them in solving these challenges.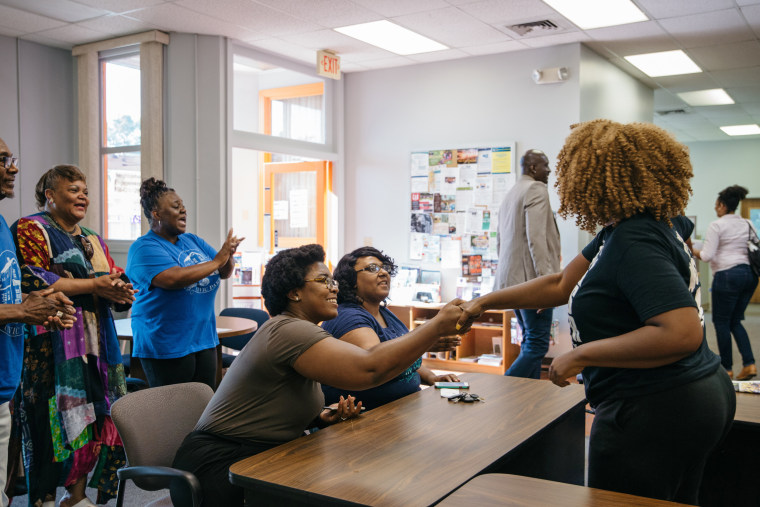 This is how the Black Voters Matter Fund begins its work. The group's goal: boost black voter turnout in elections at every level. Its method: return to these communities and focus on the grievances that rarely get candidates' attention during elections, especially presidential ones. Then, give concerned residents and community groups the tools to force change.
Black Voters Matter's theory: Those who gain meaningful influence in their own communities develop a faith in democracy itself. They can become enthusiastic, or at least frequent, participants at every level and create social pressure for others to do the same. It's an approach that banks on the fact that black citizens' concerns are often ignored, treated like the fallout of character flaws rather than policy failures.
The organization goes "to places people in national politics don't know about, don't think about, but where plenty of black voters live," Brown said. "We treated these voters like they matter, their concerns matter, and gave them some political tools, the one thing that too many operations never try."
What Black Voters Matter does can sound at once lofty and small, both foreign and familiar. In most cities, Black Voters Matter doesn't set up tables to register voters. The group's leaders don't coordinate Politician X's visit to Black Church Y the Sunday before the election. They often don't even talk overtly about voting.
The group's on-the-ground work helped Doug Jones become the first Democrat to represent Alabama in the U.S. Senate in 27 years. And during the 2018 governor's race in Georgia that Stacey Abrams, a black Democrat, nearly won, Black Voters Matter's efforts drew the attention of local law enforcement.
"It's deceptively simple, but it is incredibly complex," said Sekou Franklin, an activist and a political scientist at Middle Tennessee State University who worked with Black Voters Matter and other groups in 2018 to advocate for a civilian board to oversee Nashville's police. "It requires an understanding of black life and culture, what it means to protest and what it means to organize and influence that, unfortunately, remains woefully rare."
In 2020, anything that can boost the participation of black voters, a key Democratic voting bloc, may prove critical. Many factors contributed to President Donald Trump's 2016 victory, including voter suppression and white Democrats who voted Republican, but black Democratic voters who stayed home also played a role, political analysts say. Trump was the first Republican to carry Michigan since 1988. He did so with 10,704 votes. About half the votes Hillary Clinton needed could have come from the more than 5,000 Flint area voters — a city with a slight black majority — who stayed home in 2016 after voting in 2012.
This cycle, Black Voters Matter wants to convince more black voters of the value of their voice.
Citizens of this country
When the Black Voters Matter bus stops, the meetings begin. Brown always starts with music, whether it's "the godfather of soul" blasted out of a speaker on wheels or her own gospel-choir- trained voice singing the protest anthem "Hold On."
Then, she opens the floor.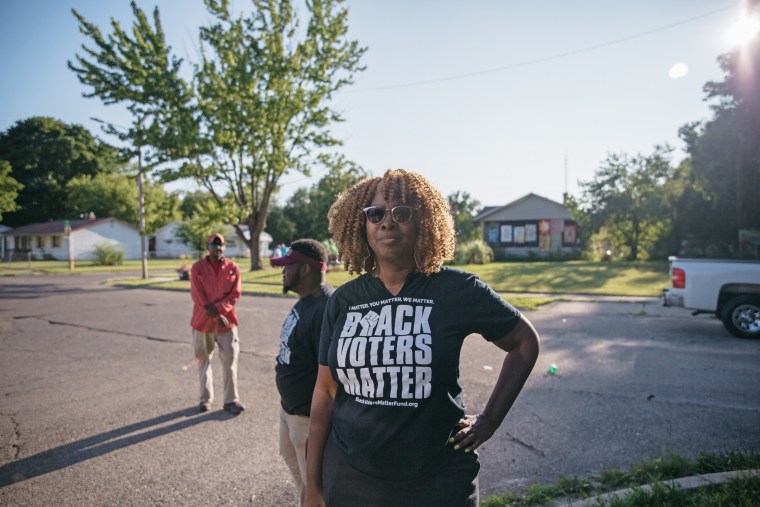 Black Voters Matter's second stop in Flint in late July — one of nine Michigan cities where the group traveled over the summer — was at a freshly mowed, vacant corner lot in the Brownell-Holmes neighborhood. It's one of Flint's once solidly middle-class communities now riddled with its share of the more than 10,000 vacant homes left behind after General Motors began slashing jobs by the thousands in the 1990s.
Under a midday sun, most of the roughy 25 residents present shared bits of their lives. They spoke about the need for more streetlights and their concerns about crime, and then they talked about the water. Jeanette Edwards, the Brownell-Holmes neighborhood association president who retired from a job at the Flint Board of Education, was dismayed by what she and her neighbors see as an ongoing crisis.
Public officials say Flint's tap water is safe, but they've said that before. In 2014, even as residents insisted — and scientists later confirmed — that lead-tainted water was causing health problems, residents had to stay on the new water system while officials let General Motors opt out to protect the company's equipment. Now, state and local officials have promised that by 2020, all of the corroded, lead-leaching pipes running under the city's streets will be replaced. However, there's still no commitment to replace interior pipes, faucets and refrigerators in Flint's homes where the corrosion is also clear, but what those fixtures discharge is not.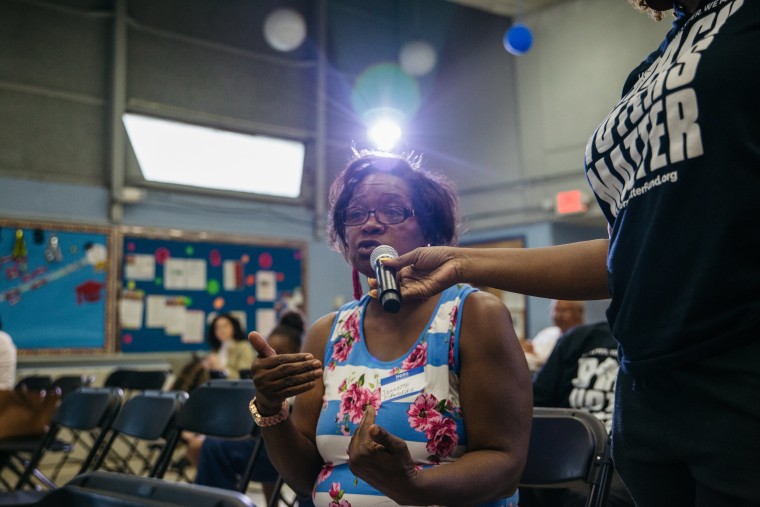 Edwards' grandchildren tested positive for low levels of lead months ago, she said. Now, when they visit several times a week, she has to decide between buying expensive bottled water and trusting officials.
"It's a terrifying choice," said Edwards, who described herself as a regular voter. "We need long-term monitoring, some measure of justice. We, here in Flint, are citizens of this country, but the evidence anyone else believes that is scant."
Brown and Albright inquired about the cost of bottled water and how and where giveaways happen.
"Are y'all telling me that when the state did give away bottled water," Brown asked the group of mostly senior citizens, "you had to wait in line for hours and then, last year, they said no more?"
A chorus of um-hums and yeahs followed.
In September, not long after the meeting on that corner lot, a "Frontline" investigation probed the higher-than-usual number of pneumonia deaths during Flint's water crisis, suggesting that bacteria in the city's water had contributed to dozens of those deaths. Previously, public officials had acknowledged just 12 deaths related to bacteria in the water.
So that people don't give up on government
Black Voters Matter generally goes to places where black voters make up at least 15 percent of the electorate. That includes deep red states, where the black vote is often regarded as mathematically insignificant. The group also goes to bluish-purple states like North Carolina and now Michigan, where most Democratic operatives regard the black vote as a given, ballots for which the party need not spend or work.
After an initial visit to learn residents' concerns, Albright and Brown sometimes dispatch a staffer or hire in the area. Often they bring modern political tools — apps, data and analysis — to local challenges and teach residents how to use them. They also bring money. (As a 501c4, or social welfare organization sometimes referred to as a dark money group, the Black Voters Matter Fund is not required to disclose its donors.)
"What we are generally trying to do at these things is understand — what the issues are, what resources we may have that could be brought to bear, what's standing in the way of progress, what people seem to want — so that this is not purely an extractive process," Albright said.
"We're trying to identify ways to bring folks together who are working on the same issues," Albright continued, "to increase their odds of success so that people don't give up on the country."
In Nashville, where Latino immigrants and black residents have raised concerns about deadly police use of force and frequent police stops, local activists pushed for at least a decade to create a civilian oversight board. When activists managed to get the board on the ballot in November 2018, the Fraternal Order of Police, a union, spent almost $500,000 on television ads to defeat it. Black Voters Matter met with residents long at work on the issue, brought staff to Nashville, spent about $15,000 on materials, shared software that can send hundreds of texts in minutes and marshaled a door-to-door campaign.
The result: The measure passed, with 59 percent of the vote. Nashville, a city that is about 29 percent black, had responded.
And this month, in Alabama, Black Voters Matter used a combination of tactics to help elect Montgomery's first black mayor.
The 200-year-old city, known as both the cradle of the Confederacy and the birthplace of the civil rights movement, is almost 60 percent black. But voter identification rules, runoff election requirements and laws that disenfranchise some with felony convictions have historically dampened the black vote there to less than a majority, Albright said.
Black Voters Matter worked on giving as many people as possible a reason to participate. Local activists pressed candidates to take positions on issues like whether to increase public school funding and expand a warrant amnesty program. (Montgomery has a higher-than-average number of people wanted for low-level violations such as unpaid traffic fines.) Texting and phone bank software helped local groups reach more than 50,000 people in the days before the election, illuminating where each candidate stood on those issues.
Steven Reed, the candidate who won, backed expanded public school funding and efforts to reduce the number of people jailed because they are essentially too poor to pay traffic tickets.
About 35 percent of the city's electorate turned out for the runoff, far more than the average of about 20 percent turnout for mayoral races nationally.
"We centered black voter concerns," Albright said. "That's pretty different than assuming black folks are just going to be happy to see a black candidate on the ballot."
The value of peer pressure
Research says one key to mobilizing turnout is the social power of voting. The most reliable and enthusiastic voters are those in contact with other reliable and enthusiastic voters, said Chryl Laird, an assistant professor of government and legal studies at Bowdoin College. In other words, peer pressure matters.
"It's not easy work," said Laird, a co-author of the forthcoming book, "Steadfast Democrats." "But the research says that where voting becomes the norm, there's social pressure on the individual to engage."
Historically, successful candidates create the sense that "people like us" are voting for "this candidate, that issue," said Paul Beck, a professor emeritus of political science at Ohio State University's Mershon Center. For President George W. Bush, a leafleting campaign the Sunday before the 2004 election focused on evangelical white churches in Ohio. The fliers read, "Our people are voting for Bush."
Decades of election research indicates that the door-knocking, phone calls, text reminders to vote, rides to the polls and other in-person contacts are more effective than commercials in getting voters, particularly inconsistent voters, to vote, Beck said.
"People go to the polls because others drag them to the polls," he said.
This type of turnout mobilization has traditionally been the domain of Democrats. But in 2016, data on presidential election ground-game spending collected by Beck indicates that Republicans outspent Democrats in this arena for the first time.
Plenty to do in Flint
The last stop for the Black Voters Matter bus in Flint was at the Flint Development Center, a shuttered elementary school that reopened in 2017 as an all-ages learning facility run by a nonprofit. Black Voters Matter had organized a debate-watch party there, an hour south of downtown Detroit, where the Democratic primary candidates sparred onstage. A few candidates mentioned Flint, largely as a place where unspecified investments should be made.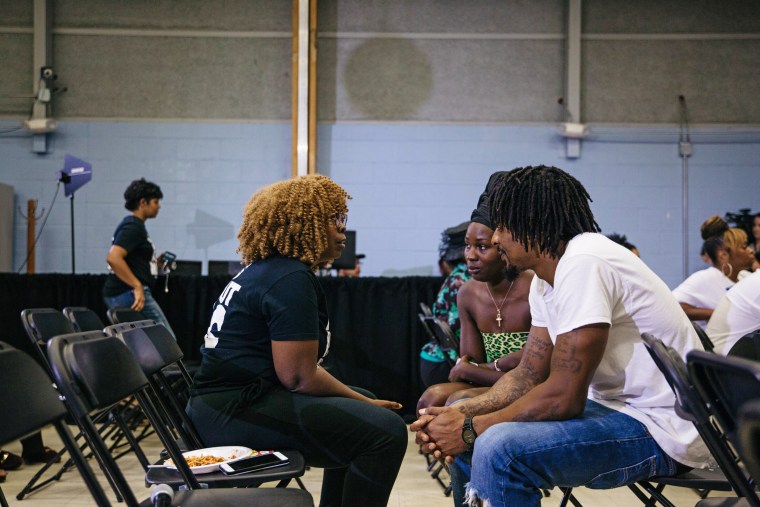 During a commercial break, Claire McClinton, a retired United Automobile Workers member, stood to speak. She had an idea that generated applause in the room of about 40 people.
Flint, McClinton said, needs "Medicare for All," the same benefit offered to Libby, Montana, an overwhelmingly white town where a mine showered residents in toxic dust for decades. On the Democratic debate stage that evening, the idea of universal medical care was described as a national need. But Flint can't wait for the federal government to work out a policy for the entire country, McClinton said.
"The people in Flint merit at least as much attention, care and protection from our government as the people who suffered in Libby," McClinton said. She's a member of Flint's Democracy Defense League, a community group that fought to oust the city's emergency manager who had insisted on the changes to Flint's water system that poisoned the city.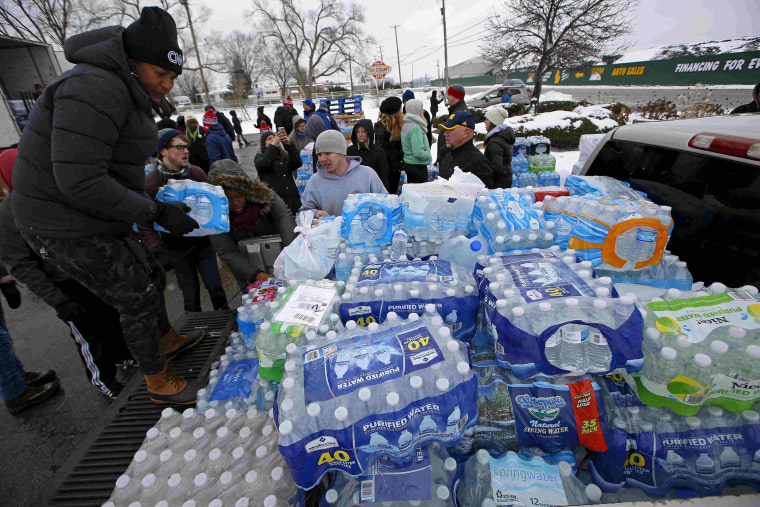 Back in Black Voters Matter's Atlanta office after the Flint trip, Brown and Albright discussed next steps. By October, they had identified a Flint-area organizer to hire, someone to determine which issues to amplify, which community-identified solutions to supercharge. Among the possibilities: reinvigorating Flint's school-based community enrichment programs and ensuring that Flint's specific concerns about safe water and health care become the issues that decide local and state elections.
Brown and Albright also began planning their next trips this year: Georgia, Mississippi and Virginia.
"There are black people all over this country, living in red states and blue states, where their issues are every bit as serious and complex as Flint and almost equally ignored," Brown said.
"But we see that pattern as an opportunity. We know that the hard stuff, the ignored stuff is what people really care about."